OP/ED: Show Some Respect and Stand
This past Sunday, players throughout the NFL joined arms and took a knee as the anthem was played, as part of a protest against the remarks President Donald Trump made at an Alabama rally for Luther Strange, an Alabama politician running for re-election.
"Wouldn't you love to see one of these NFL owners, when somebody disrespects our flag, to say, 'Get that son of a bitch off the field right now, out, he's fired. He's fired," the President said.
This whole situation is just one big mess.
Many players from the Chiefs and Saints protested by sitting on the bench. Nearly the entire Denver Broncos team knelt, while tight end Virgil Green and linebacker Shaquille Barrett both stood and raised a fist.
During the National Anthem for the Seattle Seahawks v. Tennessee Titans, neither team participated, and instead stayed inside their locker rooms.
Players from the Seahawks released a statement saying, "As a team, we have decided we will not participate in the national anthem. We will not stand for the injustice that has plagued people of color in this country. Out of love for our country and in honor of the sacrifices made on our behalf, we unite to oppose those that would deny our most basic freedoms. We remain committed in continuing work towards equality and justice for all."
In a pregame radio interview with Jen Mueller of Root Sports Northwest, Seahawks coach, Pete Carroll said the message from the team to not come onto the field for the National Anthem was unity.
"We're staying together," said Carroll. "This is a day that we all want to make sure that we're together and celebrating the opportunity to play this game together in the best way we can possible."
The Titans, as well, released a statement for their actions: "As a team, we wanted to reunified in our actions today. The players jointly decided this was the best course of action. Our commitment to the military and our community is resolute and the absence f our team for the national anthem shouldn't be misconstrued as unpatriotic."
The Pittsburg Steelers took this stance and stayed in the locker room, with the exception of one player. Left tackle Alejandro Villanueva, an Army Ranger who served in Afghanistan, was seen on the CBS broadcast at the edge of the tunnel during the anthem, hand over heart.
After realizing he was making the rest of his teammates "look bad," Villanueva said it was a mistake. Before he recanted, though, his jersey had become the top-selling piece of NFL apparel. And to me, this should tell the NFL something about its audience.
Long-snapper Joe Cardona of the Patriots, currently on active duty in the U.S. Navy, stood at attention on the sideline during the anthem, while Tom Brady stood, hand over chest, with his other arm locked with Phillip Dorsett.
The Cincinnati Bengals stood with their arms linked, with the notable exceptions of Kevin Huber, Cedric Ogbuehi, Randi Bullock, T.J. Johnson and Russell Bodine, who stood with their hands over their hearts.
A statement released by the players after the anthem stated: "Football and politics don't mix easily. Fans come to NFL games to watch great competition on the playing field and that's where our focus should be."
And they're right. Fans don't come to football games to hear about politics. Instead, it's a place where we all look to escape that topic of discussion for a while.
So, how did we get to the point where politics are now interfering with sports and what is supposed to be a fun activity to watch?
The events are a continuation of the social commentary of former San Francisco 49ers quarterback Colin Kaepernick, which started last fall when he decided to take a knee during the National Anthem. His purpose was to make a statement against the police brutality African-Americans face nationwide at the hands of law enforcement.
Many were offended, especially NFL owners, which led to Kaepernick becoming a free agent and without a team to play on.
But, now that the President stuck his nose where it didn't belong, things have gotten sticky.
I understand that it is the first amendment right for NFL players and Americans to not participate in the anthem, and I also understand that there are racial and political divides going on in this country.
But, no amount of political divide or racial inequality will ever make me turn my back on America. This, by no means makes me a "Trump Supporter" or a "racist," as most have been labeling one another.
Trump has every right to defend the flag and the anthem, but at the same time, he was out of line in saying players who protest should be fired.
He's the President of the United States, not a team owner of the NFL. He has no say in who plays and who doesn't.
I truly believe Trump needs to put his phone down, stop tweeting, and actually address pressing issues that are facing our country as we speak. North Korea and the nuclear war? Puerto Rico after Hurricane Irma destroyed it? Hello Mr. President, I think those are far more important!
On the other end of the spectrum, I also don't agree with the NFL. They fine players for large and small fractions for things like twerking in the end zone, but lack the moral courage and respect of our nation.
Kneeling or "skipping" the National Anthem is not a defiance to the President, like the NFL tried to portray. Neither the anthem or flag represent the president. They represent America and Americans, as a whole.
Not participating in it for foolish reasons is rather ridiculous. Individuals who take part in this protest are not only disrespecting the country, but our military.
However, I get it. We have the right to do what we want, when we want. But, there is a time and a place to exercise these rights, which is something that boggles my mind that fellow Americans don't see.
I don't care if they've been peaceful protests. That's great – they're not causing riots in the streets, but protesting during the National Anthem? That's just something I cannot and will not support.
The field or court is their place of employment, as is a courtroom is for lawyers and attorney's. If they were to protest, the judge would hold them in contempt for their actions.
Yes — even here, in a country that is so free, there are still limitations, and this is what Trump was saying when he stated his opinion.
Players, on average, make 1.9 million a year. They get to see their families and friends after each game. When their teammate is injured, they watch them be taken on a gurney to get their knee iced. They live in nice big houses and drive equally nice cars. They have warm gourmet meals at their disposal and work for three hours putting on entertainment. Whether it's a win or a loss, they know they are going home each night.
Why? Because they live in a country that was fought and is protected by a soldier who doesn't receive the same luxury.
On average, a soldier makes around 27, 198 dollars with four years of experience. They go months without seeing or speaking to family and friends. They don't have gourmet meals at the snap of their fingertips, or sleep in king size beds. They do their job 24/7, often with lead, not footballs flying in their direction. They watch their brothers and sisters carted off in pieces, when fatalities strike. They stand in harms way, never knowing if this might be their last breath they take.
Why? Because they are fighting everyday so that athletes like the NFL could have the freedom to continue to play their game and live their easy lifestyle.
I will end with this:
We live in a free country. Is she perfect? Hell no, she has many flaws. But, we as Americans should be blessed to live in a beautiful country with the amount of rights we have, that many countries don't have.
Do you know what that costs?
It costs the men and women serving in our armed forces limbs, minds, and their precious lives. When they return home, they don't feel what it means to be home. Instead, most return with the American flag draped across their lifeless bodies and coffins.
That itself, makes me stand and put my hand over my heart because I know freedom does not come free. I am thankful for these brave men and women everyday I wake up, and I will always be.
Regardless who you are intending to hurt when you kneel or "skip" the National Anthem, the only people you are really hurting, are the families of those fallen soldiers.
Remember, heroes don't wear shoulder pads and carry around a football, protecting the end zone. They wear body armor and carry rifles, protecting the country.
Some wear blue and risk their lives daily on the streets of America. Others wear fire helmets and run upstairs into a fire, rather than down to safety.
So please, show some respect. Stand.
Leave a Comment
About the Writer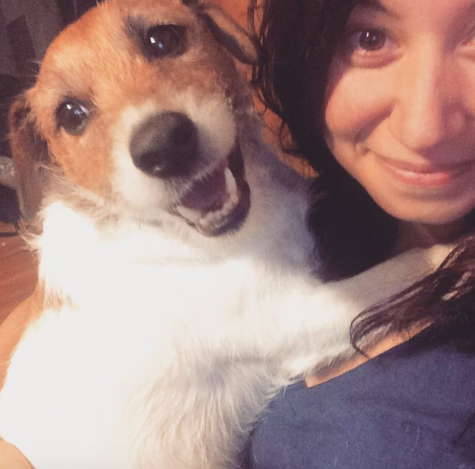 Kayla Simas, Managing Editor
Kayla Simas is a Journalism major at Mercy College. She's from the forgotten borough of New York - Staten Island. She's an avid coffee drinker and enjoys...