Sweet and Cyrus
Miley Cyrus is one of the most popular singers of our generation and doesn't get the credit she deserves.
Miley Cyrus is a name that has been a name used in households around the world since 2006 when the show Hannah Montana started. I've yet to meet a person who didn't know who she was, considering she has maintained and only gained fame and popularity since she first started on Disney Channel. 
I've always been a big Miley fan, from the first episode of Hannah Montana. I watched every episode of the show and every other movie she's been in. I paid for every one of her CD's, even 'Bangerz' in 2013 when everyone was ridiculing her for her "crazy" behavior and her VMA's performance. 
Now, let's talk about that crazy behavior she showed when she and her long-time boyfriend Liam Hemsworth first broke up. She was 21 years old and was open about her partying. She danced on stage and twerked on people, and blah, blah, blah. She did these controversial things, and I never quite understood why it was such a big deal. The things she was doing were and still are normal. She was smoking weed, she was drinking, and she was dancing provocatively. These are all things that people 21 are doing every single day, she was just doing it to a larger scale and more publicly.
But let me ask you?
How is it fair that she gets ridiculed for doing these things? Sure, it was her choice to be famous from a young age, and that's something that she has to deal with. In fact, it's something that she has been dealing with graciously as of lately. I've always disliked that they ridiculed her for doing VERY normal things, just because of who she is. In fact, it bothered me even more because people said she went "crazy" when she was just doing things that the people her age did. There's nothing crazy about that, it was all perfectly normal. 
Her "crazy" phase was around the time the music video for "Wrecking Ball" came out and everybody judged her for this video because she was nude in it. Before even getting into this, I'd like to point out that there wasn't anything shown. A little side boob was the most that anybody really got from that video, and if only people could have looked past that bit of side boob. They could have realized it was actually an emotional and beautiful video. She poured her heart out into the video and into the song, and while it became one of her biggest hits, all anybody could mention was her nudity in the video. 
Fast forward a couple of years, she's back with Liam Hemsworth, they're engaged, they get married and it's like a fairytale. It's the same love story people love to hear about, people lose each other, find each other and get married, living happily ever after. This wasn't the reality for Miley and Liam, though, and that's okay. 
Now, I try to not get upset over things that happen in the lives of celebrities because that's not my business, it's quite literally being upset over a complete stranger and makes absolutely no sense. However, there's something that really bothers me when people trash Miley Cyrus, especially since she announced her divorce recently. 
As soon as the news came out, everybody assumed it was Miley's fault. There were speculations that she had cheated on Liam and it was her fault that the marriage failed because weeks after she was seen with what seemed to be her new girlfriend, Kaitlynn Carter.
This was especially frustrating to me because while people were seeing Miley with someone new, Liam Hemsworth was also seeing someone new publicly and nobody bats an eye. For the woman in the relationship to see someone new weeks after, it's immediately her fault, and she's seen as a slut, and she must have cheated, but nobody seemed to care that the man in the relationship was doing the same thing just as soon. 
Because of these speculations, Miley came to tweet this:
"I can accept that the life I've chosen means I must live completely open and transparent with my fans who I love, and the public, 100% of the time. What I cannot accept is being told I'm lying to cover up a crime I haven't committed. I have nothing to hide. It is no secret that I was into partying in my teens and early 20's. I have not only smoked, but advocated for weed, I've experimented with drugs, my biggest song to date is about dancing on molly and snorting lines in the bathroom. I fucked up and cheated in relationships when I was young.  I lost a massive Walmart deal at 17 for ripping a bong. I got kicked off hotel Transylvania for buying Liam a penis cake for his birthday and licking it. I swung on a wrecking ball naked. There are probably more nudes of me on the internet than maybe any woman in history. But the truth is, once Liam & I reconciled, I meant it, & I was committed. There are NO secrets to uncover here".
"I've learned from every experience in my life. I'm not perfect, I don't want to be, it's boring. I've grown up in front of you, but the bottom line is, I HAVE GROWN UP. I can admit to a lot of things but I refuse to admit that my marriage ended because of cheating. Liam and I have been together for a decade. I've said it before & it remains true, I love Liam and always will. BUT at this point, I had to make a healthy decision for myself to leave a previous life behind. I am the healthiest and happiest I have been in a long time.  You can say I am a twerking, pot-smoking, foul-mouthed hillbilly but I am not a liar. I am proud to say, I am simply in a different place from where I was when I was younger."
Miley Cyrus could own up to her mistakes, and come out publicly to express what did, or rather didn't, happen for her relationship to an end and to me, that isn't fair. It isn't fair that she had to explain herself while she was going through the loss of a relationship she was in for over a decade, and even more so, it isn't fair that she was deemed a slut by so many people for doing the same thing her ex-husband did. There was a countless amount of tweets and posts on all social media alike, attacking Cyrus for doing something normal and moving on. 
People can never seem to separate Miley's talent and her dedication to her profession as a singer/songwriter and actress, and a dedicated philanthropist, from the fact that she has done some things controversial things that would be entirely normal if she weren't who she is.
I couldn't be happier for Miley Cyrus and where she is now, and how far she's come as a person. I think she's a great person and stands for so many great things, and a talented performer.
Leave a Comment
About the Contributor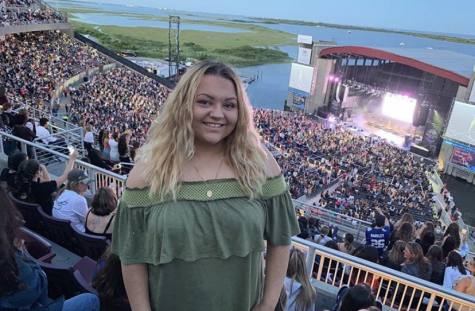 Jillian Simmons, Impact Staff
Jillian Simmons is a junior studying Television and Radio Broadcasting, with a secondary concentration in journalism.

She has a passion for video editing...