Let's Bump
Every time I get upset or can't fall asleep, I always start listening to sad or comforting music. It gives me this feeling of contentment, knowing that there are other people in the world that feel the same type of sadness that I do. I can even relate to the beat – slow and deep. It feels calm and soothing, especially when I'm trying to fall asleep. It works well for those late nights when I should be asleep but just end up staring at the dark ceiling instead. When the music starts playing, I close my eyes and slowly drift into a deep sleep. I wind up falling asleep to the first song and the playlist continues playing while I dream.
One of my favorite people to listen to in these moments is definitely Mac Miller. He's the first artist that I ever related to on a personal level on "Objects in the Mirror." At that point in my life, I was like 13 or 14 and only listened to pop music or hip hop music without really listening to the lyrics. For the first time, I did listen to the lyrics and I was listening to someone that felt deep sadness the way I did, and I didn't even know that I felt that way until then. From that moment on, Mac Miller spoke to me differently. I don't just listen to him when I'm sad – he also makes me feel good.
The same goes for Jhene Aiko and Sza. Being a woman and listening to a woman sing about insecurities and heartbreak may seem repetitive – which I thought too. It was most likely because I was listening to the wrong artists. I guess both of these women have a way with words that make me realize my feelings matter and no one has the right to invalidate them, not even me. Sometimes I tend to forget that we are all human and we all put up this front everyday like everything is fine when in reality we could be going through the worst things. We all feel emotions differently but a good thing about music is that one song can sum up many emotions. 
The best artist to listen to when I'm sad or when anyone is sad is definitely Frank Ocean. He's special. He has a way with words that hit differently. The beat, the flow, and rhythm in all his songs flow perfectly. It feels like I'm on a boat by myself watching the sunset while his music plays in the back. Frank Ocean sings about finding himself, love, heartbreak, hookups, and feeling lonely. It doesn't matter why I'm upset, I'll listen to any of his songs and they make me feel better, which is why he is very special. Unlike Jhene Aiko and Sza, I don't just listen to his music when I'm sad – I can listen to it when I'm in a perfectly fine mood and it won't make me sad. Which happens with a lot of songs where moods change when a sad song comes on like "Marvins Room" by Drake. That is one song that can get literally anybody instantly sad. Frank Ocean's music doesn't do that to me though. 
My close friend was telling me one day how Frank Ocean's music gets him in his bag. When I told him that his music makes me feel good he told me I was weird.
I don't think it's weird though. Everyone has their own preference when it comes to music. Music is the perfect way for me to express myself even though it's another person saying it. It's just another person saying what I don't have the guts to say, talk about, or even explain to myself.  It just feels really good listening to sad music when I'm sad. It doesn't make me sadder, it makes me feel better and more accepted. 
Leave a Comment
About the Contributor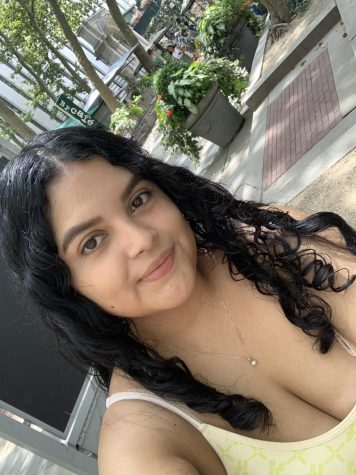 Noelle Ramirez, Impact Staff
Noelle Ramirez is a Junior at Mercy College perusing Journalism to become a Social Media Manager. Noelle enjoys listening to music, especially Bad Bunny,...