Trying to eat healthy?
Diets suck!
In college our standard diet is ramen noodles and Gatorade. Ladies! I know I'm not the only one trying to stay fit, maintain a good GPA and struggle to put gas in my car. Lets face it diets suck and are expensive at times but have no fear! Michelle is here to help.
For starters eating less doesn't get you to lose weight. Starving yourself by choice does not help lose weight in fact its physically impossible. Ever notice that some starved children in Africa are beyond slim everywhere else but has a bloated stomach this is why. Our body is like a battery; everything we do from blinking, talking and scratching your forehead is using your body's energy source. When our bodies are starved of nutrients your body cannibalizes itself as an energy source. The prime directive of the body is that it must have energy at any cost.
Cutting down on certain foods isn't entirely bad because there are healthier alternatives. Such as substituting white rice with brown rice, regular pasta with whole wheat or multigrain pasta, bread with 100% whole wheat bread, chips with dry berries and almonds, cake with non-fat Greek yogurt. The purpose isn't to lose weight, it is to eat healthier so a cheat day can be something you have the option of doing. A healthier body equals a happier you, a happier you creates better results in your life choices.
Things like Grilled chicken, vegetables, and eggs are things that aren't as pricy in the supermarket. With a few eggs you can make yourself an egg white omelet with diced peppers. With the grilled chicken you can make yourself a healthy chicken lunch with a whole-wheat wrap.
For students who dorm, it is harder to maintain a healthy diet when all you have available is a microwave in your dorm. Well here are some healthy microwave meals you can make. From Totalbeauty.com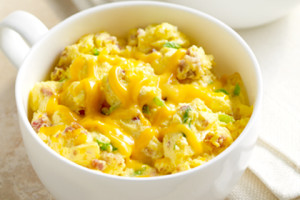 Omelet in a mug
Ingredients:
1 large egg
2 egg whites
2 table spoon shredded green bell pepper
Salt and ground black pepper to taste
Cooking spray
Directions:
Combine egg, egg whites, cheddar cheese, bell pepper, salt, and ground pepper in a microwave-safe mug coated with non-stick spray. Microwave on high for 1 minute; stir. Return to microwave and cook until eggs are completely set, 1 to 1 1/2 minutes longer. Sprinkle cheese on top and serve.
(Source: Mark X. Dowling, Vice President of Academics & Executive Chef of the Escoffier Online International Culinary)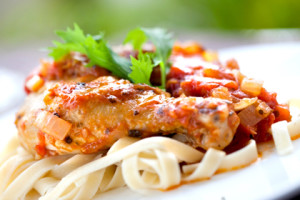 Chicken and mushroom in spicy tomato sauce
Ingredients:
500 grams boneless chicken, cut into 1-inch pieces
10 to 12 quartered mushrooms
1 large tomato
3 to 4 spring onions
5 cloves garlic
2 tbsp butter
Salt to taste
3/4 cup tomato puree
1 tbsp crushed red chilies
1 1/2 tsp Worcestershire sauce
5 to 6 crushed black peppercorns
2 tsp honey
1/4 tsp dried oregano
2 to 3 stalks of green onions, chopped
Directions:
Wash and blanch the tomato in a quarter cup of water in a bowl, covered, in the microwave on high for 2 minutes. Remove, put in cold water, peel, cut into half, deseed and further cut into quarter inch cubes. Mix the butter, spring onions, garlic, chicken cubes and salt in a deep microwave bowl. Cover and cook in the microwave on high for 4 minutes. Add diced tomato, tomato puree, crushed red chilies, Worcestershire sauce, peppercorns and mushrooms. Cover and cook in the microwave on high for 3 minutes. Add honey and dried oregano to the tomato gravy, cover and cook in the microwave on high for 2 minutes. Sprinkle spring onion greens and serve hot.
(Source: Sanjeev Kapoor, restaurant owner and author of "Microwave Cooking Made Easy")
If none of these recipes or items are within your reach that is okay too. Cutting down to 3 meals a day can make a difference in your diet. Cut out eating fast food and junk food and order a chicken wrap or a simple salad at the cafeteria.
Leave a Comment
About the Contributor
Michelle Florentino, Impact Staff
Michelle is a media studies major with aspirations to be a writer. She was raised by a single mother and grew up in the Webster Ave projects. She loves...