Play and Script – (Read and find out the Surprise Ending to My Play.)
Scene –
A policewomen pulls over Freedom who is an ex con that is driving a stolen car. It is late at night and he is about to be arrested because in the car he is hiding a fruitcake that the policewoman suspects is really a bomb.
Police Women –
Excuse me? What are you doing? This is private property and you cannot be passing through this part of town.
Freedom –
I do not see the problem with me being here. I have been around here before and I have never gotten pulled over.
Police Women –
Sir, can I see your license and registration? Come on Sir, do you have that information I need to see it now.
Freedom –
Hold on one second. I am looking for that information. I just need to find a flashlight because my car light is not working.
Police Women –
If you do not hurry up I am going to have to write you up and give you a ticket. Sir, I do not think you want to upset me tonight. Please, you are trying my patience.
Freedom –  
What can I do, this morning I switched wallets because my other wallet started falling apart because I was trying to fit all of my various cards in it and my license is in that other wallet at home. What, you actually think I do not have a valid drivers license?
Police Women –
Well, what about your registration? At least give me that Sir. Please do not make me think that you are trying to pull a fast one over on me because I am sure you do not want to get arrested tonight.
Freedom –
Arrested, what the heck. Why would I be arrest officer? Wait, I mean Officer Sisco am I in trouble for something.
Police Women –
Sir, what is you name and do not play any smart trick with me.
Freedom –
My name is Freedom and I am not trying to cause any problems, honest I am not. (Freedom leans into the back underneath the seat to see if the fruitcake is still there.)
Police Women –
Is there something you are looking for? You need me to help you reach that in the back? Looks like there is something sticking up under the floor mat.
Freedom –
No, No. I am Fine. (He says in a nervous way with a stuttering tone.) Really I am Fine. If you do not mind I would like to be on my way now.
Police Women –
Listen, I will tell you when you are free to go. Do you understand? I said, do you understand?
Freedom –
My goodness, officer Sisco what is the matter and what am I in trouble for?
Police Women –
Do not play dumb with me. You know exactly why I have pulled you over tonight. Would you like me to spell it out for you or do I have to come inside the car. Sir, I know that you are hiding something in the back underneath the seat. Like I said before, it is sticking up and I can see it under the mat. I know what you are hiding is deadly and could kill the both of us any minute if you do not hand it over to me right now.
Freedom –
There is no way that I am handing anything over to you. I am not hiding anything like I said before.
Police Women –
If you are not hiding anything then why do I see a fruitcake shaped looking machine through the window. Give it up, you got caught. Holy Crap that is a bomb. Sir, you are ridding around with a bomb in your car. It might be small but nothing gets by me.
Freedom –
It is not mine honest. I do not know where it came from. The person who I borrowed the car from must of planted it in here.
Police Women –
Well whatever the situation is you are under arrest. Get out of the car and put your hands up over your head. You are going to jail tonight so stop fighting the situation.
(The policewomen opens the car door and pulls the man out and leans him up against the car and spreads his legs open to see if he has anything else explosive on him. Officer Sisco puts the hand cuffs on him at this pint. )
Freedom –
What time is it? Oh my goodness, I think the bomb is about to go off. The bomb is set to go off at midnight and I think it is time or very close to that time.
Police Women –
Stop playing games with me Sir; I am not in the mood. It is two minutes to midnight and we need to get out of here and you over to the precinct. Did I just say two minutes to midnight? (The whole reality of the night finally sinks in her head that in two minutes they both could be dead due to the bomb going off.)
Freedom –
You need to un-cuff me and let me get to that bomb. I need to get to that bomb and pull the damn switch off. I was not looking to die tonight. It was suppose to be someone else and not me.
Police Women –
No, you need to stand still and obey me. Things could turn out worse if you do not listen and follow my orders. Did you really think that the bomb would kill someone else and not kill you as well if you were anywhere and I repeat strongly anywhere near by.
Freedom –
You do not understand. I was learning over underneath the back seat before to disconnect the bomb knowing that it was going to go off in a few minutes and since I was unable to reach my destination because of you I was switching it off.
Police Women –
Lets run into the other police car that just pulled over a few feet away and speed out of here before the huge explosion kills us. Shit! Who were you trying to kill? Shit! I do not think we are going to live.
(It was staring to raining and the ground was extremely slippery. The police women was too late in getting him and herself into the other police car and the bomb went off causing them both to die along with the other officer that was in the near by police car. Three people are pronounced dead.)
THE END.
Leave a Comment
About the Contributor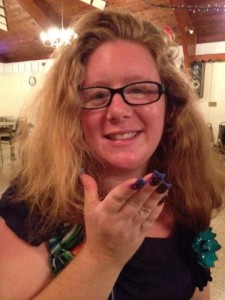 Kelly Sisco, Impact Staff
I am a Junior transfer student and my major is Public Relations. My love for writing started when I was only 7 years old and would read my stories and...