A Manifesto for Women Everywhere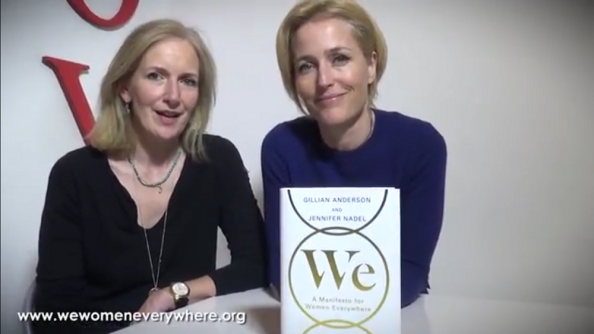 "Imagine a sisterhood across all creeds and cultures. An unspoken agreement that we, as women, will support and encourage one another." This is the definitive creed of the new book from journalist Jennifer Nadel and actress Gillian Anderson, "We: A Manifesto for Women Everywhere." The book, which is now available for purchase in both the UK and U.S., is a proposed antithesis to the current "me-culture" that exists in today's society.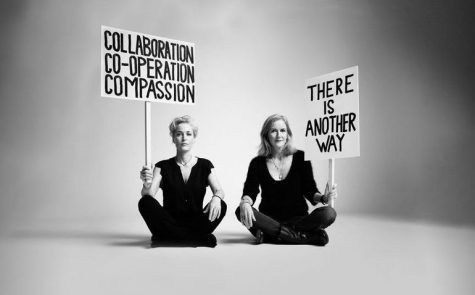 Nadel and Anderson, two long-time friends, realized that the experiences they shared as women in a society that still is very much male-dominated could be used for a greater good. The two set out to write a book which would in turn foster a movement of creating a happier, kinder society that encourages healthy relationships with women and their own self image. We is, "An intensely practical guide for individual healing and change."
The website states plainly the main objective of the book on its homepage: "(We's Manifesto) is a call to a way of living that puts compassion at its heart. A declaration of intent to live differently — to heal ourselves so that we can create lasting change in our own lives, in our communities and on a global level."
CBS
The co-authors have been on a rigorous press tour promoting the book, which has included in-store signing events, as well as interviews with US Weekly, CBS This Morning (above video), New York Magazine, and a handful of other prominent media outlets.
Anderson and Nadel were inspired by their own personal struggles balancing careers and motherhood, and the increasingly worrying statistics of plummeting self-esteem and rising self-harm rates in young women. Using this as a motivator, the two set out to devise a concrete plan of action that women can refer to in order to improve their own lives and general satisfaction. In an interview with The Cut, Anderson explained, "I have struggled with self-esteem myself, and in looking at the ways that I have dealt with overcoming those things, I started to think that maybe some of the tools that I have used, and that Jennifer and I have shared over the years, might be potentially useful for other people of all ages."
The book contains nine universal principles: honesty, acceptance, courage, trust, humility, peace, love, joy, and kindness. Each represent a figurative toolkit that women are meant to utilize in order to better deal with every day situations and emotions that may be stressful or detrimental over an extended period of time.
Both women stress, however, that this guide does not claim to be the definitive, end-all be-all antidote to all of life's problems. Nadel in particular, believes that the words, "perfect" and, "normal" should be banned. We, Nadel explains, is not meant to be a self-help guide to becoming your "perfect self" because that perfect self is unachievable and unrealistic.
Instead, the goal of the book is meant to act as more of a functional quick reference guide to dealing with stressful or complicated situations in our personal and professional lives. The book draws on spiritual practices, psychological devices and political ideas in order to provide women with an aggregate of the most practical set of suggestions.
Anderson and Nadel's commitment to their message of empowering young women, that they have recently partnered with the Tribeca Film Festival's "Tribeca Talks" series. The talk took place on March 14, in conjunction with the United Nation's Women HeforShe Arts Week. The two lead a candid discussion with Mara Webster and audience members about some of the key elements in the book. [To watch the full video of the talk, scroll to the bottom of the article.]
We promotes self-acceptance, and self-realization. The book's message strives to counter the current culture that suggests we place a gloss over life's unpleasant parts. The rise of social media and the digital "me culture," has given rise to a generation of women increasingly dissatisfied with their own self-image. Anderson and Nadel do not discredit, however, the benefits of social media and the internet. For one, they are encouraging women to utilize social media in order to reach out to other women in order to begin having candid discussions about some of the issues presented in the book.
The book's subject matter comes at a crucially appropriate time, when women in both the U.S. and around the world fear for their rights and safety. It is Anderson and Nadel's hope that their book may begin to spark conversations between women about their own mental health an wellbeing. They recognize that the book is the first step, and encouraging open dialogue about women's issues will open the door to normalizing and reducing the stigma of seeming anything less than perfect.
To learn more about We, go to www.wewomeneverywhere.org and start a conversation with the women in your life today.
Tribeca Talks