One Man's Dirt Is Another Man's Delicacy
Normally one would use a canvas to make art, but one artist uses dirty trucks and cars.
"It was just an idea; a wish for an experiment. I was looking at dirty trucks on a highway and imagined that I could easily create pictures on those surfaces. I thought it would be fun and exciting," said Nikita Golubev.
The Russian artist, also known by his signature name, Pro Boy Nick, began drawing at a young age and has been making art ever since. Golubev did not attain any art education, however, he has managed to awe and entice the attention of many.
"I was not expecting such big attention to this. It was a huge surprise for me," said Golubev. "It all started one day when the big media companies began reposting my pictures, and it was a good idea for me to sign with them."
Golubev gained quite the audience with this art method. By sharing the photos of his art, he managed to attain thousands of followers throughout his social media platforms.
According to Golubev, the length of time it takes to create each piece of "dirty work" can vary between 20 to 90 minutes depending on the drawing. He uses nothing but his fingers, dust, cars, and trucks.
Golubev says he has been caught by drivers while working on his art and has yet to receive a bad reaction. He says that most drivers like the attention they get on their vehicles.
Golubev says that the message behind it is for the viewer to decide.
"There is a meaning if you see it, and if you don't, then it's just a picture. I am just drawing them," said Golubev.
Some of his art is easier to decipher than others.
Golubev used his dirt expertise to bring awareness to the incidents that occurred back in April of 2018, when a landfill in Volokolamsk, Russia leaked toxic gas leaving dozens of residents affected.
"There were some social stories about pollution and bad environment that touched me and I made a couple of pieces based on that," he said. "I think drawing on dirt is a message in itself, and my pictures are mostly made by some impulse."
Golubev expresses concerns with global warming through some of his art, but he does not consider himself an activist.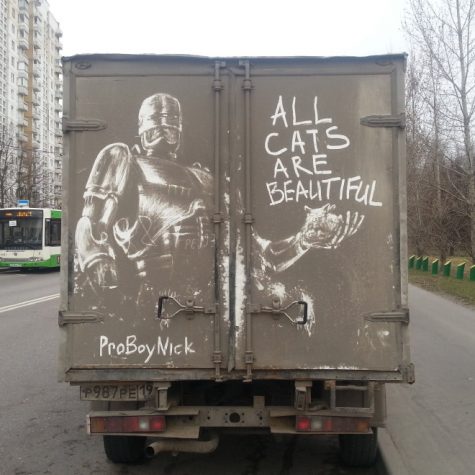 "Once in China, I painted a white bear floating on a small piece of ice. It was inspired by some sculpture I saw on the internet. I'm not sure what the truth is about global warming; if it's all real or if it is some speculation."
With the growing attention on social media, he has now found a way to make his art permanent.
"I made a couple of car hoods covered with dirt and some acrylic varnish. They were traveling around Russia with exhibitions and then came back, so I sold them through an auction on my Instagram to some art collectors from Siberia," he shared.
While most of Golubev's dirt work is created during winter and spring seasons, he continues to share all different types of art on his Instagram page.
Out of all the pieces he's created, Golubev's favorite is the owl.
"'The Owl,' in my opinion, is the most beautiful and fresh drawing I've made. It was done very fast but with a lot of passion. Another favorite I have is the 'AllCatsAreBeautiful' piece because it spreads love and it makes me feel happy."
Most of Golubev's work has been local to Russia.
"I don't have much experience with exhibitions. One time I traveled to Germany and I took some small watercolors in my luggage. When people want to buy some prints, I send them by regular mail. I take care of the packing myself so they come in one piece. But most of the time, when I get invited to any expositions or events, I create the art right there at the moment."
Golubev's advice for all the art lovers who plan on embarking on journeys through the art world is: "Work constantly, find what you love, be true to yourself, learn what you need to, and find a teacher – one you'd like to follow; one who can understand you. And don't expect too much; expectations never work. More importantly: make art, not war."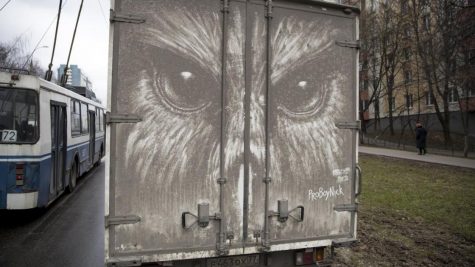 Leave a Comment
About the Contributor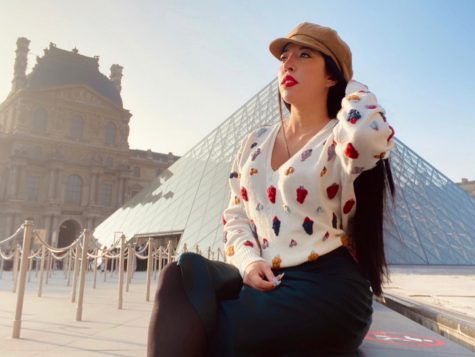 Nicole Alarcon, Associate Editor
Nicole Alarcon is a senior at Mercy College, majoring in journalism. Born in São Paulo, Brazil, she moved to the United States at 10-years-old.

Nicole...