Former NFL Diva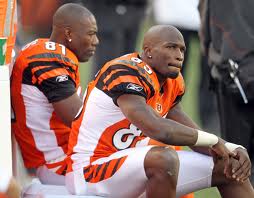 The life of a receiver in the NFL is extremely frustrating when you consider all the things that must work before they even touch the ball. They don't lack confidence.  Mainly because this sports eats you alive when there is a glimpse of fear or doubt between those hashmarks.
It is sad to see an aging receiver for whom the game was secondary compared to his attention grabbing antics.
Watching Ochocinco tweet his emotions after a devastatingly disappointing season is sad unexpected. I expected this free fall towards Irrelevance 3 or maybe 4 years from now but not this soon. With Brady and a spread fast pace offense, i expected a great important year in the productive career of Chad OchoCinco.
Instead, the change in name might have also brought a change in careers for the once talkative talented receiver..
Remember when OchoCinco donned the Hall Of Fame jacket after scoring a touchdown in 07, it was funny then- now its just sad to think about. Now he lives on tweeter speaking about who and what got him through the toughest season of his career. The interesting thing about his ramblings is who he actually credits with helping him get through this nightmarish season.
Terrell Owens and Randy Moss are his two role models- his confidants. The two receivers whom he could relate to off the field. I have a major problem with that.
For one thing, OchoCinco was given a chance to play the game he loved i assume since childhood over those same two guys who counsel him. True Hall of famers that will probably never play in the NFL again for various reasons. Unlike them, you OchoCinco was given a chance to catch passes from Tom Terrific, the least you could do is learn the playbook.
Was the playbook that difficult to grasp.
All three of these receivers were and are seen as Divas throughout their careers but only two are worthy of the title- if that is something you take pride in as a receiver. So what is Terrell Owens doing now while OchoCinco rots on the bench? That question was recently answered by the man himself on a solitary press conference in his living room with no fanfare. Not even super agent Drew Rosenhaus was present- are we surprised. He announced with great enthusiasm that he would be playing in the IFL and becoming a part owner of the league also.
Unlike OchoCinco, there is a sense of sadness and pity for Owens. Yes the man probably squandered millions upon millions but he still has a place in the NFL- and who knows what Randy Moss is doing.
With all this happening, the ex diva OchoCinco gets to play in the Super Bowl. Another chance to prove his worth for this team and the many fans who have forgotten the fact that he is still on the roster.
He gets a chance to play another season this sunday night, it will be interesting to see what he does with it.
Does it even matter at this point.
Leave a Comment