I Missed You Will & Grace. Please Don't Ever Change
What I saw this past Thursday was not their style, but borderline sketch segment that many others could do, but I remain hopeful and committed.
You ever have a show that engraved itself as part of you growing up? A show that left an impact on you whether it was big or small. A show whose characters made you laugh in a way many other shows could not, even if, you didn't understand the humor. For me a show like this was Will & Grace.
I missed you Will, Grace, Jack, and Karen. Please don't ever change for us.
More importantly stay who you are "for every loser, geek, weakling, homo, ethnic, fatty, smarty, sitting alone under the jungle gym petrified that they're going to get beat up for being different," as Jack would say.
I want like many for the show to remain the beyond sexual labels, eccentric, over the top, fantasy foursome who we all dreamed of being. The fabulous foursome were all relatable, but still larger than life. Please Will & Grace don't ever change because after watching your return I'm scared you might.
The opening of the episode was a welcoming three minutes of nostalgia. Will and Grace hosting their famous, to their friend's infamous, trivia night. It was all perfectly humorous, except for a quick update to get all the viewers up to speed.
Yes, "The Finale" episode that originally ended the series in 2006 is no longer real. Will and Grace never ended their friendship for about two decades to be reunited when their son and daughter meet in college. Lila and Ben are no more. Will and Grace have divorced from their husbands. All cleared up within thirty seconds.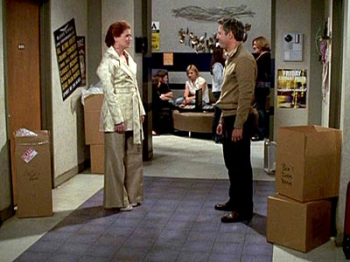 Most fans, including I, will accept this and think nothing of it. Why, because Will & Grace, especially in later seasons, was all about the fierce foursome living the adventures we wanted to live. Leo and Vince were great and we're sure Lila and Ben would have been a great couple, but they're not why we watched.
The writers of Will & Grace were smart to return to basics and not trying to do a continuation of how Will and Grace would fare with their long-time spouses and children.
However, in returning to basics the show may still have to shake off the "Get Out The Vote" dialogue of the video that led to the show's revival.
Barely a three minutes into the following scene following the opening credits, the words "woke" and "pussyhat" are forced like a bad pun into the dialogue. In articles published before the premiere, Debra Messing, mentioned repeatedly about her wanting Grace to, "have a voice."
However, whose voice is it? Debra's or Grace's? While, I have no doubt Grace Adler would have supported Hillary Clinton in real-life, but it is out of character for her to talk like she watches MSNBC all-day. She's more likely watching the Real Housewives and the Cooking Channel.
The rest of the episode venturing further and further away from Will and Grace's famed apartment and Manhattan all-together into the White House. Even more, them getting into the Oval Office. Jack is able to Google his and Will's way into anti-environment hottie Congressman Tom Sandoval's speech in the Rose Garden (Remind me to do that the next time I go to Washington D.C.).
Karen and Grace not far away sitting in the Oval Office after Grace is offered the opportunity to redecorate it by Karen's new best friend, Melania. How did they get there? By train. First, I refuse to believe Karen would ever travel anything less than private plane.
Second, a storyline too far for this viewer to believe. Will & Grace tackled politics and current events on their own terms and own world. Not leaving their world to enter into the tragic real world we live in every day.
It is Will & Grace damnit, not Will and Grace starring in the President's Show. Many a sitcom, award show, and skit have fallen into the trap of trying to be relevant by commenting on political events of the last couple years. Only to sound repetitive and viewers wondering why it was suddenly brought up.
Will & Grace, you show them all how talking politics through comedy is actually done. The way you did for eight years because last night you came perilously close to falling into that trap.
Is this no longer the Will & Grace who touched on TV shows not showing same-sex kisses by Will and Jack sharing one live on the Today Show? Is this not the Will & Grace who helped bring attention to civil unions and marriage equality through Will and Grace arguing over always being expected to attend weddings together?
The show made politics revolve around them. Not the opposite. Their style of tackling the topics of the day in an eccentric, but still human way is why millions, including a former President and Vice-President, credit it for opening their minds to the LGBT community.
What I saw this past Thursday was not their style, but borderline sketch segment that many others could do.
However, as the episode moved into its last 10 minutes I saw light at the end of the tunnel. Sean Hayes physical comedy as Jack is superb as ever. His return to form best shown in him disowning "Just Jack!" Megan Mullally playing Karen Walker is an unescapable force as always who can take an obvious knock down joke at Trump through the filter, cleaned by Rosario, into Karen's signature quick-wit brand of snark and booze.
If the episode is in Washington D.C, then keep it about them.
Why didn't we see more of Will haplessly trying to get with Congressman Sandoval? Why wasn't Grace trying to steal items like she does at every hotel and doctor's office? Or even better, watch her try to take advantage of the White House chef's unlimited food policy?
Want to make a Melania joke? Let me see Grace taking candy from bowls in the West Wing only to find in one of them the key to unlock the door to Melania's secret panic room.
I have no doubt and am excited for Will & Grace to touch on LGBT rights and current events, but I hope for it come naturally by showing where the fantastic four are currently in their lives.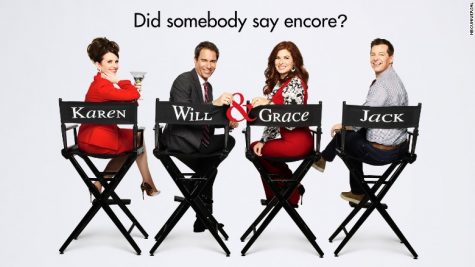 I'm comforted in the final moments of the premiere when Jack and the others acknowledge tonight's episode was a bit "preachy." Now that it appears the pent up frustration the actors, creators, and writers feel with the election of Donald Trump has been released, I'm excited to see what Will & Grace will actually be in 2017.
A lot in the world has changed since Will & Grace originally went off the air in 2006. George W. Bush was still President, Massachusetts was the only state same-sex couples could get married, and some people still could never imagine the idea we would elect a black man to the White House.
Now, same-sex couples can marry in their own backyard in any state, people are starting to like George W. Bush again, and we have an orange man who many still can't believe we elected to the White House.
We need Will & Grace in 2017 as much as we did from 1998 to 2006, but we don't need Will & Grace to succumb to the pressures and changes it thinks it has to be in 2017.
Leave a Comment
About the Contributor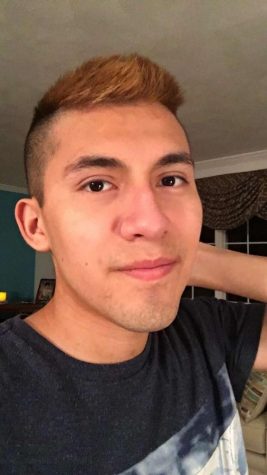 Matt Reich, Former Associate Editor
Matt Reich is a guy constantly on the go who can't let a minute go unused. Born in a city in Texas, raised in rural Connecticut, and now he's trying to...