Defending Sam Darnold
In this week's Overthinking Out Loud, I will be talking about sports. As I said in the first introductory column I have a love for sports that will never die. So, in that case, let's get to it, this has been lingering in my head all football season I have had many arguments with people over this and as a Jets fan I get ridiculed for some of my Jets takes but that's okay I'm used to it at this point.
The argument is can Sam Darnold still be a starting quarterback in the NFL? I have had arguments with friends, family, and people's opinions I respect in the football world. Some people I talk to think Darnold doesn't have it and that even if he were on another team who was a playoff contender he would still struggle. I disagree, lets face it the Jets are beyond a dumpster fire I think calling the Jets a dumpster fire is an insult to dumpster fires that's how bad the Jets are this season.
Do I think Darnold needs to clean up some of his mistakes? Of course, there are times where he'll hold on to the ball for too long and take a sack for a big loss or even worse make a bad read and throw a costly interception. But let's be honest Sam Darnold came into the league in 2018 and was the youngest quarterback to start an NFL game at the age of 21 this guy is only four months older than me and he started an actual NFL game. Let's also add the fact that he plays for a team that's in the number one media market, and has a disgruntled fanbase who isn't afraid to share their opinions.
This is a fanbase that has endured a lot and hasn't seen a Super Bowl title since the late '60s so people should understand why the Jets fanbase is filled with depressed and fed up people, it's hard being a fan of this team.
But let's get to the football aspect of it. I cut Darnold some slack because in the last two seasons he has had a bottom-five offensive line blocking for him and currently has an incompetent head coach who is supposed to be a "brilliant offensive mind" but is the complete opposite of that. Darnold also had a stretch in the second half of last season where he showed us signs of hope and had at least a quarterback rating of 71 or higher in 12 out of his 13 starts as Jets quarterback in 2019 with a 7-6 record on the season. I also believe that if he didn't get mono and wasn't out for three crucial games in the early half of last season where Luke Falk completely played like garbage, his overall record could've been better. I think they would've beaten Baker Mayfield and the Browns in week two, and the loss to the Eagles may have been closer because the defense played well in that game but the offense could not find the endzone.
The way it is looking this year the Jets are in contention for the number one overall pick which means Darnold will most likely be replaced by either Clemson quarterback Trevor Lawrence or if he doesn't come out Ohio State quarterback Justin Fields. Jets general manager Joe Douglas said recently that Sam Darnold is the "quarterback for the future" but they said the same thing about Mark Sanchez during the Mike Tannenbaum era and look how that panned out.
We will have to wait and see I'm a believer that if Sam goes to a contending team with a good coaching staff I still believe he can be a good starting quarterback in the league. Do I think he can be an elite caliber quarterback? That I don't know but I still think he can be a starter in this league. As for his future with the Jets, I still like Sam but if the Jets secure the first pick and Lawerence decides to declare for the NFL draft then it's a no-brainer you draft Lawerence and trade Sam for draft capital to build around Lawerence. The kid is a once-in-a-lifetime prospect and honestly, at this point, you know what kind of player Darnold is so the Jets rebuild continues.
Leave a Comment
About the Contributor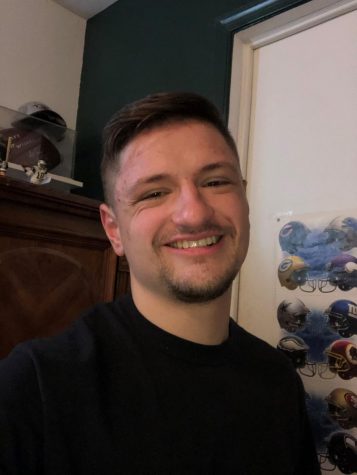 Alex Wendling, Impact Staff
A die-hard sports fan who is eager to learn more about the sports media industry. His dream is to one day work for a big sports news outlet. He is a die-hard...