Men's Lacrosse Wins Against Defending Champion Dowling
The men's lacrosse team is currently 7-4 after a wild few weeks in which the Mavs fell to three top-ranked opponents yet knocked off Dowling, the defending national champions.
Coach Jordan Levine is proud of his Mavs, as he stated, "The team is really battling with the best programs out there."
Coach Levine said the team's reputation throughout the conference skyrocketed because of the win over Dowling, as did their motivation, as the team avenged a lopsided loss from  last season. To defeat a defending national champion and a team ranked in the top 10 is an excellent accomplishment for the program, said Levine.
"That was a game were I think we played really smart defense and were sharp without many mistakes. I think that's how you should go about winning a game like that. We held them to eight goals this year.  Last year, we lost 14-2. To rise up this year and win feels great."
The early season for thee Mavs was going great due to being undefeated, until their most recent four losses against St. Michaels, NYIT, LIU Post and Chestnut Hill. The Mavs lost against St.Michaels, 14-9, with Mike Marzocca scoring once unassisted, Joe Poppe scoring once with Jesse Wood assisting, Kyle Stockton scoring twice with one unassist and one assist by John Fitzpatrick, Alex Martello scoring once also unassisted, Erik Grady scoring once unassisted and Jesse Wood scoring three times.
The Mavs lost against LIU Post but had some great shots by Marzocca, Kevin Drane, Stockton and Wood as well as Wood, Alex Martello, Poppe, Marzocca, Ftim Lajqi, Owen Valance, and Zack Zangle scoring in the NYIT game.
"We lost four games. Three of the teams that we lost to are nationally ranked, and they are very good teams," said Levine, speaking of St. Michaels, New York Tech, and LIU Post. "Our last loss was to Chestnut Hill and they were a very good team, but I think that's a game were we didn't have our best players in, and we probably could've won."
Disappointment overcame the Mavs during their game against Chestnut Hill. With only Wood, Poppe, Marzocca and Fitzpatrick scoring, the Mavs were led to a 12-8 loss.
After a 6-0 start, some coaches would be discouraged, but Levine and his team are keeping focus. He has confidence with this season and even more confidence with the face of the program.
"This is my first year as a head coac,h but I've been here for four years. Last year we finished 6-7 and now we are already 7-4, so already at this point I see improvements," said Levine. "I see some of the younger guys improving year to year. I think there are still things we can get better at but slowly but surely we can get better."
With this years record being better than last years, Levine knows that next year could be even better than ever. Even though they are going to have some losses in the team after head players graduate, the team will be able to bounce back up next season with more players.
"For next year, we do graduate some pretty talented seniors, with Joe Poppe being one of them, but we do have a good recruiting class coming in with a lot of young guys so it will be a little different," Levine explained. "We will be a little less experienced but I think we will still have talent but maybe a little bit deeper than we have been in the past. Now we have three or four guys to score the majority of our goals. Now instead of having that one guy scoring 30 or 40 goals, I think we will have seven or eight guys with 20 goals or more."
Poppe, playing attack, appeared in 10 games and made two starts in 2012. He led the team with a 1.000 shot-on-goal percentage and .667 shooting percentage and was ranked fourth on the team with eight goals. He scored one man-up goal, scored one man-down goal, grabbed one ground ball, caused one turnover and scored two goals each vs. Lake Erie and at Molloy in 2012. He picked up his ground ball at St. Michael's on March 6 2012 and caused his lone turnover vs. Dowling on April 28 2012.
After mentioning his stats last year Poppe says "I was given the opportunity to do my best and last year I wasn't. This year my coach has given me the opportunity to go on the field. The offense just executes and luckily I'm at the tail end of it and just put the ball in the net."
Poppe has a major impact and success in the game against Dowling on March 23. He scored three major goals which helped lead the team towards victory.
"I think [this success] needs to come more often," says Poppe. "Whether I score three goals or one goal in the game as long as we win the game, I'm happy. Our last three games we have lost so whether it's me not scoring or if we need to find that last piece of the puzzle we need to finish our season strong with no more loses."
Poppe scored four points against the American International game, two points against Assumption, four during the Saint Rose game, two against Southern N.H, four during the Alderson-Broaddus game, one against Saint Michaels, three during the intense Dowling game, two against NYIT and one during Chestnut Hill. Poppe is having a great season as well as the rest of the team and is finishing off his senior year with a bang.
The team have four more games left against Roberts Wesleyan on April 20,  Saint Anselm on April 23, Dominican College on April 27 and their final game, which is their Senior Day, on May 5  against Molloy at 1 p.m.
Leave a Comment
About the Contributor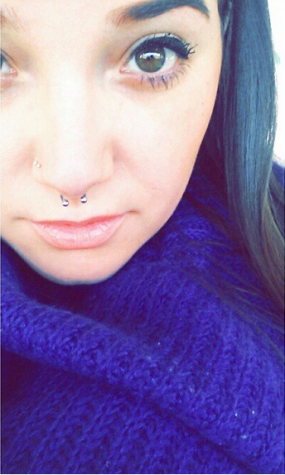 Erminia Errante, Senior Editor
Erminia Errante is FINALLY A SENIOR with an English Education major and a journalism minor. Living in Brooklyn, she has a passion for writing and loves...