The Fall of the Blue Bloods
For years, college basketball has been dominated by those damn "blue bloods." The consistently dominant teams that were making deep runs in the NCAA tournament every single year. Recruits jumped over every obstacle to play for these programs.
In the world of college basketball, there are a few teams that are considered to be true "blue bloods." 247 Sports pointed out the six teams that fall unquestionably into this category: Duke, North Carolina, UCLA, Kansas, Kentucky, and Indiana.
In today's world, college basketball is chock-full of parity. Unlike its professional counterpart the NBA, college basketball has been a world of question marks and surprises that nobody can seem to keep track of.
In regards to the blue bloods, their performance this season has been, well, uninspiring.
As of this week, only two of the six teams are ranked in the AP Top 25. UCLA and Kansas both are inside the top 10 at eight and nine, respectively. They have performed up to their standards, although Kansas has lost their last three games.
Duke is currently ranked at 26 among all college basketball teams, receiving the most votes out of all teams not in the Top 25. North Carolina also received votes, but they only have 12.
Kentucky, after beginning the season number one in the poll, has fallen well short of its expectations and is on pace to record its worst season since coach John Calipari took over in 2009.
Indiana? Well, they haven't been truly relevant in quite some time. Not since the days before Bobby Knight have they mattered less in the college basketball world.
Why are these six "blue bloods" no longer the faces of college basketball?
Well, you can point to any number of reasons.
Let's take an analysis of Duke as an example. After legendary head coach Mike Krzyzewski retired following the conclusion of the 2022 season, it was expected that the Blue Devils would falter to some degree. And while they have fallen out of the Top 25, they certainly haven't been bad. New head coach and former Duke guard John Scheyer has led them to a respectable 14-6 record. Not horrible by any means. It's just not the Duke standard, and fans and analysts alike are ripping Scheyer and the Blue Devils to shreds in the media.
Even before the retirement of Coach K, Duke was nowhere near as dominant as they were in the 1990s. Part of the reason early on was Coach K's unwillingness to recruit the one-and-done athlete. He didn't believe that was how one builds a great team. He instead opted for guys he knew would have to stay in school longer. He was looking for Christian Laettner. He was looking for Bobby Hurley. That's not how college basketball works anymore. Now, you need to find these one and done guys. They won't be there long, but they'll be productive.
Coach K adapted eventually, leading to the enrollment of future NBA stars like Kyrie Irving. In 2018, he was able to sign the top three recruits in the class: RJ Barrett, Cam Reddish, and Zion Williamson. All would leave after a year, and they still were able to get to the Elite Eight in their lone season in Durham.
The problem? One-and-done's aren't just considering the "blue bloods." Players like NBA star Anthony Edwards and current Brooklyn Net's guard Ben Simmons realized that they would be one and done and didn't have to commit to being on an already established team. They could go to a school that would allow them to be a superstar. This led to both players enrolling in mid-tier SEC basketball programs like Georgia and LSU. Both would end up as number-one picks.
So, as a top college basketball recruit, you now can clearly choose where you'd like to go and not be restricted to the former top teams in the country.
Besides the classic one-and-done players that have been drafted since the NBA instituted the rule in 2005, there is now a new way in the United States that top recruits can spend their one year out of high school.
Top players like Jalen Green and Jonathan Kuminga spent their one year preparing for the NBA draft playing for G-League Ignite. The team consists of players who have chosen not to go to college, and instead are getting paid to play in the NBA minor league, with the expectation they will be top picks in the NBA Draft the following year.
Before the beginning of NIL, this was seen as perhaps the new best way to prepare for the NBA. Recruits who would be in college for only a year anyhow, they could now sign on to be professionals and get specialized training.
For recruits hoping to bypass college altogether, this is a viable option. For those looking to get a small part of the college experience, the new opportunities offered by NIL allow them to do just that, while still getting paid.
Schools can't pay directly to potential recruits, but wealthy boosters and fans can offer endorsement deals in hopes of swaying a top player to their desired school. The effects of this have been seen more directly with college basketball, but certainly has an impact on all sports.
With so many options to prepare for the NBA, recruiting now is entirely different. Gone are the days when the only option for the NBA is going to a well-established school. You can go anywhere and succeed.
Let's take a look at the top 10 recruits from the ESPN 2022 class and where they went.
Three players in the top 10, Dereck Lively, Dariq Whitehead, and Kyle Filipowski, all committed to Duke. Amari Bailey committed to UCLA.
After that? Kentucky's best player from the class was ranked at 12. Kansas's best recruit was ranked at 14. Both respectable.
Indiana's top recruit was ranked at 23. Not bad at all. North Carolina was ranked last, with their top recruit ranked at 40. The days are gone when the top recruits were going exclusively to the "blue bloods."
South Carolina, Houston, and BYU all had a higher ranked recruit than North Carolina.
Basketball players are not staying in school as long as they used to. There are other options than the six "blue bloods." College basketball isn't the same. For better or worse, it is now filled with parity. In all honestly, we're probably better off for it.
Uncertainty makes for entertainment. It makes March Madness much more exciting. It makes even regular season games must-see TV. No expectations, just good basketball across the country.
And everybody besides Duke fans are no-doubt overjoyed that we no longer have to see Coach K. I can't stand that guy.
Leave a Comment
About the Contributor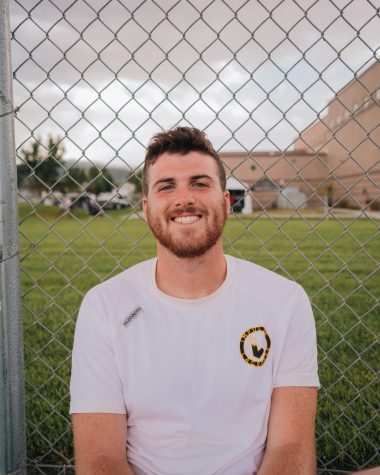 Zack Higgins, Impact Staff
Zack Higgins is a 5th year Media Studies major at Mercy College.  He is a previous student of Salisbury University, Onondaga Community College, and the...