COVID-19 Case Update In Gambia
Last year, the coronavirus outbreak has erupted worldwide where the cases have gotten worse, especially in Gambia. In the beginning, the cases were pretty manageable because they were on a lockdown for six months and the Banjul airport remained closed till Oct. 31 and mostly due to construction work. During that time, the West African nation was hit hard for the travel restrictions which had a toll on the economy which the confirmed cases increased to 3,644 and 118 deaths. The current cases went up to 4,554, and the death rates to 144.
Saul Mbenga was born in Gambia but he moved to the U.S. once he was married. He has three grown adults where his daughter lives in Maryland, and his two sons live with him in Yonkers. One of them currently works at home due to the pandemic. His wife works at a nursing home in the Bronx where she had to work even when the coronavirus got worse. However, he goes back and forth from the U.S. to Gambia to take care of his business.
"When my dad passed away, he left a lot of houses there and left me in charge of everything," Saul said. "Even though I travel a lot, I make sure that I was present 24/7 to collect the rent money and fix the damages."
He's currently in Gambia right now and staying there for a couple of months until he feels like coming back to the U.S.
"The coronavirus in Gambia was okay before, but now there are more cases and they didn't close the border which caused a lot of corruption because they allowed people from London to travel to Gambia," Saul said.
Last week, people were protesting outside their homes after the government dropped a big ball on them. There were tourists in Gambia that came from South America and Europe that caused a lot of corruption.
"Because the population is at 2 million it's the same amount as Senegal, and there were all these foreigners that were coming to our country which caused an early lockdown for the first time," Saul said.
Right now, everyone is trying to stay safe and preparing for the second lockdown in Gambia that's going to start March 8.
"It's been tough because the government is not doing what they're supposed to do, but everyone is trying to stay safe, wear a mask, and social distance from others. However, some of them are not taking this pandemic seriously and the government is not catering to elders that are 65 or older that are more prone to catching the virus."
Saul Mbenga mentioned that people in Senegal don't want to take the virus at all because it's not the same formula that's sold in the U.S. due to the fact that it's coming from China, which makes it more difficult to convince people to take it.
"Eventually they will have to take it because in order to create immunity, we have to sacrifice and take the vaccine."
As for Saul's friends and family members, most of them were tested positive for the coronavirus, but some passed away.
"Last year, I had a couple of friends that were tested positive for the coronavirus and most of them passed away." He continued by stating, "My cousin had the virus and he passed away. He was sick and went to the hospital and they found out that he was tested positive for the coronavirus. He went out for a meeting at a rally and he was protesting and because no one was socially distancing he caught the virus in that moment. Over 100 people have the coronavirus there."
Since that happened, Saul made some changes in his life such as not going out to certain occasions such as christenings, mosque, birthday celebrations, weddings and other events. He only goes to his friends house with a mask on. Also, whenever he feels ill or has a sore throat, he mixes ginger, garlic, honey, and aloe vera to cure any symptoms. He also makes sure that he has Tylenol in his house at all times.
"The update of confirmed cases and deaths have gotten worse because still to this day, some people wear masks while others don't, so there's no regulations or rules that they want to follow," he said. "The president is useless and doesn't do anything.. The government is not doing much to help and people just have to take care of themselves, they can't depend on the government."
Saul Mbenga plans on coming back to the U.S. once everything clears down and the weather gets nicer so he can help his family and be there for them.
Leave a Comment
About the Contributor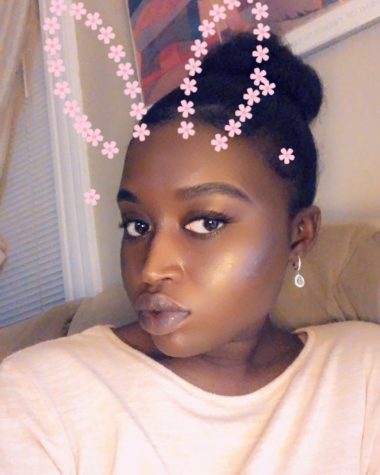 Amy Mbaye, Impact Staff
Amy is from Elmsford, New York who studied Communications Media and Arts at Westchester Community College and has her associate's degree. She is now studying...