Dine On Westchester Hopes To Boost Local Restaurants
Dine-in restaurants in Westchester are progressing through COVID-19.
Restaurants in New York and especially Westchester are still struggling with re-opening and the status of dining in. Since March 2020, all restaurants and fast-food chains closed down dine-in until any restrictions will be uplifted. Those restaurants have been offering Door Dash, Uber Eats, and their proper own delivery service.
Small towns in the state were affected, but major restaurant and bar chains in New York City were shut down effectively. Workers in the restaurant business were laid off and more essential workers were needed such as chefs and waiters to give customers their food for pick up. In Westchester, indoor dining closed for a couple of months until some restaurants resumed in-door dining back in the summer. For many, it's been a slow and steady process for most restaurants.
The Westchester County Government released a statement on "Dine On Westchester," a new system that the Westchester Government is developing for restaurants and diners. The program was described as a system that makes residents and visitors find an easy way to search local restaurants geographically and current service options. It also highlights the restaurant's health and safety measures online and in person. The system can also be a benefit for restaurants to promote their service and attract more customers.
As of now, 50 restaurants in Westchester County have joined the program, and any that aren't can join through an online application to westchestergov.com.
Jose Flores, 20, a Westchester resident talked about his family's Mexican restaurant in Tarrytown.
"My family owns a restaurant in Tarrytown, "Taqueria La Perla Poblanita" and since COVID-19 hit, the restaurant changed to delivery for weeks. My family was scared that people weren't going to like take-out food because there are people who prefer eating at restaurants than bringing it home. Things have gotten more smoothly and safely and I think my family is getting used to the safety guidelines, so it's been a rough year."
Many Westchester residents commute to New York City as well as visitors from different parts of the world. New York City had roughly a 6-month period where dine-in was not allowed, and it frustrated tourists where to eat since every food chain was only for pick up. New York Governor Andrew Cuomo announced in late 2020 that outdoor dining will be effective for New York City restaurants and bars. It became widely popular for bars and the residents who have since been accustomed to the change since the shutdown.
Indoor dining is expected to expand to 75 percent statewide on March 19th, except in New York City. It marks the first time since March of 2020 that restaurants outside NYC have a greater capacity rate. Currently, in New York City, in-door dining is at 35 percent capacity including outdoor dining.
The Centers for Disease Control and Prevention (CDC) has released many statements on how restaurants and dining services should act during the pandemic. Most restaurants in the country have made mask-wearing mandatory for their restaurants. The CDC recently also provided a list of the different scenarios that can happen with no mask-wearing.
Masks may reduce the risk of COVID-19 spread when worn in any of these risk scenarios.
• Lowest Risk: Foodservice limited to drive-through, delivery, take-out, and curb-side pick up.
• More Risk: Drive-through, delivery, take-out, and curb-side pick up emphasized. On-site dining limited to outdoor seating. Seating capacity reduced to allow tables to be spaced at least 6 feet apart.
• Higher Risk: On-site dining with indoor seating capacity reduced to allow tables to be spaced at least 6 feet apart. And/or on-site dining with outdoor seating, but tables not spaced at least six feet apart.
• Highest Risk: On-site dining with indoor seating. Seating capacity not reduced and tables not spaced at least six feet apart.
Other states like Texas and Maryland are re-opening their restaurants at 100 percent capacity, but Cuomo said that New York State will stay with the system of low capacity and pressuring more takeout and delivery rather than reopening at full capacity with the exception of New York City regulations. There is no official date when the state and primarily Westchester will have restaurants at 100 percent capacity, but through the New York State Department of Health, many situations are being under control and are slowly progressing for normality to return.
Leave a Comment
About the Contributor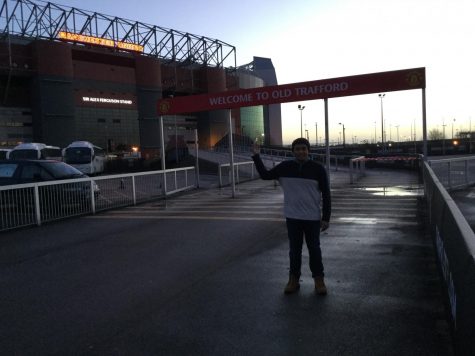 Gino Alva, Impact Staff
Gino Alva is a junior majoring in Journalism. Gino is an avid fan of the New York Yankees, Real Madrid and Manchester United. Soccer played a huge part...