Diwali: The Festival of Lights
As Diwali or the Festival of Lights rolls around, in a Hindu household, means major cleaning time and time to fast. This holiday is not only celebrated amongst Hindu's but Sikh's, Jains, and some Buddhist people. Diwali is considered to be our New Year. It is a five day festival; however, my family only celebrates for one day. Whether it was celebrated October 18 or the 19th, this is a holiday that one does not pass up.
For those that do not know about this holiday, it is usually celebrated during the Autumn. The name comes from the clay lamps or diyas that one lights and puts outside of their home which symbolizes the inner light to protect from spiritual darkness (hence why we clean our homes from top to bottom.)
As National Geographic Kids describes it as, "Diwali has become a national festival that is enjoyed by most Indians regardless of faith. Hindus interpret the Diwali story based upon where they live:
In northern India they celebrate the story of King Rama's return to Ayodhya after he defeated Ravana by lighting rows of clay lamps.
Southern India celebrates it as the day that Lord Krishna (a god) defeated the demon Narakasura.
In western India the festival marks the day that Lord Vishnu (a god), the Preserver (one of the main gods of the Hindu trinity) sent the demon King Bali to rule the nether world.
In all interpretations, one common thread rings true—the festival marks the victory of good over evil."
As little I know about the significance behind this holiday, one cannot pass up some good sweets and food. Prayers happen on this day and sharing of what is made for that day. (FYI, when Hindu's fast, we do not eat any fish or meat for that specific day.)
Presidents and others in authority started to bring recognition to this holiday.
President Obama was the first in 2009 to light a diya or a lamp in the Oval Office. In 2015 he said:
"Hi, everybody. On behalf of the entire Obama family, I want to wish you and your families—across America and around the world—a happy Diwali as you celebrate the festival of lights.
I've been proud to host Diwali celebrations at the White House—and be the first President to light the Diya in 2009. When Michelle and I visited India, we were able to join in Diwali festivities with some wonderful children in Mumbai. It was a reminder of the traditions we share, across continents and cultures.
Today, Hindus, Jains, Sikhs and Buddhists – some of the world's oldest religions – light the Diya with family and friends. You celebrate life's blessings — the triumph of knowledge over ignorance and good over evil. But Diwali is also a time for prayer and contemplation, to reflect on our obligations to help our fellow human beings, particularly the less fortunate.
So on this Diwali, I wish everyone celebrating the holiday across America and around the world a joyous celebration. Saal Mubarak."
Current President, Donald Trump part took in the celebrations also. Trump said:
"Today, I was deeply honored to be joined by so many administration officials and leaders of the Indian-American community – to celebrate Diwali — the Hindu Festival of Lights.

As we do so, we especially remember the People of India, the home of the Hindu faith, who have built the world's largest democracy. I greatly value my very strong relationship with Prime Minister Modi. Diwali is one of the most important celebrations in the Hindu religion. A time of peace and prosperity for the New Year, it is a tradition that is held dear by more than 1 billion Hindus worldwide and more than 2 million Hindus in the United States. It is also celebrated by millions of Buddhists, Sikhs, and Jains in America, India and around the world.
Our Indian-American neighbors and friends have made incredible contributions to our country – and to the world. You have made extraordinary contributions to art, science, medicine, business and education. America is especially thankful for its many Indian-American citizens who serve BRAVELY in our armed forces and as first responders in communities throughout our great land.
The Lighting of the Diya is typically celebrated by families in their homes. Today, we proudly celebrate this holiday in THE PEOPLE'S HOUSE. In so doing, we reaffirm that Indian-Americans and Hindu-Americans are truly cherished, treasured and beloved members of our great American FAMILY.
We wish all of America's Hindus and everyone who celebrates Diwali a joyous holiday and blessings of light, goodness, and prosperity throughout the New Year. And now we will light the Diya."
Others like Vice President, Mike Pence took to twitter and tweeted this: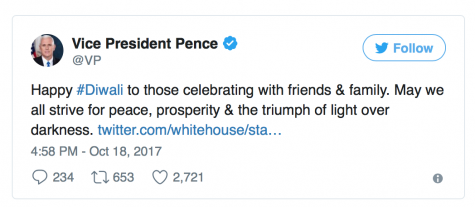 Then Trump's daughter, Ivanka Trump then tweeted this along with a photo: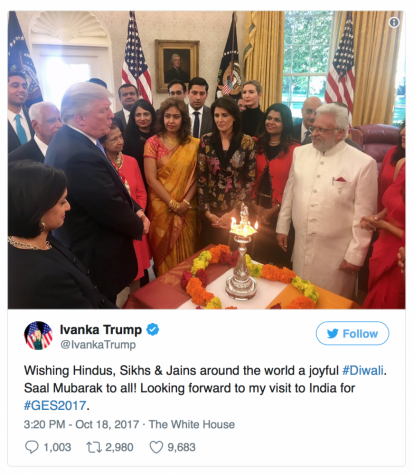 Then, Prime Minster, Justin Trudeau who is seen dressed in traditional Indian clothing tweeted this along with a photo of him lighting the lamp: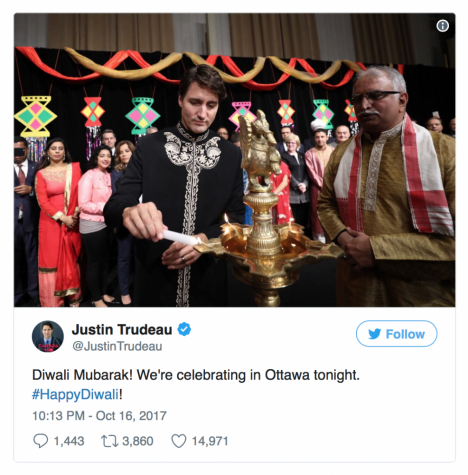 So, for those that celebrated Diwali,
Happy Diwali!
Leave a Comment
About the Contributor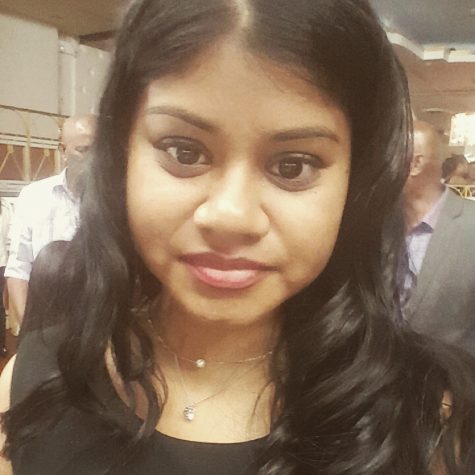 Britney Hoobraj, Impact Staff
Britney is a Journalism major at Mercy College. She was raised in New York City and her hobbies include attending concerts, attending protests, and re-watching...