Why KD will Never be LeBron
Everyone likes to have the never-ending debate of who's the better basketball player, LeBron James or Kevin Durant. But to be honest, there's really nothing even worth debating when it comes to who is the best player in the league. It's LeBron…and it's not close.
People like to get caught up in the hype of the recent success Durant has had over LeBron the last few years. I'm not one of those people. We all know the story of how Durant bailed on the Oklahoma City Thunder to join the 73-9 Golden State Warriors. Now, all of a sudden because he's got two rings and two finals MVP's against LeBron he's the best player in the league? I don't think so.
We have to remember that James is a four-time MVP, who realistically should have about five or six. He is also a three-time champion with three finals MVP's and has been in the finals nine times (8 consecutive). His record in the finals obviously isn't what he would want it to be, but being in the finals that many times is an accomplishment in and of its self. Let's look beyond the hardware though.
His ability to make his teammates better is by far better than any other player this league has seen over the last 15 plus years. James has had teams both in the past and present that should not have had the success that they had due to the lack of talent around him, but because of his ability to do more with less, he has taken them to heights they never should have reached.
At the age of 22 in just his third season LeBron put the load on his shoulders and carried the 2007 Cavaliers to the finals. That Cavs squad is arguably the worst team to ever reach the NBA Finals. It took miraculous performances LeBron including a game 5 against the Detroit Pistons for the ages where he scored 25 consecutive points help send the Cavs to the finals. Has KD done anything like that? Not that I can remember.
Now, Durant has had very few teams that weren't talented enough to win a championship, however, back in the 2013 playoffs after losing Russell Westbrook in the in the first round to a knee injury, Durant was unable to carry his team past the second round of the playoffs. I don't think it would have been too much to ask to beat the Memphis Grizzlies in the second round.
LeBron James is a walking triple-double and averages 27.5 points per game while claiming he is one who likes to be a facilitator before a scorer. Yes, Durant is an offensive machine who can average 30 in his sleep but he's not anywhere near the defender that LeBron is.
James is someone that can and will take over and change the course of games without even needing the ball in his hands. He has the ability to guard any position 1 through 5 and has won basketball games with his defense alone. Shall we go back to games 6 and 7 in the 2016 NBA finals? I'm sure KD remembers watching on TV.
Now Durant is a much better perimeter shooter than James is, but everyone has off nights every now and then. And when those occur for KD, he doesn't have the ability to dominate the game in other areas the way LeBron does.
If we look more recently, yes, Durant's teams have been dominant over LeBron's in the last two NBA finals and Durant was spectacular in those games, there is no denying that. But LeBron was otherworldly. Averaging a triple-double in the 2017 finals (33.6, 12, and 10) and 34, 8.5, and 10 in the 2018 finals, (a final his team had no business being in). No one has put up numbers like him.
I saw LeBron's 51 point game 1 performance in the 2018 finals. It was like nothing I had ever seen before. Maybe if LeBron had the help that KD had or a teammate in J.R. Smith who knew the damn score things might have been different.
This isn't meant to bash KD. To me, he's without a doubt, the second best player in the league. I repeat, the second best. It's just that there's a guy named King James, who, 16 years in his career, is still on another level compared to everyone else.
Leave a Comment
About the Writer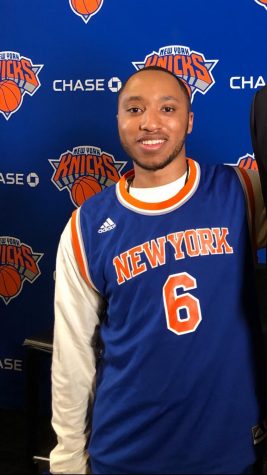 Ellis Joshua, Impact Staff
Ellis is a Senior Media Studies major who is looking to become either a sports writer or sports broadcaster after he graduates. He has a passion for writing...