A Pre-Concert Culinary Experience in Koreatown
I've taken two trips to Asia before, so this isn't my first time experiencing its authentic flavors. When I was in Tokyo four years ago, I got to experience great teppanyaki, sushi and dumplings. Going to Hong Kong this past summer reaffirmed my love for this great cuisine. Trust me, this ain't the Asian food you find here in the United States. And they definitely aren't served in take out bags either.
On Friday October 19, me and my parents went into New York City to see Elton John at Madison Square Garden. Before the concert started, we ventured into Koreatown for our first taste of authentic Korean BBQ. This district is primarily located on W. 32nd St. between Broadway and Madison Avenue, approximately three blocks south of the Mercy College Manhattan campus. It is packed with authentic restaurants, cafes and specialty shops all designed to tantalize every tastebud. Most of the signage is in Hangul, which is the native Korean language.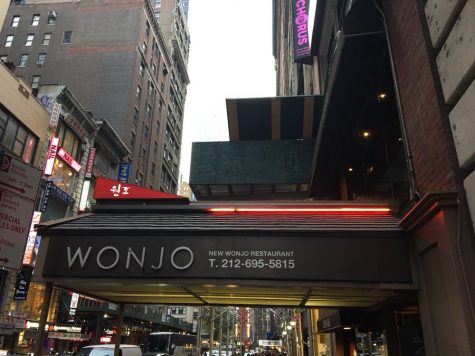 The district came to life back in the 1890s, when several Korean restaurants opened up in the area. Its success drew several other Korea-owned businesses, fueled by immigrants and tourist traffic from nearby Manhattan landmarks such as the Empire State Building and Madison Square Garden.
Our dinner of choice was a highly rated place called New Wonjo. Since most restaurants in this block don't take reservations, we arrived around 5:45 pm and were thrilled to see it not very crowded. We were taken to a table right away. When we left about an hour later, the restaurant was filled up and had a line out the door just to get in. This didn't surprise me.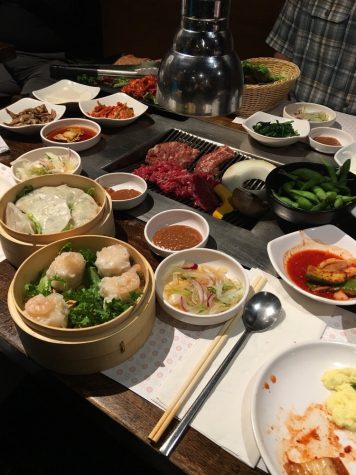 Each table is equipped with a hot grill, an overhead lamp and charcoal which allows your food to be cooked in front of you. Our server did a wonderful job explaining the menu and taking us through a variety of combo meals. This place stands out, mainly because the staff helps you with the cooking process. This is a huge thumbs up since most diners probably don't know how to cook the meat properly. They even provide tongs and scissors to cut the beef into pieces and allow for an easy transfer to the serving tray. It's simply marvelous to watch!
All three of us split a meat mania platter which included gal bi (marinated short rib), bul goki (marinated prime rib eye), dak gui (marinated chicken), je yook (spicy pork) and vegetables. The vegetables here included onions, kimchi (spicy cabbage), lettuce, fried egg and other delights.
The meat here is simply stunning, full of juices and tastes delicious. In fact, the chicken has to be some of the best I've had in a long time. The pork isn't too spicy. If you put it on a lettuce leaf it minimizes the spices.
We also ordered shumai, edamame, miso soup and vegetable dumplings (mandoo jjim), which were nice compliments to our meal. Shumai are steamed dumplings that are filled with shrimp. The vegetable dumplings had a nice texture to them that made it enjoyable. Plus the miso soup was a really good standout! Some of the best I've had in a while!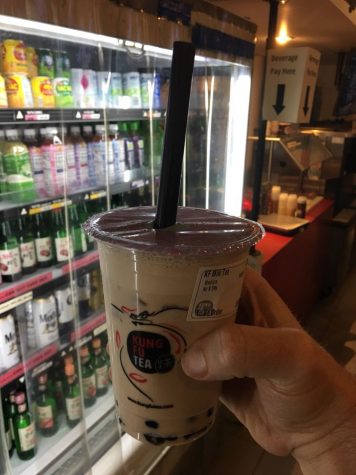 After chowing down on great barbecue, we went down the block to grab a milk tea at Kung Fu Tea. This nationwide chain of kiosks are primarily found in shopping centers. It specializes in bubble tea, alongside coffee and other specialty drinks. The main specialty here is milk tea. The drink uses non-dairy milk and oolong tea to create its unique creamy flavor, which is delightful and satisfying. The tapioca balls make it worth drinking as well.
As we took our drinks and walked towards The Garden, we noticed huge throngs of people up and down the block. Some getting ready to enjoy a nice meal, others sitting in the cafe enjoying a drink and coffee.
If you're looking for a nice dinner experience with your friends or a quick bit to eat, Koreatown is the hot spot you need to check out. Most of these eateries are open late at night, some even 24 hours a day, which can after event / game treat. You'll never look at Asian food the same way ever again.
Leave a Comment
About the Contributor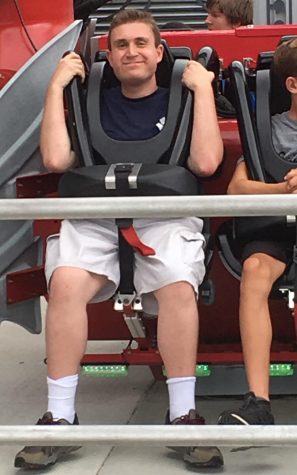 Daniel Lederer, Impact Staff
Daniel Lederer is a senior finishing his final semester on campus as a media studies student. Dan is an avid fan of movies and television, particularly...