The Power of Love
Life has granted me the greatest gift, to experience love. I don't mean the love that you get from having a spouse, but the type of love you get from your family and friends. The love that I have experienced so far in my life is the reason why I am happy. I am so grateful and appreciative that I am surrounded by such loving and caring people. It makes me feel like I can achieve anything. They are my motivation in everything I do. If I was to disappoint them, it would hurt me so much. However, I know whatever the situation may be that they would forgive me for it. I feel blessed because I know not everyone gets the opportunity to experience this type of love, which is sad to think about. Everyone should be able to feel loved and know that there are people that will always be there to support them through anything.
When people love you, in some cases, they will go above and beyond for you. They will be be there for you when you when you are at you're lowest point. They will have your back through the thick and the thin.
Sometimes people that love you may disappoint you or not be there for you in your time of need. It may make you question their love for you. Sometimes people are going through their own situation or have their family and can't always be there for you. It doesn't mean they don't love you. I have been lucky for people to be there for me and stay with me when I was at my lowest. There are people that hurt me in life and we are no longer close but I still have love for them. I choose not to hate anyone because I am too loving and caring to let someone make me bitter. Love should be the response when it comes to hate. When certain situations occur, naturally humans get mad and might say things they don't mean. After a couple days or hours, I have forgiven the person because I can't stay mad at people.
I have been through some rough and emotional times, just like many people in the world at some point in their life. It's because of the people around me I felt better and felt empowered. I believe love is the secret solution to a lot of problems in the world. There is too much hate in the world and I don't understand why.
My mom is one of my main people that show me love in my life. She goes above and beyond for me. She always has my back and supports me in everything that I do. She also lets me know when I am wrong and what I can do better. She loves me, that's why she does all of this.
My sisters are young but they are so loving and show so much affection. They motivate me so much because I know I am suppose to be an example for them. My sisters look up to me. We don't live in the same place anymore but they always call and FaceTime me to talk. It's interesting to see how happy they get when we talk. I don't even have to say I love you first all the time or send a kiss through the device because they beat me to it sometimes. I feel blessed to have my two sisters and their love.
My father and second mother are also two people that show me a lot of love. My father show his love more through his actions than words. My second mother she really helps me and goes above for me too. Their love for me keeps me motivated too.
My best friends, they are always there for me. When I am feeling low or down, I know I can always count on them. My best friends have become family because of the impact they have on my life. The support that they show me means so much. They motivate me to be the person they know I can be. When I am in doubts about anything, they help me to feel more confident or to come to a decision. When I need help, I can call them anytime and they will help me. We just have a good bond and understanding.
These people have helped to openly share my love and affection. I am grateful that I am able to be surrounded by so many different people that show me love, which makes me stronger. They fuel my love gas tank to make me happy. They may not perfect, but no one is. At the end of the day, our bond is so strong because of the love and understanding that we share.
Love is so important to give and to get. Showing love can really help people to become themselves or to do good in the world. Love has a power that makes people happy and motivate them sometimes. Love doesn't always have to be shown in words but in the person actions.
Leave a Comment
About the Contributor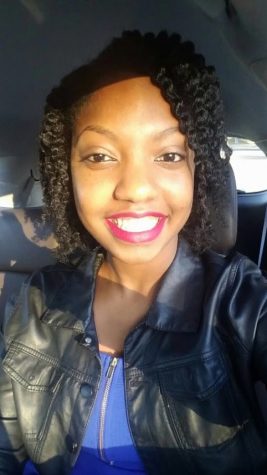 Tanisha Esprit, Impact Staff
Tanisha Esprit, also known as Tan Tan or T, is majoring in journalism at Mercy College. She is from the breathtaking island of St.Thomas, USVI. She enjoys...