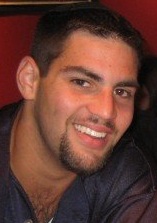 Chayim Tauber is a media studies major hoping to obtain a career in sports journalism and sports broadcasting. He is the sports editor of 
The Impact, 
has served as the sports editor of RCC's 
Outlook,
 and is a sports reporter for 
The Rockland County Times. 
He is currently interning with six time Emmy award winner Stan Fischler of MSG's Hockey Night Live.
Contact:
[email protected]
Chayim Tauber, Sports Editor
Mar 14, 2013

Mary Save Us: Ace Pitcher Aims to Lead Mercy To Playoffs

(Story)

Feb 13, 2013
Jan 27, 2013
Dec 09, 2012

House In Order: Women's Basketball Ready To Rebuild And Thrive

(Story)

Nov 25, 2012

When Self Defense Becomes a War Crime

(Story)

Nov 09, 2012

Men's Soccer Advances To ECC Semifinals

(Story)

Nov 08, 2012

Knicks – Reality Check

(Story)

Nov 07, 2012

All- Time Baseball Lineup

(Story)

Nov 01, 2012

Field Hockey suffers two win season

(Story)

Oct 29, 2012

Mavericks Field Reinvigorates Athletic Program

(Story)

Oct 16, 2012

Death of a Yankee Era

(Story)

Sep 13, 2012

The Lone Ranger Retires

(Story)

Sep 10, 2012

'Notre Dame' Icon Tackles Challenges At Mercy

(Story/Media)

May 04, 2012

The End Gets Closer

(Story)

Apr 30, 2012

Rangers Get a Little 'Cap Room

(Story)

Apr 26, 2012

NFL Draft Preview

(Story)

Apr 12, 2012
Mar 29, 2012

A HOUSE DIVIDED: Losing Season Causes Frustration Off The Hardwood

(Story)

Mar 29, 2012

ECC Conference Looks To Expand

(Story)

Mar 25, 2012
Mar 16, 2012

The "New" Knicks Regime

(Story)

Mar 04, 2012
Feb 23, 2012

Mercy Softball: Retooled, Reloaded, Refocused

(Story)

Feb 23, 2012

Men's Lacrosse Earns National Ranking

(Story)

Feb 16, 2012

Giant Expectations: SB XLVI Perspectives

(Story)

Feb 14, 2012

Criminally Little Range

(Story)

Feb 08, 2012
Feb 02, 2012

Super Bowl Preview

(Story)

Jan 31, 2012

Men's Bball Wins, Youthful Team Maturing

(Story)

Jan 31, 2012

Lady Mavs Still Feel Playoffs Are Possible

(Story)

Jan 29, 2012

Orange and Blueprint All Wrong

(Story)

Nov 21, 2011

Meet The Maverick Masher – Freshman Phenom Brenna White

(Story)