The Game That Saved Lebron's Legacy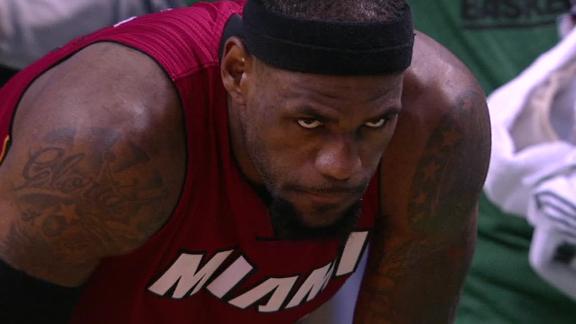 "Not one, not two, not three, not four, not five, not six, not seven, and when I say that I really believe it."
This bold proclamation by Lebron James about how many championships he expected to win with the Miami Heat, placed an immense amount of pressure on his shoulders. Coupled with the manner in which he left the Cleveland Cavaliers, James knew there was no room for error. He had to get the job done and deliver championships to the Heat, or he would be ridiculed by the basketball universe.
After the Heat lost to the Dallas Mavericks in the 2011 NBA Finals, James' critics were out in full force. Miami was up 2-1 in the series and in the subsequent games to follow, James had a complete meltdown. As the great Skip Bayless said, "the Chosen One turned into the Frozen One." That finals series was disappointing for a player of James' caliber. James averaged only 17.8 points, 7 rebounds, and 6.8 assists per game during that NBA Finals series. 
Heading into the 2012 NBA Playoffs, everyone wanted to see if this Heat team with three future Hall of Famers on their roster, was going to implode. James was facing his arch-nemesis, the Boston Celtics, in the Eastern Conference Finals. On the brink of elimination in the Eastern Conference Finals that year, James had, arguably, his best game ever.
The Celtics knocked James' Cavaliers team out of the playoffs on multiple occasions. They were one of the reasons why he chose to join the Heat. In game five of that series, Paul Pierce made a clutch three-pointer right in front of James. That bucket helped secure the Celtics' win and allowed them to go up 3-2 in the series. After making the shot, Pierce spouted his usual trash-talking to whoever wanted to listen.
Being down 2-3 brought out all the Lebron-haters in full force. They were a couple hours away from seeing the King be dethroned on one of his most hated rival homecourts. The critics always criticized James for his lack of "killer instinct." This type of mentality was something that Kobe Bryant and Michael Jordan had in abundance. The world was going to find out whether James had developed this mentality and with his team being on the cusp of national embarrassment, this was the perfect time for him to showcase this side of him.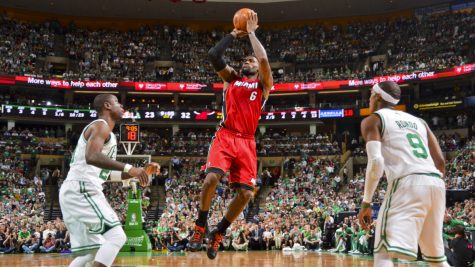 In my opinion, game six of the Eastern Conference Finals was James' best game ever. This game helped save his legacy. At the start of it, James had a look in his eyes that I'd never seen from him before – he looked absolutely possessed. You could see that he wasn't going to let his team lose that game and suffer a humiliating loss.
The first bucket Miami scored in this game was a bullet pass from James to Mario Chalmers for a corner three. James had all his tools working in this game from his post-ups to his three-point shot and his fadeaway jump shot. It didn't matter who the Celtics put on him that game, everyone guarding him was going to be in for a long night. Everything James launched seemed like it was going in the basket. It didn't matter if a Celtics player had his hand in his face, James was going to find a way to make the shot. Throughout the game, he blew by defenders and threw down thunderous dunks.
Dwayne Wade told his assistant coach, David Fizdale, that the Heat had nothing to worry about in game six, and James proved him right. 
James finished the game with 45 points, 15 rebounds, and five assists. He was the first player since Wilt Chamberlain to post a stat line like that in a playoff game. Game six of the Eastern Conference Finals was a defining moment in James' career, but that performance helped to salvage his legacy because all the haters were waiting for him to slip up.
The Heat went on to the NBA finals after they beat the Celtics in game seven. In the finals, Miami faced the Oklahoma City Thunder and they eventually went on to beat OKC in five games.
James said while accepting the Championship Trophy and Finals MVP Award, "It's about damn time," as the pressure of winning his first ring was finally lifted off his shoulders. King James was now able to sit atop the throne with no one doubting his credentials. 
Leave a Comment
About the Contributor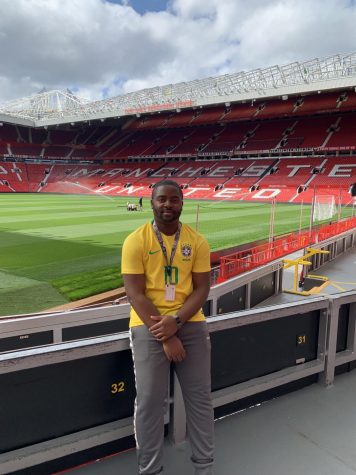 Chevaughn Hurst, Impact Staff
Chevaughn Hurst is a senior majoring in media studies with a concentration in journalism. He grew up in Jamaica and migrated to the United States at the...