COVID-19 Forces Mercy To Close Campus; Dorms To Close Next Week
Mercy College has officially closed its doors for the rest of the Spring semester because of the COVID-19.
Before Mercy announced their closing, students had taken action by making a petition on Change.org that has about 2,000 supporters titled "Close Mercy College Campuses" and it was targeted to Mayor Bill de Blasio, Governor Andrew M. Cuomo, and the United States Department of Health.
Students were also expressing concern on Twitter, tweeting about how the school should be shut down as other schools did, and that they were nervous about the wellbeing of them and their family.
Twitter users also took the time to tweet about their concerns to the college because Mercy has a New Rochelle campus. Mercy gained this campus when they bought out the College of New Rochelle at the beginning of this year.
New Rochelle is a hot spot in Westchester county. The National Guard was sent out to New Rochelle to contain people that lived in a one-mile radius from where the first Westchester victim of coronavirus was. The first drive-through for coronavirus testing was made in Glen Island New Rochelle to quickly test Westchester citizens who had symptoms or felt at risk of the COVID-19.
When Mercy closed for two weeks, they still kept the library, dorms, and other buildings open for students to have access too, especially the students who study from abroad. Mercy posted this on their Instagram, where they received a massive backlash from students.
Comments ranged from telling the school to close everything for the rest of the school year. Other comments came from Resident Advisors that explained the school stayed open so they didn't abandon students.
On March 18, Mercy President Tim Hall sent out an email saying that the school would close for the remainder of the semester. Some students believed that Mercy took too slow of a time to close after finding out there were three victims who had corona.
Samantha Witte, a junior at Mercy College, spoke out about the situation.
"I believe regarding the COVID-19 outbreak, Mercy College should have acted faster. Being on the strand of the Metro North where many students commute in from the city and other places," Witte stated, "I was concerned along with many other students especially about Mercy-New Rochelle campus, where most cases were from. Mercy college should have shut down as soon as they heard there was growing cases. There are two positive cases known to our community, but I believe there is mostly more," Witte continued.
Dan Smith, a freshman at Mercy College, felt that Mercy did the right thing, and he understood why it took longer for them to close.
"They were just trying to see what new information comes out before saying anything to students," Smith said.
It is especially a sad time for seniors right now who don't get to experience senior events, trips, and other activities. As of now, graduation is still going on as planned but there is a possibility that it could change because the virus is transforming every day.
Raed Rabadi, a senior at Mercy College, described the situation of being a senior in this pandemic.
"It sucks, to be honest; they don't even know if commencement will be canceled. I was looking forward to all the things that come with being a senior," Rabadi stated.
Rabadi also mentioned that if one can stay home, then that person should stay home since no one knows what will come out of this virus.
This is a scary time for the United States and countries all around the world. Students are concerned about their grades, graduation, and their health. A lot of schools around the country have switched to online courses for the remanding of the year. Some students seem to have issues with this, but others seem to be happy about this.
"I think Mercy did a great job transitioning people to online classes, especially because many students had already taken online classes and have set up orientations for online classes," Witte said.
The virus has caused a lot of talks to go on around campus, and students seem afraid of what's coming. Students have also spoken out about spring breakers who went on trips during this virus.
"The fact that young people like myself aren't taking it seriously is scary, stubborn and selfish," says Rabadi.
Residential Housing will close on March 29 for the rest of the semester, and all other on-site resources are closed until further notice.
For questions or to provide information based on the COVID-19, reach out to [email protected].
Leave a Comment
About the Contributor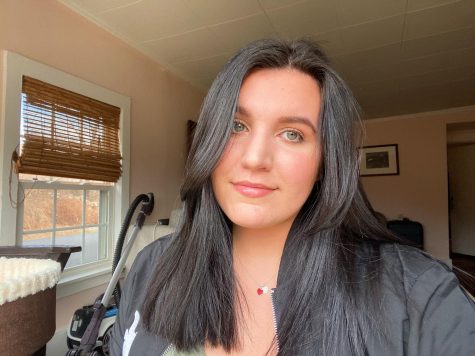 Alexis Lynch, Managing Editor
Alexis Lynch is currently a senior at Mercy College. At Mercy, Alexis is a Media Studies major with a focus in Journalism. She has gained experience that...