Mercy's Preparation for Re-Opening
Mercy College officially switched to online classes on March 18 due to coronavirus, and now the campus has reopened and is ready for the new fall semester.
This news of the campus closing came out shortly after two emails from President Tim Hall that stated a faculty member and a student had tested positive: one on March 11 and the other on March 15.
Mercy has implemented new protocols to keep their students safe as they learn how to prevent the spread of coronavirus on the campus. As of current, Mercy has made mask-wearing mandatory indoors and outdoors, as well as implemented social distancing in all classrooms, hallways, and throughout the campus.
On July 27, an email sent out by the Office of Provost, updated students that the college would have five options for students to pick from regarding their classes: in-person, blended learning, distance learning – synced, distance learning – not synced, and distance learning – hybrid.
This was just one of the ways Mercy prepared for classes to resume on campus.
Fewer numbers of students are allowed in the classrooms. Along with this, desks have been strategically placed to appropriately follow social distancing guidelines. Students and faculty must wear masks at all times, even while sitting 6 feet apart.
Hallways have been marked with arrows to enforce new traffic patterns in an attempt to help minimize congestion in the most popular areas of campus, such as the Cafe.
Kevin Joyce, the Vice President of Student Affairs, spoke about the new addition to the Cafe that is likely here to stay even after COVID-19.
"There is a grab and go option that helps minimize the lines at the Cafe. There is also online ordering, which you can order food in advance through Grub Hub."
The newest update to campus is the Mavericks Safe App which can be downloaded from the App Store for Apple devices or the Google Play Store for Androids.
Executive Director for Campus Safety and Emergency Management, Konrad Motyka, spoke about the app, stating that it was developed before COVID-19 as a campus safety app. The features on the app before coronavirus were developed for the general safety of the community.
This app has already become a huge part of the fall semester due to the fact that students are required to fill out the coronavirus form on the app before entering campus buildings. This form runs on the honor system because students must record their current temperature, answer a few questions about symptoms that they might have, and then get a code to be scanned. The code will either be green, meaning they can enter the buildings, or red, which means that they cannot enter the buildings.

The honor system is called: "the MavCare Pledge," and it lists some guidelines for the Mercy community members to live by, such as: "always wear a face mask, wash your hands frequently, clean and sanitize, stay at least 6 feet apart, monitor your health every day, stay home if you are sick or have been exposed to someone with COVID-19, and lastly, Mavs will help other Mavs."
Joyce also spoke on the MavCare Pledge, stating: "We have to look out for each other."
Each building on campus has one point of entry. At all points of entry on campus, security has areas where they scan the code that students have on their mobile devices. There are also paper forms for those who do not have cellular devices. The point of entry does not include the security spot in the parking lot because they do not want to have traffic overflow into the main streets of Dobbs Ferry.
One of the app's other features is the "friend walk," which is an invite that can be sent via email or text message to a friend or family member giving them one's location through Google Maps in real-time where they can be tracked while they walk.
The app is only allowed for students of Mercy College because students must sign in to their Mercy Connect accounts in order to even pull up the form. Any visitors must get the form from the person they are visiting. There are absolutely no visitors allowed in the residence halls this semester.
Right now, there are no fines for not following social distancing guidelines or not wearing a mask.
"We are relying on peer pressure from others. So far, I have been thrilled with how everyone has been doing," states Motyka.
Colleen Powers, director of the Health and Wellness Program, stated that if any students begin to show symptoms, they should self isolate and contact the Student Health Office at (914) 674-7255.
Leave a Comment
About the Contributor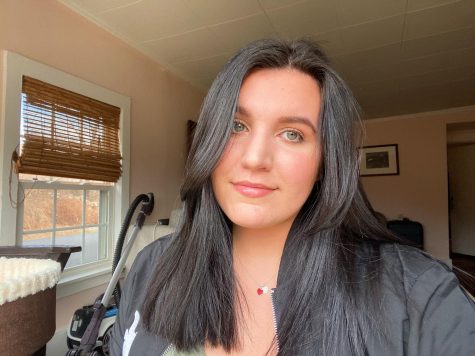 Alexis Lynch, Managing Editor
Alexis Lynch is currently a senior at Mercy College. At Mercy, Alexis is a Media Studies major with a focus in Journalism. She has gained experience that...