Governor Cuomo Is In Hot Water Over Nursing-Home Deaths Data
Cuomo: "We should have done a better job providing more public information."
Governor Andrew Cuomo is undergoing FBI investigations over nursing home deaths caused by COVID-19.
New York Attorney General Letitia James released a conclusive report accusing the New York State Health Department of undercounting nursing home COVID-19 deaths by approximately 50 percent.
The 76-page report published by Attorney General Letitia James in January concluded that a greater number of nursing home residents died from COVID-19 than the Department of Health data reflects.
New York State Health Commissioner Howard Zucker responded in a press release that the word "undercount" implied that there were more total fatalities than reported, naming this accusation as "factually wrong."
"This shocking yet unsurprising report must serve as a wake-up call that vulnerable residents and their families deserve better," said Richard Mollot, Long Term Care Community Coalition executive director.
On March 5, the Special Counsel to the Governor, Beth Garvey, released a statement defending there were repeated public statements acknowledging deaths that occurred out of facilities. Garvey says that the reason they were not listed as nursing home deaths stemmed from concerns related to "double counting and consistency and accuracy."
Critics and concerns against the administration's handling of nursing homes appeared as early as last March when Cuomo issued a controversial state mandate prohibiting nursing homes from denying admission or readmission to residents infected with COVID-19.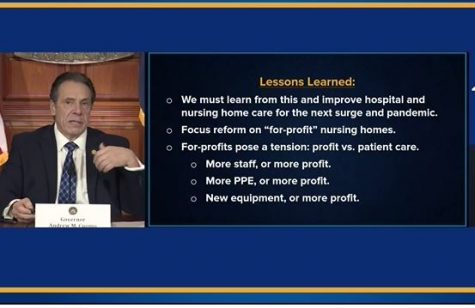 Cuomo and his administration faced a great amount of backlash from this decision prompting him to later reverse this mandate. The new executive order announced that hospitals could no longer discharge a patient to a nursing home unless that patient tested negative for COVID-19.
"Many of the failures documented in this report have been going on for years and have only been exacerbated by the COVID-19 pandemic. It demonstrates that the longstanding system of accepting and paying for substandard nursing home care has been harmful for residents, their families, and the public at large," said Mollot.
The attorney general says that they received several reports from concerned staff and family members stating that nursing homes were failing to ensure proper infection prevention and control.
"The sources of the information and the subject nursing homes will remain confidential to protect the identity of witnesses and the integrity of ongoing investigations. These factual summaries are not meant to convey legal conclusions."
Although Cuomo and his administration were clear about the total number of deaths reported by COVID-19, the failure to include the count of nursing home death can reflect other neglects at the facilities. As reported on the statement by the attorney general, "the lack of compliance with infection control protocols put residents at increased risk of harm during the COVID-19 pandemic."
According to the data provided by the Long Term Care Community Coalition, as of March 3, 2021, there have been 15,430 reported COVID-19 deaths from nursing home facilities, including 5,866 fatalities occurring outside of facilities.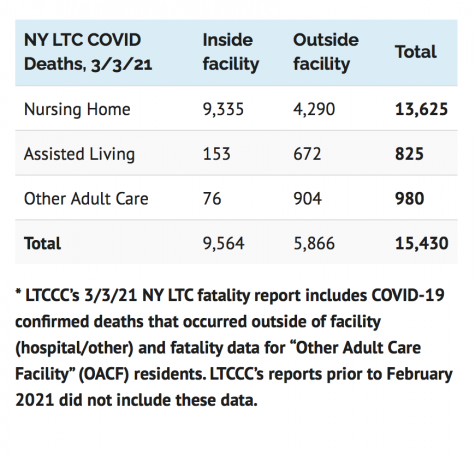 "We join together on behalf of over 2 million New Yorkers, including nursing home residents, their family members, and nursing home staff, to request that you prioritize nursing home reform in this year's budget process. Our neighboring states of New Jersey and Massachusetts have already passed and begun to implement such reform," said the LTCC In a letter to Cuomo and the New York State Assembly.
The pressure is growing and the Cuomo administration is suffering scrutiny. The leaders of AARP of NY, United Healthcare Workers East, and the LTCC appealed for reform in state-wide nursing homes. The call for reform comes after the report of the attorney general was released.
"We have to get the full truth, and we have to make sure it never, ever happens again, nothing like this happens again," said Mayor Bill de Blasio in response to the report. "We have to be honest about the numbers."
Leave a Comment
About the Contributor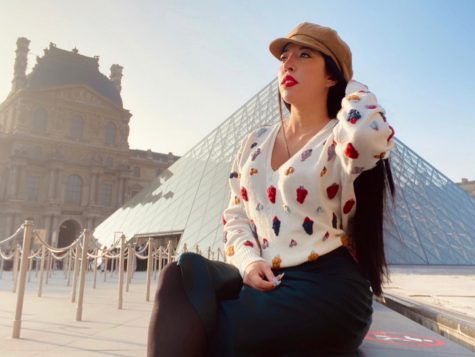 Nicole Alarcon, Associate Editor
Nicole Alarcon is a senior at Mercy College, majoring in journalism. Born in São Paulo, Brazil, she moved to the United States at 10-years-old.

Nicole...