A Plan is Just a Plan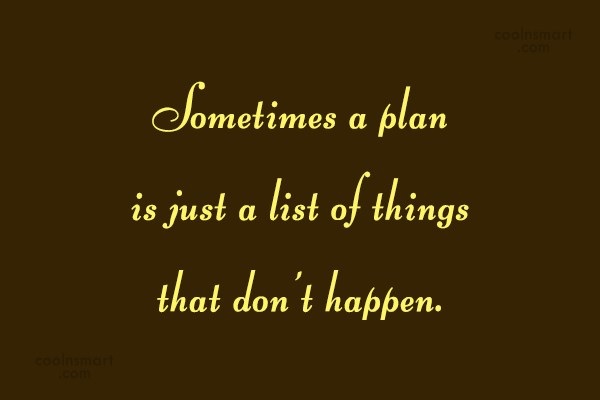 I am a person who is obsessed with plans. I do love making plans. I feel comfortable and fulfilled when I make a perfect plan. Study plans, travel plans, and daily plans are really important to me.
Last Saturday, I went to Chelsea Market and Soho with my friends. I, of course, made a plan, a perfect plan. I planned to go to Soho first and have brunch at Jack's Wife Freda, and then to go window shopping. After shopping, I planned to go to Chelsea Market and to the Whitney museum. In making my plans, I considered a lot of things like where to go and when to leave. I spend over two hours on making this trip plan. It took a very long time but I had fun researching the places and making my lovely plan.
In the morning, I woke up really early because I was so excited. I took the 9:21 train and eventually arrived in Manhattan. Then I went to the subway and got on a 6 train, and waited it to depart. Though I waited for a while, it still didn't go. Then, I heard the announcement that this subway was delayed. I was embarrassed since there is no way to go to Soho except on the 6 train. So, we just stood in front of the subway and talked. We decided to go to Chelsea Market first, because we didn't' have a choice. The plan was totally reversed.
Chelsea Market is a food hall, shopping mall, and office complex all in the same building. It was built in the former National Biscuit Company (Nabisco) factory where the Oreo cookie was invented and produced.
In Chelsea Market, We found a variety of foods from seafood to bakery, and from Mexican food to Korean and Thai food. So, whatever you want, you can find it. We wandered around and took a picture in front of the famous clock. Since we went to the market early in the morning, not many people were there. It was not crowded as it normally would be, so we could enjoy the market at our own pace. Right before we left, it got more crowded. The line for tacos got longer after we bought ours and there were so many people around the famous clock that no one could stop to take a picture.
Even though the plan changed a lot, we felt lucky since we would have been in a huge crowd, if we had gone there later in the day. At first, I felt bad when we had to change our plan; but, after this surprise treat when my plan didn't work, I decided to go with the flow.
After Chelsea Market, we headed to Soho. This time, we got on the train that we thought would take us to Soho, but landed in Noho, instead. I was embarrassed because I thought Soho and Noho were totally different places, but they were really close and browsing through Noho shops, it took us right into Soho! We arrived at the wrong place, but it wasn't bad at all. I could shop as I planned and we had so much fun.
After shopping, we went to Ipudo, a famous Japanese ramen place. I really wanted to go to this place because my friends in Korea recommended this ramen place. This time we got into Ipudo and found out that we had to wait 2 hours. We couldn't wait that long so we came up to Times Square and had dinner at Applebee's. It was my first Applebee's and I loved it. Moreover, we went to Disney Store and M&M Worlds. We couldn't eat ramen but we could have steak and we could visit Disney Store and M&M Worlds. If we had dinner at Ipudo, we wouldn't go to Disney Store and M&M Worlds. Thanks to long line of Ipudo, we could do a lot more things.
Making plans is really important in life, but, we shouldn't be obsessed with plans. Plans help us prepare what we need and help us to live organized lives. However beneficial plans are, plans are just plans. It's not good to be stuck in the plans. We should enjoy and handle what comes to our lives even it is not planned. The plan for this trip totally didn't work. I had to change all the schedules. It was frustrated but I had a lot of fun going with the flow, actually, I tried to enjoy what was going on. Whenever your plans don't work, just try to enjoy what comes to you instead of your plans. It helps a lot, really.