Matt Bomer Co-Hosting Live with Kelly Review
I have been obsessed with the actor Matt Bomer for a while now. It all started when I watched the show, White Collar where he plays a main character named, Neal Caffrey a con artist who works for the FBI. I was hooked on the character that he plays. Every week it would be the same day and time where I would just watch to see what Neal Caffrey has up his sleeve. I was seriously hooked on watching this show until it ended and I was distraught. With 6 seasons of White Collar, it eventually ended.
I have lost count of how many times I have rewatched every episode of this show. I have probably have seen every movie that he is in. (Creepy I know). However, I knew that I was not the only one. I eventually found out that I have many friends of mine that also got hooked on watching Matt Bomer act in White Collar, one of which came with me to see Matt Bomer co-host, Live with Kelly on October 18.
I remember calling my friend in advance and telling her that we have finally have our chance of seeing Matt in person. She and I started to freak out on the phone on how much we have waited for this exact day to happen. I told her that she had to come with me because she was the only one that would be crazy enough to come with me to do something like this. I then told her that we would have to get up super early to wait in line for the show. Her and I were on the same page about how it did not matter what time we had to get up but the overall thought was that we were going to see Matt in person for an hour. We both made an agreement to try meeting him after the show. It did not matter if we were hungry, tired, or our feet hurt, the overall goal was to meet him after the show.
We arrived at the studio before the arrive time and there was already line. My friend who was freaking out by the time we got there started to say if we were going to able to get in or not. I told her that we did not need any negativity today and to think positive. We were then moved onto a proper line since everything was a mess when we got there. The line then started to move a tiny bit then was a complete stand still. A very nice worker of the show came out and then explained that it was because the lobby was small to fit our group inside; however, we were going to be able to go inside. My friend then calmed down and I then told her that we did not have anything to be fussing about. I was determined to be going inside.
We were once inside about to witness one of our favorite actor's co-host Live with Kelly. Could we hold in our excitement? We obviously could not but it took a lot in us to not freak out. We got to our seats, for the first time, my friend and I were realizing that, Matt was going to be here for the next hour. Yes, it took us probably 5 minutes to 9:00 a.m. to realize this.
The show started and that is when we both could not hold in our excitement anymore. When we were told to clap we did and screamed a few times. (I mean, why not?) The commercial breaks were the best. Kelly Ripa could not contain herself around Matt. It was like as if she was a fangirl. She grabbed the mic and then started to thank Matt for coming on the show. She then started to say that, "Matt is hot af" while prepping for the next segment of the show and getting her hair retouched. Matt met and took photos during the commercials. My friend and I turned our heads towards each other and could not believe that Kelly just said that out loud. She again, during another commercial break, asked Matt why he was not in a James Bond movie. She told the crowd that we had to petition for him to be casted in the next James Bond movie. Kelly then said that Matt should take his shirt off which then made all the females in the place scream.
The show started with a brief segment of the current news. Then went on featuring two guests: David Hyde Pierce and Victoria Justice. David Hyde Pierce was promoting his new off-broadway show. Victoria Justice was also promoting the remake of The Rocky Horror Show that will be airing on FOX. Since Kelly is on the search for a new replacement host, there were five contestants left and one got eliminated. The four contestants that were left, came out and were asked few questions by Kelly and Matt that were answered in thirty seconds. The show then came to an end with a question and answer that were provided by the audience.
That was the end of seeing my favorite actor. The hour that I was waiting for was over with and I was sad. My friend and I both waited for our chance to see him in person and finally did. Was it worth waking up early knowing that I could have spent that time doing something else? Yes it was. Would I do it all again? 100 percent would.
But I knew that was not the end. I knew that I could not leave as yet before getting a photo with him. The show ended at 10:00 a.m. where we left the building. I just knew that where we were lining up is the entrance of where the guests came in and out of. My friend got annoyed with me because she was hungry and wanted to leave. I did not want to leave until I got my photo with the one and only Matt Bomer. She then started to complain even more about her feet hurting and wanting to go home. I was not leaving at all. It did not matter if I waited hours but I was determined to get a photo.
11:00 a.m. rolls around and my friend was aggravated with me for wanting to stand outside for someone who we may not meet at all. I told her that I was determined and when I put my mind to something, it sticks. Few minutes later, Matt comes out of the entrance to take photos and sign autographs. I just could not believe that I was finally meeting Matt Bomer! Everything was so rushed but I asked politely if I could get a photo and Matt turned to me and said, "yes." I eventually got a photo and then remembered that I had my ticket that he could sign. I again, politely asked if he could sign my ticket and he did.
If I did not wait those few extra minutes, I would have never got a photo with one of my favorite actors.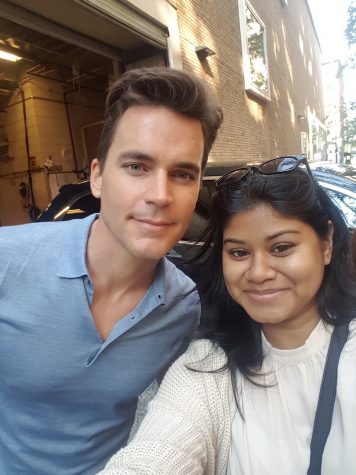 Leave a Comment
About the Contributor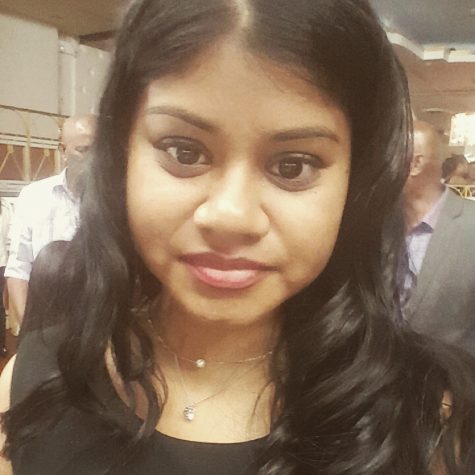 Britney Hoobraj, Impact Staff
Britney is a Journalism major at Mercy College. She was raised in New York City and her hobbies include attending concerts, attending protests, and re-watching...