Jesse Rutherford's Debut Solo Album '&' is Here
The album I never saw coming is now here. Jesse Rutherford of The Neighbourhood has released his first solo project.
It was 2013 when my love for The Neighbourhood first established. I was a young sophomore at the time and was in strong need of a new realm of music to be obsessed with. I had listened to the same overplayed Lady Gaga and Bruno Mars songs one too many times.
Since my long YouTube journey of their music videos, interviews, live shows, and album replays, I was utterly obsessed with alternative bands. Although I am no longer in contact with the high school friend that lead me into the path of their music, I'm still very grateful for her actions. The Neighbourhood was one of the many musical artists she introduced me to.
As we fast forward to the present, after two full albums, a mixtape, and four EPs, The Neighbourhood has been on multiple tours in which their fan base gets more massive and dedicated each year.
The members of The Neighbourhood include lead singer Jesse Rutherford, guitarists Zach Abels and Jeremy Freeman, along with bassist Mikey Margott, as well as drummer Brandom Fried, previously Bryan Sammis.
No there isn't a typo. Although The Neighbourhood originates in California, they choose to identify with the British spelling of the word 'neighborhood.'
The Neighbourhood began different aspects of musical expression after releasing the mixtape #OOOOOO & #FFFFFF. It was released Nov 28, 2014. The mixtape brought out a different creative side to the band, the darker hip-hop side.
Since then the band released their second album titled Wiped Out on Oct 31, 2015. (Since I was born on Halloween, that was a pretty memorable birthday present.)
The band then released their first musical work since Wiped Out's debut very recently. They came out with an EP on Sept 21 and continued on to the alternative melodies they had left on Wiped Out.
Needless to say, that wasn't the only element added to their two-year comeback. Lead singer, Jesse Rutherford decided to release solo singles "Born to be Blond" and "Drama" which led to his announcement of a personal album release.
Mysteriously titled "&" (Ampersand), Rutherford exposes a side to his fan base we have never dreamed of before.
The cover art shows a seemingly androgynous Rutherford in an eight-picture presentation. In the images, he is seen shirtless, wrapped in the American flag, and effortlessly posing in his infamous masculine leather jacket. Other images include Rutherford in a feminine blazer, as well as one of him engrossed in what seems to be BDSM props in his mouth and around his chest. One thing to note is that Rutherford is wearing bright orange lipstick in each photo clearly having no trouble embracing his feminine side.
I'm not sure if its just me but every new album I prepare my ears for, I have to listen to each song in the order it was released. If not, I feel I'm messing up the meticulous storyline the artist set up in the first place. I mean, they must have had some underlying reason for each song to be presented to the public in that specific order.
With that being said, this 11 track project, which was released on Nov. 10 consisted of songs chronologically titled,
Born to Be Blonde: The first track on the album starts off with gradual fading guitar riffs melting into a slow, passionate, melody. It seems Rutherford isn't afraid to bring back his autotuned remedy as previously heard on the mixtape #OOOOOO & #FFFFFF.
Pretty Illusion: This song immediately reminded me of a chill day at the beach. It's definitely the clap along style beat that resonated throughout the song that gave off some real pleasant vibes.
Barbie & Ken: One of the more unique tracks on the album proved Rutherford can experiment with the rap and hip-hop genre and totally not fall flat. It is assumed that Rutherford is referencing his relationship with social media sensation Devon Lee Carlson to a love as attached as the longtime Mattel dolls, Barbie and Ken. This fast-paced hype song is sure to get the car bumpin' on your next road trip.
I Think We Should Stay in Love: This tune is the epitome of the kind of song one would listen to after a breakup. It's beginning acoustic guitar tunes, chime into Rutherford's raspy voice of held back emotions. Lyrics such as "You don't gotta worry 'bout me/ You should be relieved that you ever found me/ You know you can say what you need and I'll get it real fast/ I'm just tryna save what we have," present all the feels. My only complaint is regarding the song's rapid departure. I need at least four minutes to bask in post-breakup tunes.
BFF: This track is sure to be the jolly pickup one needs after listening to an emotional rollercoaster. The swift beats with active drum waves are guaranteed to make someone happy dance with their own BFF at the next sleepover.
Bloom Later: This song is one that truly emulates Rutherford's true vocal abilities in a ballad-like song, aside from his common autotuned side. Following the theme of love, this one is definitely one most would cry to after spending an entire day filled with lively events alongside your significant other. Lines such as "Every time you shine, you help me define/ How to remind myself what it's worth/ Even when it rains, I need your little rays/ Some things never change even when they hurt," are undeniably heartwarming.
Drama: This track, one of the lead singles and my personal favorite off the album, is truly seductive with its slow and sexual, electric pounding guitar riffs. This tune being the closest to the alternative rock sound of The Neighbourhood as possible proves Rutherford is far from straying from his roots.
IDK: This single is one of shy self-expression. This spooky, laid-back melody of faint instrumentals, leaves listeners to assume Rutherford is okay with being alone but enjoys the company of others, even when he feels he doesn't deserve it. Lyrics such as "I'm okay when I'm not by myself/ I'm alright if you stick with me (you alright?) / And if you notice I start actin' strange/ It's only 'cause I don't know how to explain," emulate that sentiment perfectly.
Dime & Dog: This track's intro is sure to replicate one of an action trilogy series on its final film. The "thirsty" Rutherford is deemed to be in awe of another lover he can't seem to get his hands on. The electric rock and techno sounds merge into Rutherford's desirous lyrics. At one point he even says "I've been starvin' for another taste/ Like a dog, you got me on a leash/ I've been barkin' at your feet/ one more bite is all I need."
Blame: This single emulates a slow, groovy R&B sound similar to one of the 90's. This track leans more into Rutherford's holy skill of mixing rapping and singing and making it a song not to skip.
Guinea Pig: The album closes off with a languid melody, that Rutherford assimilates to self-perspective. Rutherford proposes lyrics such as "Monday, I dress like a skater/ Tuesday, I dress like a hater/Wednesday, I dress like a piece of shit/ Thursday, I dress like a player," that meld into the reasoning for his picks of the visual images on the album cover. Rutherford himself even noted this track as "a nursery rhyme for white boys in the suburbs suffering from identity crisis." This is my personal least favorite off the album, being its musicality and lyrics are not as strong as the others.
Thank you to artists like Jesse Rutherford who aren't afraid to push boundaries and experiment with their artistry. I'll be looking forward to the next musical endeavor.
Leave a Comment
About the Contributor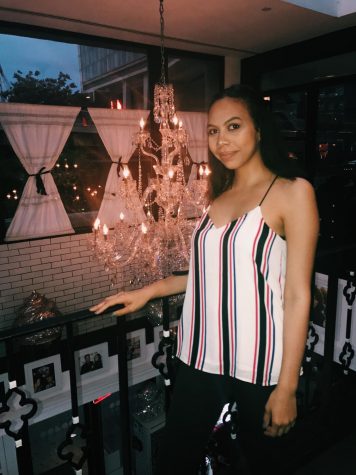 Nicole Acosta, Managing Editor
Nicole is from The Bronx and is a journalism major at Mercy College. Her hobbies include discovering new places to eat on a budget, photography, listening...