The Astros Need to Pay For What They've Done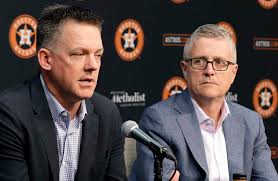 The Houston Astros have been involved in arguably the biggest cheating scandal in baseball history. It was found that in 2017, the year the Astros won the World Series, they were illegally stealing signs with the use of electronics and trash cans as part of an elaborate scheme to give their hitters a distinct advantage when stepping in the batter's box.
The scandal was shed to light by former Astros pitcher, Mike Fiers, when he spoke to multiple reporters including Ken Rosenthal of The Athletic. Fiers, who now pitches for the division rival Oakland Athletics, has been seen as a hero by some for bringing attention to what took place, while seen by others as nothing but a snitch and a whistleblower.
This plan was orchestrated by former bench coach, Alex Cora, and player, Carlos Beltran. The Astros somewhat paid a price for their actions by their manager, AJ Hinch, and general manager, Jeff Luhnow, both being suspended from baseball fo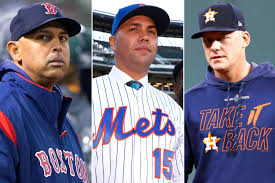 r a year and then being fired by owner, Jim Crane. They also lost a first and second-round draft pick in 2020-2021.
The MLB also fined Crane $5 million, which let's be honest, he has that money sitting in his ashtray. Cora has not been retained as manager of the Boston Red Sox and is still awaiting his punishment from MLB. As for Beltrán, he was let go as the manager for the New York Mets before he even managed a game. Although they are all paying a price for what took place, the ones who benefitted the most from this scandal are getting off scot-free. The fact that none of the players have faced any punishment is an absolute joke.
The players were granted immunity by the Executive of the Players Association, Tony Clark, and Commissioner Rob Manfred, before the investigation for complete honesty about what took place. This meant that there was no way for them to be punished if they were found guilty. The Players Association is meant to protect all players, but the problem with that is by protecting everyone it includes the ones who played the game unfairly.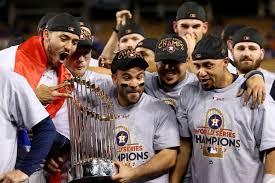 It's ridiculous that a player like José Altuve, who won a championship and an MVP that year over Aaron Judge, doesn't have to pay at all for his part in this scandal. I understand that it's unrealistic to suspend the players because there's no way to determine who had the most involvement in the sign stealing, but there's one obvious thing that can be done that will put both players and fans slightly more at ease. That would be to strip the championship that they won.
In the 2017 postseason, they played two seven-game series, one against the Yankees in the ALCS, and then in the World Series against the Dodgers. It robbed both teams of an opportunity to hoist the championship trophy that year because of the Astros sign stealing.
MLB can't just announce the Dodgers or Yankees as the 2017 champions instead, but if they vacate the title, they can decide that there was no champion, the same way there wasn't a champion in 1994 because of the strike.
Manfred has done about as bad a job as you could in the handling of this situation. Not only did he decide to not vacate the title, but he also doubled down on his decision by calling the World Series "a piece of metal."
To completely diminish something that every player strives to win, just shows how completely out of touch he is with the game.
By stripping the title, it would confirm what everyone already believes, which is that it taints the 2017 championship. As long as the title is still in the record books, Houston still gets to walk around saying they are champions regardless of what people think.
The Astros showed zero remorse for their actions when they spoke to the media about the scandal. It's an absolute disgrace for Carlos Correa to say "If you don't know the facts, then you've got to shut the fuck up."
Alex Bregman gave a 30-second apology that looked like he was reading from a teleprompter because they forced him to.
In addition to Correa and Bregman, Crane said, "Our opinion is that this didn't impact the game," only to then say that he didn't say it. The level of arrogance the three of them showed is maddening on so many levels.
It's bad enough that they were found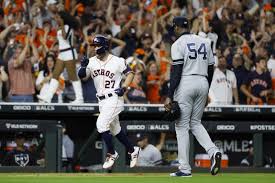 guilty of cheating in 2017 and got away with it, but they also never gave a definitive answer as to whether or not they cheated in 2019 by using buzzers underneath their jerseys. Altuve not wanting his shirt ripped off after his walk-off home run against Aroldis Chapman in the ALCS definitely leaves room for suspicion. MLB did an investigation which I think was anything but thorough and claimed they found nothing, but I think they found things that would be just too damaging to the game if they ever got out.
What also gets overlooked is that they didn't just rob two teams of potentially winning a championship, they also affected the careers of pitchers across the league whose poor performances against the Astros may have cost them financially. Former Blue Jays pitcher, Mike Bolsinger, is even going as far as suing the Astros after being released by Toronto and getting shelled in Houston back in 2017 and not pitching in the major leagues since then.
Since MLB did not punish the players, this season I expect to see other players across the league take matters into their own hands. When the Astros step into the box, pitchers will let them know how they feel by throwing up and in and also potentially drilling them with fastballs. There are certain areas like the head, where it would be unacceptable to be hit, but if they get hit on the shoulder or somewhere down low, they're just going to take it. This is a small price that they would pay for something as big as illegally stealing signs.
Leave a Comment
About the Contributor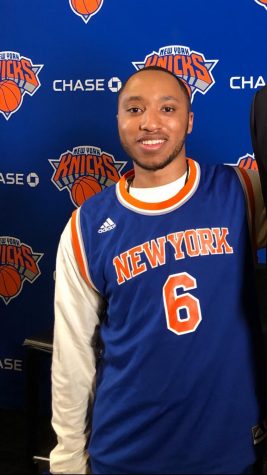 Ellis Joshua, Impact Staff
Ellis is a Senior Media Studies major who is looking to become either a sports writer or sports broadcaster after he graduates. He has a passion for writing...