How NBA 2K Is Keeping Players Busy
It's been a little over three weeks since the NBA season was suspended due to the coronavirus (COVID-19). It's clear that many if not all players are bored out of their minds and don't know what to do with themselves. Many of them have been doing things like going on Instagram live to keep busy. One thing that I've noticed that many of the players are doing is playing a lot of video games like "Call of Duty" and "NBA 2K 20."
Since so many players are playing "2K," there is now a tournament that was started on April 3, hosted by Ronnie 2K. It features 16 NBA players who are participating to help raise money for coronavirus funding. The winner of the tournament will be given $100,000 to donate to a charity of their choice. The tournament has 16 players who are seeded from top to bottom based on their rating in the game. This is something that I think will be great for the players, fans, and ESPN – who is airing the tournament until it ends on April 11.
How it works is each player has a pool of eight teams that they can use in the tournament, but they can only use each team one time. This is key because many players would, of course, want to use the stacked teams like the Lakers or Bucks as much as possible, because it would give them a better chance to win. By only letting them use each team once, it urges them to strategize how they want to use certain teams.
The 16 competitors and 
first-round matchups are as follows:
No.1 – Kevin Durant versus No.16 – Derrick Jones Jr., No. 2 – Trae Young versus No. 15 -Harrison Barnes, No.3 – Hassan Whiteside versus No. 14 – Patrick Beverly, No. 4 – Donovan Mitchell versus No. 13 – Rui Hachimura, No. 5 – Devin Booker versus No. 12. – Michael Porter Jr., No. 6 – Andre Drummond versus No.11 – Demarcus Cousins, No. 7 – Zach LaVine versus No.10 – Deandre Ayton, and No. 8 – Montrezl Harrel versus No. 9 – Domantas Sabonis.
With half of the first round already complete, we've already seen a few upsets take place. Kevin Durant who was the top seed in the tournament went down to Derrick Jones Jr. He was using the LA Clippers while Jones used the Milwaukee Bucks. It definitely caught me by surprise to see Durant lose by 16 in the first round, because he's a player who tends to boast a lot about how good he is at "2K."
One matchup that did not catch me by surprise at all, was Harrison Barnes against Trae Young. Barnes got completely destroyed as his Toronto Raptors lost to Young's Milwaukee Bucks by 42 points. It might just be me but I don't think Barnes looks like someone who plays "2K" at all, and Young looks like someone who can spend hours on end on the sticks. I'm also not sure what Barnes was doing using the Raptors. Yes, they have a great squad in real life, but some teams just aren't meant to be dominant in video games.
In the battle of the trash talkers, Patrick Beverly easily took care of Hassan Whiteside as his Bucks handled Whiteside's Lakers by 30 points. Watching that match up was cool because you got to see that Beverly, who is very pesky and tenacious on the court, is also the same way while playing video games. As soon as he went up by 10 points, the trash-talking started and didn't stop.
The last first-round game that is in the books is Deandre Ayton against Zach LaVine. Ayton's Houston Rockets got a solid 16 point victory over LaVine's Miami Heat. One thing that came out of this game was that LaVine made it very clear that he is done participating in the slam dunk contest after winning it back-to-back years.
With more first-round games set to wrap up April 5, it will be interesting to see who moves on to the second round. Overall, I think it's great that these players are letting the fans into their homes a bit by participating in this tournament, as it gives us a chance to see how they are just like average people who enjoy playing video games during their time off.
Leave a Comment
About the Contributor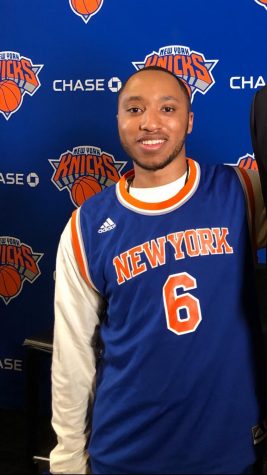 Ellis Joshua, Impact Staff
Ellis is a Senior Media Studies major who is looking to become either a sports writer or sports broadcaster after he graduates. He has a passion for writing...