Brown Makes Huge Impact in First Season for Men's Basketball
The Mercy men's basketball team went into their season just like any other team did. Ready to work hard, hoping to come out on top, and winning. This was not different for junior forward Jeremiah Brown from Queens Bridge.
This was Brown's first year at Mercy.  While his 6'2″ height has been a factor in the team's success, his impact on the team through his hard work and dedication cannot be measured.
Brown has been around basketball his whole life.
"Before I started playing ball, I used to always rebound for my uncle who was playing basketball at St. John's University," Brown remembers.
Eventually he picked up the ball and fell in love with what came with it.
Around the age of 10, Brown began learning basketball skills other than rebounding. His father, uncle and Coach Kasim saw his love and passion for wanting to learn the game. They helped him learn to dribble, defend and shoot, along with their knowledge of the game that they passed down to him.
That's where it all started. A boy, a basketball and a shared love for the game.
Brown played all the way through to high school, even becoming a top 10 scorer in the city. He was getting looked at by different colleges. His height, skills and hard work ethic made him a great prospect for any school he would have wanted to play at.
Ultimately, he decided upon going to Hostos Community College.
Coach Jody King helped the soft spoken kid turn into a great player. The two clicked together.
The team was honored with back-to-back national Top 10 rankings. It received regular season conference titles and even made two Region XV Conference appearances. A big step for the team and program all in the right direction.
The glory was short lived. Hostos was a two year school it was time for Brown to start looking and applying for other colleges.
His Coach was also moving elsewhere. In May of 2014, King became the head coach of the Mercy Men's Basketball team.
Brown proudly went with him.
The team struggled the previous year. Not due to lack of talent or effort, but things just didn't seem to come together on the court the way they did for them at practice.
This obstacle was something the team was determined to overcome this year.
The preseason effort was unlike anything that was ever seen in a long time. Every player determined and working hard on and off the court. The effort showed early in their season.
"The season started out strong. Three big wins in a row, then it sort of went down hill losing four in a row and one of our better players," Brown says.
In their game against Queens College on Dec. 20, they lost one of their top players. Tyseem Lyles.
Lyles was going up for a two handed dunk off of the pass of one of his teammates. He was flagrantly fouled and went down hitting the ground hard. The trainers ran out to him after he had hit the ground and began seizing.
He began moving his legs which was a good sign but still could not rise from the ground. Lyles had told the trainer to let the team know to keep playing and win the game for him.
He was then taken to the hospital. His team staying behind in devastation about what they had just witnessed.
The game was halted and planned to be finished at another date.
"It was a huge loss," Brown says.
They went on to win the next two games. Doing it for their teammate who could no longer be on the court with them.
But the eventually they couldn't make up for the loss. They began going down to teams and not coming back. They kept the games close but rarely came out on top.
On Feb. 11, the team lost another teammate to a concussion. This time Brown went down hard. Not as bad as teammate Lyle, but still not remembering much about what happened.
His role changed completely when he had to watch his teammates finish out the season from the sidelines. He went from being a strong player on the court to some what of a coach watching on with a different perspective.
Brown became frustrated knowing that he could only watch from a distance when what he really wanted was to be on that court alongside his fellow Mavericks.
But if there was anything Lyles had taught him it was that you could still make an impact even off the court.
When asked about how he embraced his role change, Brown says he "started giving them tips about things they should do in order to score or try to stop someone since I seen the game a little different from the bench. But most important I was cheering my team on."
A team he cannot wait to get back to playing for the first game of next season.
Brown finished the season scoring 13 ppg, second only to Lyles, who scored 18. Brown  led the team in field goal percentage (.481) and three-point percentage (.537).
Mercy won it's last game of the season against the District of Columbia and finished the season at 8-18, the most wins for the program since 2007.
Leave a Comment
About the Contributor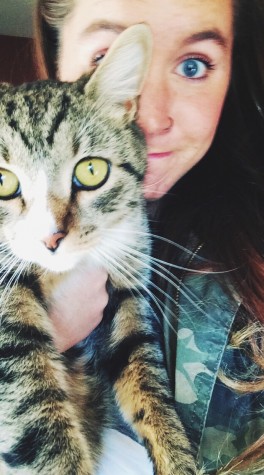 Marie Roser, Managing Editor
Marie Roser is from Kingston and attends Mercy College for TV and Radio Production. She was on both the field hockey and lacrosse team for four years at...