Couillard Looks to Start Off Right With Young Softball Squad
The start to any season is suspenseful. After over a month of preparation and long early practices plus two-a-days, any team is eager to start their season. The Mercy College Softball team lives with that anticipation as they look to start of their season. And for seniors who have been on the team for four years like catcher Jackie Couillard, the expectations are high.
Couillard started off her softball career at the age of four. Her parents had signed her up to play because of her mother's own love for the game when she was younger.
A young Couillard suddenly caught softball fever. She was playing every weekend and any chance she got. She got to high school and continued to play the sport she fell in love with and she thrived.
She was named Rookie of the Year in 2008, Offensive Player of the Year in 2009 and 2011, Defensive Player of the Year in 2010, an All-Naugatuck Valley League selection in 2010 and 2011. She even earned MVP of the Senior All-Star Game in 2011.
When looking at schools that were offering scholarships, Mercy made it's way onto the list. Couillard then finally came for a visit.
One of those weekends of softball, Coach Mike Fazio saw her playing and recognized her talents. They were at a softball tournament and Couillard definitely took the offer into consideration.
"Coach convinced me about all the benefits of Mercy College. However, the minute I saw the view of the Hudson River, I knew I was going to be a Maverick," she said, recalling her first visit to the Dobbs Campus
When she started off her first season the pieces just fell into place. Almost as if this is where she belonged. She make a huge impact early on and even earned East Coast Conference (ECC) Rookie of the Week award in only the second week of playing.
And that was only the beginning. Couillard became a staple on the field. And she only continued to look forward.
Now Couillard is going into her senior year. The little girl who fell in love with just the game is still there inside her. But a more determined girl now looks to make strives in her final season.
A young team is putting it lightly. With 12 freshman and 14 sophomores, the team is filled up with underclassmen ready to work. Couillard is only one of three seniors that remain.
But the positivity and great energy is unlike anything Couillard has ever experienced on a team before. She spends day in and day out with these girls and a smile cannot be wiped off whenever she is seen with them. A rare find with a large female sports team.
"I can't wait to play this last season with this group of girls. They have kept me in love with the game of softball simply because of their great attitudes," Couillard remarks about the young squad.
But with any young team they are bound to make mistakes. And this one is no different. Couillard recognizes that viewing mistakes as a learning experience.
The team then headed out to Florida ready to start their season. The learning experience was about to begin.
Twelve games in just seven days. She batted .313 with four RBIs.
The shock came as too much as the team lost all but one of those games. Bringing their current record to 1-10.
Not the great start they were hoping for.
Although the season is not the way she wanted to start out Couillard still remains positive and hopeful.
"As soon as they get comfortable and play to their capabilities we will be a very difficult team to beat," she says about the young talent.
Something that is learned as you look to finish any career as an athlete is the wisdom and changed mindset that come along with it.
Where mistakes are in fact viewed as learning experiences. Where other teammates priorities are more important than the individual's.
Couillard has recognized this change in herself significantly and claiming that "by doing so, I have become a better teammate and player."
A far way from a player who used to only yell to get what she wanted done.
Couillard has constantly heard people around her saying, "play every game like it's your last."
As that moment is slowly approaching, the saying is becoming more and more of a reality.
Realizing that "after all the hard wok and effort you put into a sport, it will just end one day."
Now she looks to strive on the field and make herself a force to be reckoned with. Unforgotten in the minds of others. An impact on not only her teammates but also her opponents.
"I guess the only thing I can hope for is that I make an impression on the game."
Leave a Comment
About the Contributor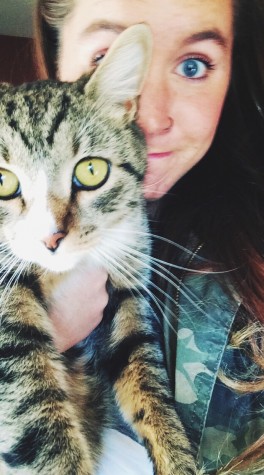 Marie Roser, Managing Editor
Marie Roser is from Kingston and attends Mercy College for TV and Radio Production. She was on both the field hockey and lacrosse team for four years at...