Watson Looks to the Future After College Lacrosse
Life after college is an extreme adjustment and culture shock for anyone. But for a college athlete, the change is even more extreme.
For women's lacrosse senior Keri Watson, next years future poses some major questions.
Watson will be graduating and leaving lacrosse – a game in which she has been playing for 13 years behind her.
Lacrosse has been something that has been part of a structured lifestyle for Watson, just as many different sports have been for many different college athletes. Having a work like schedule of practice at certain times every day, all while maintaining a full class load.
Watson started off playing lacrosse at the age of nine, when her father placed her in a camp playing with a boy's stick.
A classic story. A little girl falls in love with a game. She continued playing all throughout high school. When she got the offer from colleges, she jumped at the chance deciding on Mercy.
When first coming into a student athlete environment, Watson was intimidated to say the least. A shy soft spoken player came into an already formed family looking in from the outside.
"It was a reality shock to say the least, I had to adjust to new people, a new environment and a completely new structure," Watson remembers feeling on her first day.
Like for any college freshman, the different level of play and intensity was a lot to take in. Much more demanding than what she had been used to previously.
Being with seniors who knew so much about the game helped Watson to develop her skills. She may not have been the star that first year, but she was learning and improving each day. Maintaining a tough mentality taking criticism and adjusting.
Sophomore year Watson learned to make even more adjustments when Mercy College Women's lacrosse hired a new coach, Dawn Anselmin.
But this year was different for Watson.
She was more comfortable with the people she was around. She was more part of the family rather than that outsider she was as a freshman coming in. She had found her niche and the adjustments were not nearly as drastic.
And she began to find her niche. Watson admits that her junior year was "So much fun. It finally felt like a family."
She finally started seeing more and more time on the field, Starting five out of the 12 she had played in. She finished the season with seven goals and 15 assists.
Watson make some of her best friends that year. She even became close to Coach Anselmin. Realizing that she's only hard on Watson because she knows just how great she can be.
Entering into her senior year, Watson was both nervous and excited.
"We had more team chemistry than we have ever had, even with such a young team and so many freshman. I couldn't wait," Watson says about starting her senior year.
She was now taking many classes for her Homeland Security major. Although being in the library to get work done for these classes took away from some of she social time, a future after college and lacrosse finally started to hit her. She began to have the anxieties that most graduating seniors do.
"Thinking about the future makes me really question little things, like my career path. Is this really what I want to do for the rest of my life?" Watson reflects.
The future is a scary thing for anyone. The real world is out there and no one wants to be unhappy with what they are doing with their lives. But the background of a college athlete has its benefits.
Watson, like a select few, have had the opportunity like no other. The pride of being a college athlete. It leaves you with a particular set of skills that can be used in any type of environment.
Watson says, "I've learned so much from lacrosse that you cannot get in a classroom."
Being on a team has helped her learn how to work with others. She was learned how to take criticism and adjust learning from her mistakes. She's learned to rise above the negative thoughts and focus on what she can do rather than what she can't control.
Watson is now in the last stretch of her senior season.
She currently has 15 goals and 19 assists with two games to go in the season. One goal which kept the East Coast Conference Tournament dream alive for her team, a game winner in double overtime against Roberts Wesleyan College on  April 18.
Watson's last home game as a Maverick.
As Watson looms towards the future she always looks at the present. Surrounded by a group of girls who all have her back – a true family that supports her.
"If there's one thing I'm gonna miss the most it's having this group of close people around me who are always there when I need them. I love them all."
Leave a Comment
About the Contributor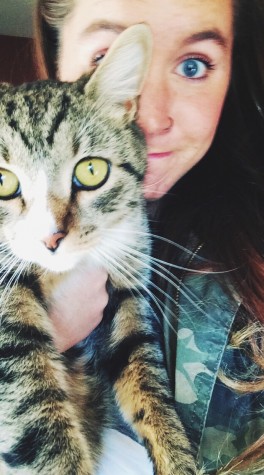 Marie Roser, Managing Editor
Marie Roser is from Kingston and attends Mercy College for TV and Radio Production. She was on both the field hockey and lacrosse team for four years at...