Lyles Battles Back From Injury; Team Sits At 2-4
Tysem Lyles opened his eyes and took a look around.
He was lying on the ground in the middle of the basketball court with trainers gazing over him. His gasping and sobbing was heard in the background noise. The last memory he had was going down the court with his teammate and was passed the ball.
As the trainers came into focus above him he began hearing what they were asking.
"Can you move your legs?" they asked him.
Lyles looked at them while moving his legs, while responding "Yes…" and asking "What happened?"
No one responded. And Lyles thought he was fine. But this was not the case. Not even close.
The trainers got Lyles out of the gym and on his way to the hospital.
On his way out, Lyles looked up to the trainer and said "Tell the boys to keep playing, and to win this for me."
Later Lyles found out what had really happened.
He was on a fast break, going up for a two handed dunk from a pass off of one of his teammates. Suddenly a Queens player flagrantly fouled him while he was going up. Lyles hit the ground hard and began to have a seizure.
The gym went silent as trainers rushed to his side on the court.
Players began crying, including the Queens player who fouled him, after realizing what exactly had happened. And after his exit, the game came to a halt and was set to be resumed at a different date in time.
This was last season on Dec. 20, 2014. It was the last game he would play in for a long while.
Lyles finished off the season on the sideline the remaining of the season watching from the sidelines, like a young boy witnessing his first heartbreak move on.
It's always a true test of true athleticism, whether or not an athlete can come back stronger after an injury.
As time went on and the weather began to warm up, Lyles began to get stronger and able to begin working on getting better as soon as the time came.
"The day I was able and cleared to play I called my old trainer Tippy…" said Lyles, "and he was more than happy to help me out with my recovery."
Lyles woke up early and got himself to the gym. It was March 2, 2015.
It was 6 a.m. and his first day back.
As he stepped into the gym the loudness settled down and everyone stopped they were doing to look over at Lyles.
"Everyone knew what had happened, and they didn't know if they should say anything or just keep going about their day. But they noticed me when I walked in," Lyles remembers about that day.
When it was time to actually get down to business, it was a little bit different from what he had remembered. But his skills remained the same. Practicing shooting and moves over and over again and executed them almost perfectly.
"It was like I didn't even miss a beat," Lyles says about that first day.
The only difference this time is that he would become very tired very quickly. But he was too excited to have a basketball in his hand again. It was like watching a kid fall in love with a sport all over again. And even his fatigue could not stop him.
He began practically living in the gym on a daily basis. From 6 a.m. to 9 a.m. he would lift at the gym, from 10 a.m. to 3 p.m. he would shoot and practice drills, from 3 p.m. to 6 p.m. he would work, and somedays he would even be there longer.
That gym became a second home.
When it came time to play in actual games and tournaments for the summer he wasn't supposed to play.
But even his long time trainer Tippy knew he could not stop him. So Tippy offered Lyles a deal –  he could play but only if it was on his team. So he could watch out for him and make sure he wasn't getting too much contact.
Especially since Lyles refused to scare his mom, not letting her know exactly he was up to.
And one tournament after the other his team was always successful. Winning all of them, but one. Something Lyles thinks highly of.
"I felt like I could play Kobe Byrant and come out on top," Lyles says.
Throughout the summer he got the opportunity to meet so many different people. All giving him different aspects about getting back onto the court.
He was introduced to a bunch of athletes  –  the former head coach of the Chicago Bulls, Morgan State College Assistant Coach and even an NFL Colts player.
"I learned a lot from them," Lyles says. "And their work ethic changed the way I work and want to work."
As summer came to a close and school began to start back up it was time to get back on the court with his team here with the Mavericks.
"I felt like I could do anything, like I wasn't gonna miss a beat yet again," Lyles remembers thinking going into preseason.
But expectation and reality are two very different things. And so is being in shape and being in game shape.
"It was a lot of running that nothing could prepare you for," Lyles says.
And preseasons are something that is always unpredictable, designed to get out flaws and get you into great shape in just a short amount of time.
Getting used to playing with each other again, and working out all the kinks is just a part of preseason. And towards the end of preseason the team began to look very solid, and with only one freshman there was not a huge learning curve to figuring out their new teammates style of play.
As preseason wound down and the season came up to start before Lyles very eyes.
A little less than a year later on Nov. 13, 2015 Lyles suited up in his Mercy gear and stepped out onto the court for his fist game of his senior year.
"Before the game I was so nervous, my legs were shaking. But as we got closer and closer I got even more excited. It was really emotional," Lyles says about that moment.
As the game began, Lyles wasn't having his best game. He was missing his shots and something just felt off. But it wasn't just him.
The team as a whole began to slow down at once.
"The Mercy curse," Lyles calls it.
A curse in which you have so much talent and it just doesn't seem to be coming together. And although they won the game, Lyles believed that he could of done better, and the team could have as well.
"I'm just as focused, and am going to just work harder and push my team to get up to my level with me together."
The team is currently 2-4, with wins against Queens and Berkeley. Many of the losses have been close contests – the Molloy loss was point, and every other loss was under 10 points.
Lyles is currently second in scoring on the team, averaging 12.5 points per game. Shaquille Stokes is currently leading the team at 13.3 per game. Forward William Robinson is right behind them with 12 points per game for a balanced attack.
Robinson is leading the team in rebounding and field goal percentage. Lyles is currently fourth in rebounding and second in field goal percentage at 38.7 percent. Lyles is also leading the team in steals per game at two.
Every day he gets stronger, and looking to elevate his game to the next level.
If you look up the definition of an athlete in the dictionary you'll read a generic definition defining them as "a person who is proficient in sports and other forms of physical exercise." But if you ask an athlete how they would define an athlete they will define it as being "someone who will stop at nothing to play their sport and perfect it."
Sitting down with Lyles for two minutes you can tell this his true. But when asked about this whole journey injury and all he will simply tell you "it's a beautiful thing."
Leave a Comment
About the Contributor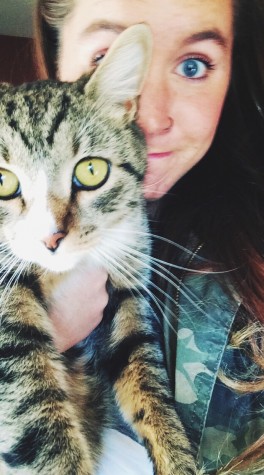 Marie Roser, Managing Editor
Marie Roser is from Kingston and attends Mercy College for TV and Radio Production. She was on both the field hockey and lacrosse team for four years at...