Heart and Pride: Volleyball's Sarasky Helping Rebuild A Program
Being tall has its perks. For Danielle Sarasky, senior captain of the Mercy women's volleyball team, that perk came in handy while spiking points on helpless opponents.
Sarasky has been playing volleyball for nine years. When Sarasky was younger, she participated in both soccer and volleyball, however a key moment helped her decide her athletic future.
"When my soccer team disbanded, I started playing volleyball more. It was one of those 'It chose me' moments."
Sarasky started playing volleyball after her neighbor encouraged her to try it out. Shakey at first, it took Sarasky time to learn the sport.
"I had never touched a volleyball before. I was terrible. Then I started practicing in my backyard often and got better and better and eventually, fell in love with the sport."
The motivation to continue playing volleyball and work to get better came from Sarasky's best friend at the time.
"She told me that I was tall and that I could be good if I used my height to my advantage. So she would constantly stay with me after practice and help me hit and get better. She definitely inspired me to become the player I am."
When it comes to athletics, versatility is very sought after. Sarasky does not have a set position, rather she plays wherever her team needs her at the time. Whether that is left, right, or center, Sarasky goes into the match and does her job.
"For four years, I have not had one steady position. I like playing right side, but will play where I need to."
The difference between high school and college athletics is always a hard jump. For Sarasky, the game became a lot faster and more serious once she got to college.
"In high school, you played all around and it was fun. In college, when you go into the game, you have a job to do," stated Sarasky. "I know that I am not the best passer but I can block really well. So when I go onto that court, I know that my job is to block and that's what I have to do."
When asked if she feels more pressure added to her by being named captain, Sarasky noted that it is a lot more stressful but she enjoys being captain and being a leader to the girls.
Coming into the season, Sarasy and her teammates share a common goal: make the ECC tournament. With new additions to the team and hard work, Sarasky feels that this year could be their year.
"I feel like with this team that we have the chance. We had a rough start, but from the preseason we've came out of the gate strong. I'm hoping that we can get people healthier and that we can make the ECCs."
Team attitude plays one of the biggest roles in a team's success. Sarasky feels that this year's team has a better attitude and family culture than past seasons.
"We have had a lot of negativity in the past, but I feel like this year we all love each other and want to work hard for each other. We take the constructive criticism and work hard to fix the mistake."
The volleyball team is currently 3-14 with a 0-5 conference record. After an 0-4 start, Mercy won 3-2 against Georgian Court on Sept. 8. Mercy won its either two games on the same day, Sept. 16, with a 3-1 victory over Felician and a 3-0 victory against Cheyney. Sarasky has totaled 44 points, 17 blocks and 33 kills on the season.
Freshman Courtney Gebhardt has totaled 157 kills on the season, 124 digs and 17 aces. Brooke Runge has a whopping 374 assists and leads the team with 19 aces. Kaitlyn Partridge leads the team in blocks with 37 and has recorded 86 kills. Sa'Naya Johnson has 123 kills and 16 blocks.
For the past few years, the Mercy volleyball team has always been the underdog. This year Sarasky hopes that they can take that underdog title and use it to boost their confidence and will to work and make it to the ECC tournament.
"Staying confident with the team will be our biggest challenge. In the past we have been ranked low, so we want to prove everyone wrong. However with that, we are putting a lot of pressure on ourselves so as long as we don't get overwhelmed and relax, confidence won't be a problem."
From playing volleyball in high school to now playing in college, Sarasky enjoys every moment of it. The support from Mercy, however, is one of the elements she loves the most.
"I love the support that the school gives. We don't play our games on campus however we still get a lot of fans to come to our games. It's nice to know that we have a support system throughout the school."
Sarasky is motivated not by this year, but by the years to come. For Sarasky, being a senior, she wants to build Mercy's volleyball program.
"I think that within these next few years the volleyball program will be great. What Georgia, our new coach, is doing will benefit our program long lasting. There is a really good attitude with the team and our coach has set a good foundation for the years to come."
Leave a Comment
About the Contributor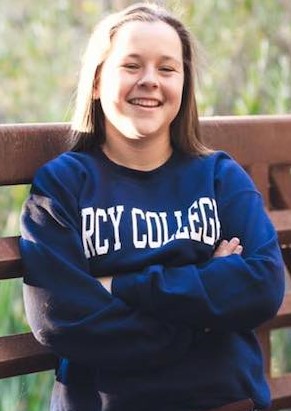 Jess Brandt, Sports Editor
Jess Brandt is a Media Studies major specializing in Journalism. She is from the wholesome town of Folsom located in beautiful Northern California. She...