New Coach, New Year For Men's Basketball Squad In 2017
With the addition of a new coach and six new players, the Mercy College Men's Basketball team looks to improve on last years season.
The Mavericks struggled to find wins last year, but are confident that they are going to improve on their 2-25 overall record from last season.
At the lead for the Mavericks is small forward Kelvin Howard. With his fourth season on the team, Howard is nothing but excited for the upcoming season.
Being a two-sport athlete, Howard knew he had to choose which sport he wanted to pursue, and that was basketball.

"I used to play baseball and basketball year round, but then as high school came around, basketball became more intense, so I stuck with that."
When asked what got him started with basketball, Howard was quick to mention his inspiration and role model: his mom.
"My mom was a basketball player in high school. With me being around her, she showed me a lot and I stuck with it from there," he said softly. "She is my biggest inspiration for the game."
Height is always an important aspect when it comes to basketball. Ever since a young age, Howard has stood out among his peers.
"When I was younger, I was always taller than everybody. I always stood out. So I played Center for my team," he said with a laugh.
However, as years progressed, Howard transitioned to the small forward position where he now starts at for Mercy.
Playing collegiate is a dream for everybody, but for Howard, it's more.
"It's great. The speed is faster and it's very demanding but I am the first one to play collegiate in my family, so it's awesome."
Howard was quick the mention the turn around he wants to provide with the men's basketball team.
"I want to leave here with a good season and a championship."
With six new additions to the team, Howard is confident with his team and believes this year they can do something amazing.
"We have a lot of junior transfers that are already showing a lot of leadership coming in from different schools," he said. "Dequane Richards, Chris Meyers, and Sal Barbetto are coming in and they'll be good for us."
The biggest addition to the Mavericks squad this year may be the addition of a new coach, Coach Michael Maczko.
Maczko comes from an assistant coaching job at Post University and hopes to lead the Mavericks to a successful season. As a player, he was a captain for Salisbury University and an all-conference selection. He then played three seasons for the Bay Area Shuckers in the American Professional Basketball League. Previous to Post, he was a graduate assistant at Georgia Tech and an assistant at John Hopkins University.
Howard had nothing but praise for Maczko.
"He's awesome," he said with a smile. "His energy is amazing, he listens and he teaches us. He wants to win now. Which is a good thing, he doesn't want it to be a process to get there, he wants the ring now."
"Come out to the games and come support. The culture of Mercy basketball will be changed this year – I can promise you that," Howard said with confidence.
Alongside new head coach and senior Howard, the Mavericks look to make the ECC Tournament after missing it last year.
Senior Marko Kozul led the team with 8.0 points per game and 4.9 rebounds per game in the 2016-2017 season. Howard also led the team in steals with 1.3 steals per game and 6.3 points per game. Jefferson Francois also returns to Mercy after ending last years season with 5.3 points per game and a 61.6 percent shooting rate.
Mercy is currently 2-2 after wins against St. Michael's College and Georgian Court and losses to New Haven and Chestnut Hill.
Leave a Comment
About the Writer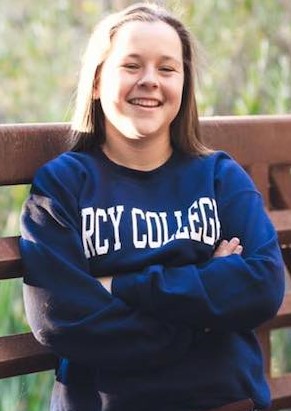 Jess Brandt, Sports Editor
Jess Brandt is a Media Studies major specializing in Journalism. She is from the wholesome town of Folsom located in beautiful Northern California. She...