Rebecca Conway And The Lady Mavs Receive Another NCAA Berth
Captain of the 12-3-1 Mercy College women's soccer team, Rebecca Conway and the Mavericks are in the middle of another phenomenal season as runner ups in the conference tournament and another NCAA tournament berth.
Rebecca has been on the Mercy College soccer team for all four seasons and has been a captain for two years.
She has played 72 games for the Mavericks and has 1846 minutes played in her career. Rebecca plays center back for the team. She started playing soccer when she was eleven years old. Originally, she was a dancer but wanted to do something more physical. She switched to soccer and fell in love with the sport ever since.
Rebecca is not alone when she's at the games, because her mom and dad are at every game cheering her on.
"Having my family there supporting me every game means so much to me."
Athletes often set goals aside for themselves before the season starts to help motivate them. Rebecca set a goal for herself at the start of her last season with the Mavericks.
"A goal that I made for myself was to score a goal this season, and I did that".
She set that goal aside for herself and she got there but working hard practicing six days a week from eight to 10. Its not easy going to school full time and being a college athlete. It takes time management and commitment in order to be successful. Rebecca is a perfect example of balancing both.
"Its not easy but I have been doing it for so long that I know what it takes."
Rebecca is a captain for the team but she is also a leader for her players. Rebecca said "There have been times when younger players have come to me asking for help and advice because they are struggling and stressed out."
Her leadership qualities help her team on and off the field. If someone has a problem off the field and a team captain like Rebecca helps them it shows that her teammates can depend on her. In a game situation it builds chemistry between the players and this is part of the reason why the soccer team is successful.
Before every game, athletes have certain rituals they do to get them motivated. Sometimes they just do this because its apart of their every game routine and it works for the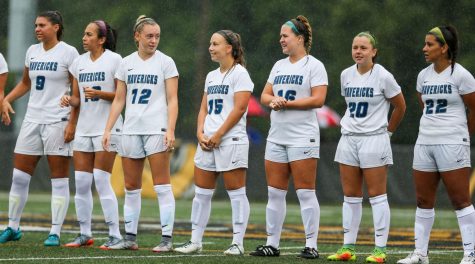 m. LeBron James throws powder in the crowd before every game and that is his trademark.
Rebecca Conway listens to the same playlist before she suits up to play. There is no specific reason for this but its something that works for her.
The Mavericks had a historic 2017 to say the least. They won a school record 18 games and won their first ECC championship since 2014. It was a great season for the Navericks with so many key contributors including Rebecca Conway.
Rebecca was named to the NCAA division II Women's soccer championships all tournament team for her stellar play in the 2017 season.
Arguably the team's biggest accomplishment was making it to the final four. The Mavericks won a barn burner against Westchester University 4-3. At the end of regulation, the score was tied 1-1. Two overtimes followed which eventually lead to penalty kicks. Mercy eventually won thanks to big saves by Ashely Price.
After this game came the final four for Rebecca and the Mavericks. It was real. The moment that she was waiting for finally came.
Her most memorable moment was easy to pick. "Going to the Final Four and being in that environment was surreal. It was different than what we had ever experienced. It felt legit to be in that environment."
The Final Four matchup would be the Mavericks against the No. 1 Central Missouri in the National Semifinal matchup. The team played their hearts out but lost 3-0 and their historic season ended. They finished 18-4-1 which was the best ever for the program.
It was an unforgettable season with a ton of talented players. The Mavericks bounced back with a 12-3-1 record and are in the NCAA tournament once again.
The 2018 NCAA Division II soccer championship East Regional first round matchup will be on Nov. 9 at the University of Bridgeport against the College of Saint Rose.
This was the fourth time in school history that the Mavericks were selected for the NCAA tournament. They are advancing to the ECC tournament for the sixth straight year as well.
Mercy will be betting on Haley Nobble who leads the team with 12 goals and 25 points. Rebecca Conway is the strength of a Mercy defense who has only allowed 12 goals on the season.
Rebecca was named ECC Defensive Player of the year. She scored three goals and seven points. Rebecca will be ready for the task along with the rest of her teammates as they get another chance at the tournament.
When asked if she was going to miss soccer, Rebecca said, "I definitely will miss playing but I enjoyed the time that I did."
In regards to off the field, Rebecca is studying to be a nurse and will continue to work on that after this year. She set aside a goal for herself to score a goal at the beginning of the season and accomplished it. Becoming a nurse is another goal she set for herself and the way she works on and off the field will help her accomplish this in the future.
Leave a Comment
About the Contributor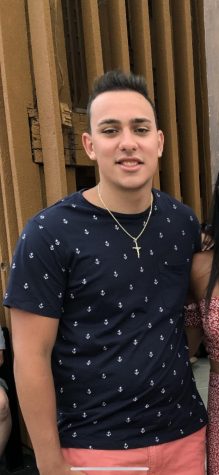 Michael Panteleo, Impact Staff
Michael Panteleo is a senior and studies journalism at Mercy College. He enjoys writing, watching, and playing football and basketball. He is a member...