Basketball Is Back And In Style
After playing home games away from campus, the men's basketball team will now play their home games at Mercy College's new gym in Victory Hall. Coach Michael Maczko and the Mavericks will open up their season on Nov. 12 against Felician.
The Mavericks are excited to get back on the court after a somewhat disappointing season finishing (10-19), (5-13) last season. The Mavericks did have a lot of talent on the roster last season. Dequawne Richards lead the team in scoring averaging 17.4 points per game. He also led the team in rebounds per game averaging 6.7. His season-high was 34 points and also grabbed 13 rebounds on 13-of-25 shooting against Chestnut Hill on Nov. 18.
Another stand out from the 2017 campaign was Sal Barbetto. He started in all 29 games for the Mavericks last season averaging 12.5 points per game and leading the team in steals with 1.6 per game. The Mavericks will have him again this season along with some talented young transfers and freshman.
There is a lot of optimism heading into the new season with the addition of four newcomers to the team. Two of the team's new players are freshmen and the other players are transfers.
Tawayne Anderson Jr. is one of the new players that has come to Mercy College. He had an exciting high school career averaging 25 points per game and surpassing 1,000 points.. He is coming from Merrimack College and Maczko is excited about his leadership presence in which he brings to the team.
Maczko said, "Tawayne is someone that we will be relying on in a lot of different aspects this year. Coming from Merrimack College, he has been a part of a lot of success at our level which will be very beneficial as we blend this group together. His leadership and presence is a great addition for us."
Another new edition to the team is Dondre Barnes. He is an all-state first team guard who also eclipsed 1,000 points at South Atlanta High School. Coaches said that he just wants to compete and wants to be coached. Barnes should develop into a nice point guard for the Mavericks this season.
Korey Lee is a transfer from Trinity Pawling College. He averaged 14.4 points per game and seven rebounds while playing for Trinity Pawling. He is a skilled guard who has potential to be a very good player for the Mavericks as well.
Lamont Williams Jr. is a new edition as well who averaged 17 a game at the County College of Morris. He scored 55 points in a game once in high school. He is a shot maker who is ready to help his team instantly. That kind of explosiveness is exactly what the Mavericks need to have a successful year.
Maczko said, "Lamont is someone that is going to help us out immediately on the offensive end. He is a big time shot maker. Above all, he is a great student and an even better person."
The Mavericks could have a rebound year with some returning players and new editions as well. Some incoming games include Nov. 14 at Concordia College and Nov. 17 at Dominican College. Their first home game will not be until Nov. 18 against Post University, where they will play their first game in their brand-new gym.
Leave a Comment
About the Contributor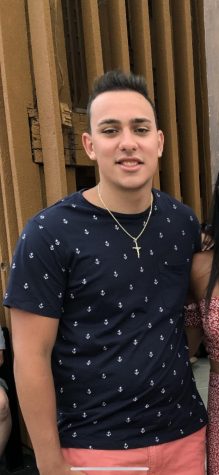 Michael Panteleo, Impact Staff
Michael Panteleo is a senior and studies journalism at Mercy College. He enjoys writing, watching, and playing football and basketball. He is a member...