Men's Basketball Loses Home Opener, Rebounds Vs Nyack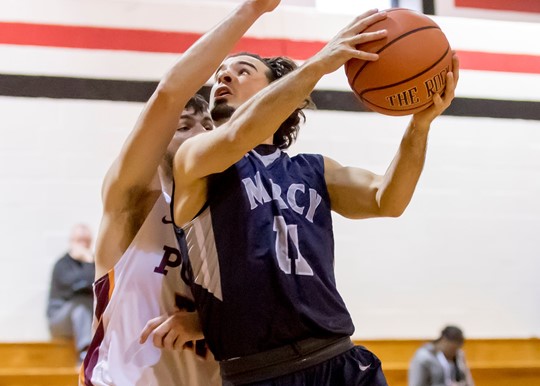 The Mercy College men's basketball team debuted their long-awaited home opener at the Victory Hall Sports Center on Nov. 25 against Pace University. The Mavericks were anxious to play at their new arena at came out to a 10-6 lead at about the fourteen-minute marker of the first half.
The Settlers began a run of their own going 7-0 and taking a 17-13 lead with 10:57 on the clock. Amir Atkins cut the deficit to two by making the score 17-15. After this, the Mavericks ran out of gas and gave up a 17-0 run. The score then became 34-15 right before halftime with Mercy in a huge hole.
Mercy was able to cut it down to a score of 38-24 going into the half. Again, the Mavericks came out firing cut the score to 43-33. Pace then went on another one of their runs they had done previously in the game and the Mavericks were unable to get closer than 15 points.
Losing 70-55 probably was not the way the Mavericks wanted to debut their new arena, but there were some positives for the team. Four players scored in double figures for Mercy. Bryan Griffin finished with 12 points and 7 rebounds. Sal Barbetto scored a team high 13 points on an efficient 4 of 7 shooting. Sophomore Matthew Alectus added 11 points. Tawayne Anderson Jr. produced 10 points and 6 boards.
For Pace, their leading scorer was Peyton Wejnert, who led the game with 19 points. He torched the Mavericks all game and was the best player on the court. It wasn't the home opener that the Mavericks wanted but they did some good things on the court.
Mercy forced Pace to commit 24 turnovers and shot 44 percent from three. Mercy quickly would have an opportunity to rebound against Nyack. Mercy did just that and picked up a 68-65 victory in Nyack. Four players were able to reach double figures for the second game in a row, but this time were able to get the victory.
Bryan Griffin was the Mavericks leader in points and rebounds. He scored 13 points and was able to grab 17 crucial rebounds. Amir Atkins also had 13 points for the game. Daquon Ervin finished the game with 12 points and 7 assists. Sal Barbetto did a little bit of everything scoring 11 points grabbing 5 rebounds and dishing out three assists.
The Mavericks needed contributions from all their players to overcome a 17-point deficit and grab the victory. Joel Bailey led Nyack in scoring with a game tying 13 points.
The Mavericks chances did not look so good when they were down 26-9 with 10:35 left in the first half. The Mavs showed their resilience and cut the lead to nine making the score 27-18.
Mercy managed to only be down by three entering the half. Nyack started the half strong until Mercy went on a 7-0 run to give them a 45-43 lead. Mercy later went up 68-62 and relied on their strong defense which led them to a victory.
Mercy shot an efficient 44.1 percent from the field and 47.8 percent from downtown. Coach Michael Maczko will look to get more efficient shooting and try to get some more wins from his team. Mercy's next few games will be against St. Thomas Aquinas, University of the District of Columbia and Queens College.
Leave a Comment
About the Contributor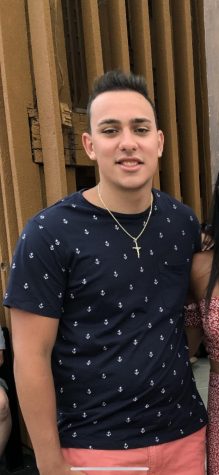 Michael Panteleo, Impact Staff
Michael Panteleo is a senior and studies journalism at Mercy College. He enjoys writing, watching, and playing football and basketball. He is a member...