Griffin, Barbetto Score in Double Figures as Mavericks Fall to Queens College
Redshirt sophomore Bryan Griffin and senior Sal Barbetto lead the way against Queens College.
Mavericks redshirt Sophomore Bryan Griffin recorded yet another double-double to go along with tying his season high 7 blocks in a loss against Queens College on Wednesday. Senior guard Sal Barbetto also poured in 15 points to go along with 9 rebounds and 4 assists.
The Mavericks were defeated by Queens College, 76-59, to drop to 6-15 on the season. Despite the 16 point loss, Griffin led the team with 19 points, 11 rebounds and 7 blocks while shooting an efficient 7-of-14 from the field and 3-of-4 from three point range.
With just under eight minutes left in the game and the Mavericks leading by three, the Knights went on a 21-0 run that spanned just over seven minutes to build a 18 point lead and seal the game.
The beginning of the game saw the Mavericks with an 8-2 deficit with just under four minutes gone by in the half before the Mavericks responded to cut the Knights lead to two after a three pointer by senior guard Amir Atkins with just under thirteen minutes remaining.
After falling behind by again, this time by 8 points, the Mavericks responded again by going on a 14-2 run to build a four point lead which was their targets lead of the first half.
Griffin finished the first half with 7 points, 7 rebounds, and 5 blocks in sixteen first half minutes as the Mavericks went into halftime trailing by 9 courtesy of a 15-2 run by the Knights to close out the first half.
The Mavericks got off to a hot start in the second half, opening up with a 16-4 run which was capped off by a three-point play by Barbetto to give the Mavericks a three point lead. After a tip-in by Griffin, the Mavericks went up by five which was their largest lead of the game.
Despite the loss, Griffin scored 12 points in the second half shooting 5 of 9 from the field with 4 rebounds and 2 more blocks to tie his season high in blocks which was set just three games ago against St. Thomas Aquinas. Barbetto also added 9 points in the second half to go along with 4 rebounds and 2 assists.
Leave a Comment
About the Contributor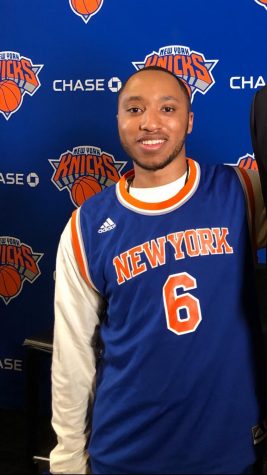 Ellis Joshua, Impact Staff
Ellis is a Senior Media Studies major who is looking to become either a sports writer or sports broadcaster after he graduates. He has a passion for writing...