Isnardi Scores Game-High Six Goals in loss to Assumption
Mavericks suffer first defeat of the season despite Isnardi's six goals.
Despite a 13-12 defeat to Assumption College, senior midfielder Hunter Isnardi scored a game-high six goals as well as a game-high eleven draw-controls.
The loss at home is the Mavericks first defeat at home since April 22, 2017 against LIU Post.
The first half saw the Mavericks get off to a quick 3-0 lead with Isnardi scoring her first tow goals of the game.
After Assumption rallied with three straight goals to tie the game, Isnardi scored her second goal of the game to give the Mavericks a one goal lead.
Once again Assumption College would come back to tie the game before the Mavericks rattled off four straight goals, two of which came from Isnardi to take an 8-4 lead with 1:35 remaining.
It looked like the Mavericks were going to end the first half on a high note but Assumption scored two quick goals to end the half to make it an 8-6 game going to into the break.
The first half saw Isnardi lead the team in goals, scoring five of Mercy's eight first half goals.
Isnardi recorded her sixth and final goal of the game one minute into the second half and after another goal by sophomore Briana Corace, the Mavericks matched their largest lead of the game of four goals.
With just twelve minutes left in the game the Mavericks had a 12-9 lead but were held scoreless the rest of the way and saw Assumption score the last four goals of the game with the game winner being scored by Meghan Cushing with 4:27 left in the game to give Assumption a 13-12 victory.
Leave a Comment
About the Contributor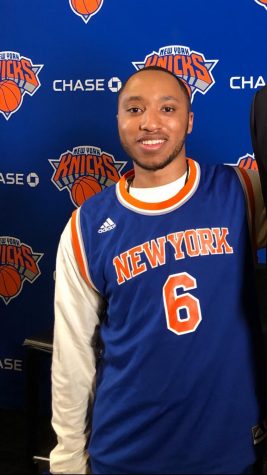 Ellis Joshua, Impact Staff
Ellis is a Senior Media Studies major who is looking to become either a sports writer or sports broadcaster after he graduates. He has a passion for writing...