Men's Lacrosse Advances to ECC Championship With A Dominant Performance
Mavericks Powered by Freshman Joe Poggio Earn a Matchup Against No. 2 Post.
The No. 1 seeded Mavericks continued their excellent season into the post season by securing a victory over No. 4 Robert Wesleyan, 16-2, in ECC semifinals.
Freshman attacker Joe Poggio had a career day scoring six goals. This is only the second time in school history the Mavericks will play in the ECC championship game. Mercy now has won seven games against the RedHawks and have lost 0.
Mercy averages ten goals when they face Robert Wesleyan and have fully dominated against them in previous matchups.
Bobby Chillianis currently leads the team with 41 goals on the season. Ryan MacSpayden leads the team in overall points with 76 on the season, he has 38 goals and 38 assists.
Senior attacker Bobby Chillianis had a great game by giving the Mavericks five goals on the day. Freshman attacker Jack Gibbons also had two goals for Mercy. Sophomore Dominic Scorcia led the game in assists with five. Senior midfielder Ryan MacSpadyen was not far behind, with three assists. Junior midfielder Antonio Rey was 7-of-17 on faceoffs. Senior goal keeper Ryan Gibbons did what he has been doing all season by saving six balls in the game.
Kyle Dunham and Hunter Lemieux each scored in the game for Robert Wesleyan.
Mercy did not waste any time as they came out firing. The Mavericks jumped to a 5-0 lead in the first quarter. Poggio and Chillianis scored a combined five goals in the first quarter which gave the Mavericks a comfortable lead.
The second quarter was much like the first, as Chillianis and Poggio scored back to back goals pushing the lead to seven. Eventually the Mavericks would go into the second half with an 11-0 lead over Robert Wesleyan.
The RedHawks eventually got on the board in the third quarter making the score 11-1. Not long after that, Mercy scored two goals making it 13-1 with 7:54 left in the third quarter. Poggio continued his career game and scored two more goals increasing the Maverick lead 15-1 to close out the third.
Robert Wesleyan scored one more goal and Mercy also scored one more in the fourth quarter. This would secure a 16-2 victory for the Mavericks.
Mercy held a 33-23 edge in shots and a 40-29 edge in ground balls. Roberts Wesleyan won 14-of-21 faceoffs on the day.
The ECC championship game will be held Saturday, May 4 against LIU Post University at NYIT.
Leave a Comment
About the Contributor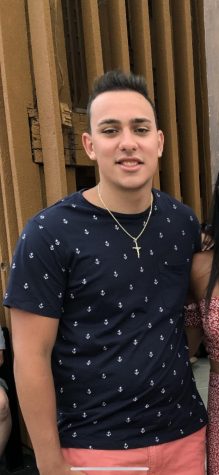 Michael Panteleo, Impact Staff
Michael Panteleo is a senior and studies journalism at Mercy College. He enjoys writing, watching, and playing football and basketball. He is a member...