#2 Women's Soccer Take On #3 NYIT In Semi-Finals of ECC Tournament
Looking to avenge last year's playoff loss, Mercy's women's soccer will host New York Tech at Mercy field on Nov. 11th.

Mercy drew their last game against NYIT 1-1 on the road in enemy territory. This time Mercy is at home and looking for the win. Mercy ended the season hot and ended up with the 2 seed in the ECC tournament.  They'll look to avenge the loss from last year's playoff game at home when they lost 2-1 in double overtime to Molloy.

Mercy students get in free with a Mercy ID. Adult tickets will be eight dollars and all kids under 12 get in for free. It is also four dollars for military veterans and senior citizens.

Mercy will look to lean on their veteran leadership to pull them threw to the final. Team captain and leading point-getter Trista Seara will be a key in the attack. She'll be looking to feed

Denning, who leads the team with 7 goals on the year. The Mavericks will also look to their stout defensive to continue as they racked up 11 clean sheets in 17 games and put up 0.59 goals against per game.

As for New York Tech, they come into the post-season as the No. 3 seed and are making their first-ever ECC Championship appearance. The Bears enter off a 1-0 win over Queens on November 2nd. New York Tech is led by Casey Luongo who has a team-high 12 points on six goals and Maggie Thibault is second on the team with ten points on a goal and team-high eight assists. Hannah Franco places third on the team with nine points on four goals and an assist. Nicole Genis is 6-6-2 in goal with 51 saves, a .718 save percentage and 1.32 goals-against average in 15 starts.

Mercy is 7-2-1 against NYIT in their last 10 against the Bears. Mercy has outscored NYIT 27-14 in the last 10 games, so this will be a firefight, expect goals in this one. Mercy is also 8-0 this season at home, so home-field advantage will be a big factor for the Mavericks in the biggest game of the year to date.

The winner of Thursday's game will face the winner of Bridgeport/Molloy in the Championship Game on Sunday, November 17th. GO MAVS!
Leave a Comment
About the Contributor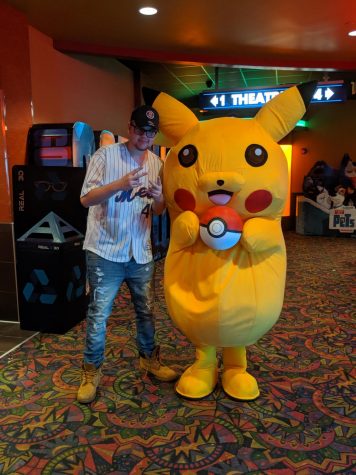 Dan Rebain, Impact Staff
Dan is a VERY TALL person, a sports enthusiast that can't stop talking about FOOTBALL, HOCKEY, BASKETBALL, SOCCER, and MMA. Also, he's making jokes on...