Kelly Continues to Impress While Mavs Score 14 Runs
Coming off their win in the home opener against Bloomfield College, the Mavericks look to make it three in a row as they defeated the College of Staten Island 14-6 in the first game of their doubleheader against the Dolphins on Sunday.
The storyline of this game was the offensive surge the Mavericks had, scoring 14 runs off of 17 hits. However, junior pitcher, Jack Kelly, continues to show his dominance on the mound. Coming off of the home opener where he threw five shutout innings against Bloomfield, the Scranton native had a solid performance Sunday, pitching six innings and recording four strikeouts. When asked about his stud pitcher and how he's improved from last year to this year, coach, Chris Schoen said: "Jack is a year older and wiser, as well as he is in the best shape of his life."
Kelly leads the ECC in wins with three.
The biggest storyline was the Mavericks offense scoring 14 runs. Miguel Ortiz Sanchez continues to lead the way for the Mavericks as he went 3-4 with three RBIs. Ortiz Sanchez is currently second in batting average in the ECC with a .455 batting average. He got two more RBIs in the second game of the doubleheader.
Other notable players to get hits in game one were John Mooradian who went 2-5 with two RBIs, Nikko Liguori who also went 2-5 with an RBI, and graduate student, Anthony Murphy, who hit another home run on the year, making it four home runs as he leads the ECC.
GAME TWO – STATEN ISLAND 5, MERCY 3 
It's worth noting that the Mavericks lost in the second game of their doubleheader. The Mavericks could only tack on three runs as James Jakuba has yet to see his first win on the season and receives another loss on his record (0-3). While Staten Island pitcher, Kevin Ryan, received his first win on the year.
Leave a Comment
About the Contributor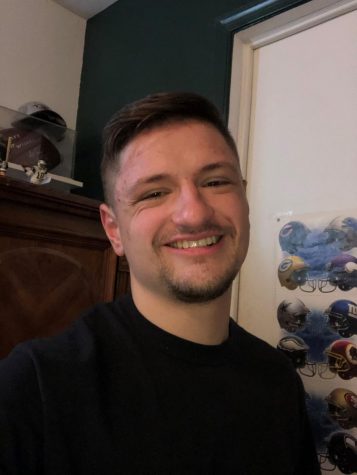 Alex Wendling, Impact Staff
A die-hard sports fan who is eager to learn more about the sports media industry. His dream is to one day work for a big sports news outlet. He is a die-hard...