Men's Basketball Hopes To Tip Off In January
As a sportless semester starts coming to a close, Maverick fans look head to new hope in the spring as Mercy College is set to start their basketball season on Jan. 9 with the additions of other sports also scheduled to start back up.
The athletic department has been optimistic throughout these last few months of struggle and it seems like everything is moving in the right direction for all Mercy College sports.
Mercy College Men's Basketball Coach Michael Maczko said that fall workouts have been going "very well" during the pandemic and he is also very optimistic about this upcoming season not just because of the pandemic but also with his new-look Mavericks.
"As we transition to full team practices, our school is doing a good job of staying on track and keeping our guys healthy," Maczko said on the progress the school has made during the pandemic.
The Mavericks look to improve from last year when they won five games with three of those wins coming from in-conference play. However, the Mavericks took a blow in the off-season when star forward Bryan Griffin decided to transfer to Xavier University. Griffin was a huge part of the Mavericks last season as he led the ECC in rebounds per game and was fourth in field goal percentage.
In efforts to replace the star forward, the Mavericks have attracted new talent this season as community college transfers James Taylor and Elijah Mitchell join the mix.
"These guys have played at a high-level junior college wise," Maczko said, "We also have two other freshmen on campus this semester in Kerwin Prince and Jay Turner- just two college-ready bodies already and they are really hungry to get after it."
Prince was ranked as the 46th overall high school prospect in the state of Connecticut after averaging 26.8 PPG in his senior year while leading Crosby High School to a playoff berth. Prince is also joined by another Connecticut native in Turner, who is a 6'3 versatile guard who will get into the mix this season for the Mavs.
Some notable returning players are senior forward Dayvon Cuffey, who was ranked second on the team in field goal percentage with 49.0 percent. Sophomore sharpshooting guard Garrett Kirkland who was deadly from long range last season, senior guard Amadou Camara, and also returning for his final year Bronx native Nakeem Hamilton.
"Our three seniors playing with a chip on their shoulder and want to go out with a bang,"  Maczko said about his seniors leading the way this season.
Maczko talked a lot about versatility when asked what was the difference between this year's and last year's squads.
"I think we have a lot of weapons on offense. I think our versatility is better, and I think we will be better on defense," Maczko stated, "We have a tougher group, these guys are excited to be in the gym every single day. We have a renewed focus and energy and commitment to both ends on the floor."
The men's basketball team has not had an above .500 record season in the last 15 seasons. The expectation for this year's team is to reach the ECC championship game as it is every year for each team in the conference. Mercy has a better chance to qualify for the ECC tournament this year as the conference announced last month that it will expand its men's and women's tournaments to eight teams this season.
The ECC announced a tentative schedule but it is not finalized yet as the conference is still trying to work things out due to COVID restrictions.
"Our goal is to compete for an ECC championship. We've established that from day one when our guys stepped foot on campus. So that's our goal and we are making sure we take steps to reach that goal every day we step out here."
Leave a Comment
About the Contributor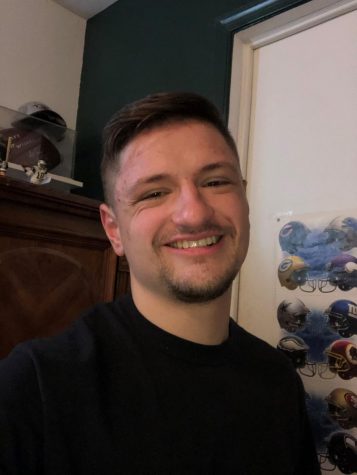 Alex Wendling, Impact Staff
A die-hard sports fan who is eager to learn more about the sports media industry. His dream is to one day work for a big sports news outlet. He is a die-hard...