Mercy Athletes Glad To Be Back In The Swing Of Things
It has been more than a year since Mercy College had to cancel its Spring semester of 2020 due to the COVID-19 pandemic. Since then, a lot has changed. During that period, classes turned virtual, everyone had to wear masks, and students who lived on campus had to get tested for COVID-19 almost every week.
Most students stayed home last year. Mercy College felt like a ghost town to some of its residents during the Fall semester of 2020. On-campus resided athletes who had to come back to school for practices and scrimmages, even though; their competitions were canceled.
Brody Caskenette, a 20-year-old lacrosse player from Owen Sound, Canada, lived on campus during the pandemic. It was his freshman year, and he knew it was going to be different than he expected it to be.
"I expected low numbers in the dorms on campus because of COVID-19. In rooms where there was space for three residents, they only allowed two due to social distancing and all the other rules. I was also not allowed to go to the other residence hall, so it was definitely different," said Caskenette.
However, this did not stop him from meeting new people and having fun with other athletes.
"We made the most out of it, and we made friends with all the other athletes who were living on campus. I got really close with the freshmen on my team, and I am glad that happened, even though we were in the middle of a pandemic."
As the year 2020-2021 continued, Mercy College starts to open up little by little. While the teams that usually play in the Fall saw their seasons being canceled, basketball, baseball, softball, and lacrosse were allowed to have a season in the Spring and they started getting ready by practicing every day.
This was going to be Caskenette's first collegiate season, and he was excited to finally play.
"I came to Mercy College to play lacrosse because I knew that the program was really good. Playing in high school is so different. In college, everyone is much stronger and bigger, and it is much more intense. It really lived up to all the expectations of playing college lacrosse when we played the bigger teams. It was a lot of fun."
The men's lacrosse team became East Coast Conference champions and made it to the NCAA Tournament. The team did not have any COVID-19 outbreaks during the regular season. Unfortunately, right before they were leaving for their NCAA Tournament game against Mercyhurst, some players tested positive for COVID-19, and the team had to withdraw from the championship.
"When that happened, everyone just sat down on the field and had to let the news sink in. It was really disappointing; To win the conference was unreal, but I wished we could have taken it to the next step," says Caskenette.
Although it was sad that the season for the men's lacrosse team had to end so suddenly, it was a big step for Mercy College and other universities in their process of slowly going back to normal.
According to the players, the Fall semester of 2021 is going great so far. Lots of students are back on campus and following classes in person. Volleyball and soccer are competing in the East Coast Conference; while field hockey is playing in the Northeast-10 Conference. Every other team can practice and have scrimmages.
For freshman Sydney Whitfield, an 18-year-old volleyball player from Clemson, South Carolina, Mercy College has been a great experience so far.
"Mercy College is really pretty, and I am having a good time with the friends I have made so far. Some of them are athletes, some of them are not. I like how Mercy College is not that big. Everyone knows each other, especially when you are part of the athletic department. It feels like one big family."
Whitfield is happy to see so many people on campus. They often come to her volleyball games, and they create a great atmosphere in Victory gymnasium.
"When we have a really energetic crowd, it affects the way we play in a good way. Our home game against Molloy was probably our best game so far, and the crowd really cheered us on. It really helped, and it felt great to be part of that experience," said Whitfield.
Caskenette is also happy to see more different faces on campus.
"It actually feels like a real college campus, and it is exactly what I expected from a college. It also feels so much better to have classes in-person again. It makes it so much easier to focus than to have to look at a screen all the time."
Leave a Comment
About the Contributor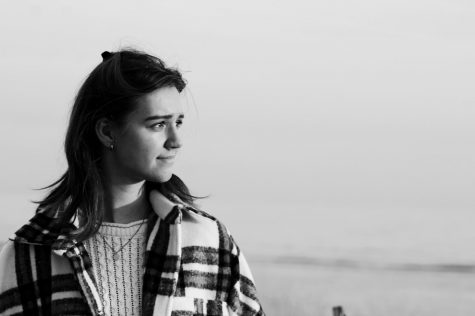 Stephanie Lankhorst, Impact Staff
Stéphanie Lankhorst is a Senior at Mercy College, majoring in Radio and Television Production. At the age of 17, Stéphanie decided to move from the Netherlands,...