Coach Lorenzo Has Mercy Softball In The Right Direction
Jamie Lorenzo has been impressive in her short time leading the softball program at Mercy, reaching back-to-back ECC tournament appearances in her first two seasons as the head coach. The Mavs' 2023 season extended that streak to three straight for the team, proving themselves as one of the strongest in the conference.
Lorenzo took over as the Interim Head Coach in March of 2022, and it's safe to say the impact she's made goes way beyond the base paths. The Mavericks not only enhanced their efficiency in both batting and pitching categories from a season ago, but the teams' enjoyment of competing in their sport seemingly improved as well.
"Some of the girls lost their love for the game last year," senior Sydney Johnson admitted in an interview. "Coach Jamie really helped us get that back."
Lorenzo initiated a needed change throughout the Mercy clubhouse and has done it simply by just bringing her own spin. By emphasizing structure and purpose in her coaching methods, Lorenzo has corralled the players' desire to improve, and more importantly, their desire to play for her.
"Each of [Coach Jamie's] practices were always thought out and had meaning to what we did," Johnson continued. "She instilled a level of trust in us, and that made us give her our trust and respect right back."
The Mavs'steady improvement under Lorenzo has been a reflection of her players' bought-in mentality. The Mercy bats have seen an increase in their production from last year, finishing the 2023 season with 18 more runs scored than they did in their 2022 campaign. Also showing development on the defensive side of their game, the Mavericks managed to hold their opponents to 21 less runs in comparison to 2022.
The Mavericks headed into their third consecutive ECC tournament playing some of their best softball, winning 5 of their last 9 games to conclude the regular season schedule. Leading the way for Mercy was first year star Cayla Crawford, who batted .434 with 53 hits, including 5 home runs. Junior Shannon Sisco hit an impressive .373, with 60 hits and 39 runs scored, both a team high.
Mercy matched up with No. 2 seed St. Thomas Aquinas in their opening round contest, taking a close 7-2 defeat. A game powered by fourth year players, Sydney Johnson and Samantha Franck scored runs for the Mavericks, as Nicole Smart led the team finishing 2-3 at the plate in Game 1.
Lorenzo and the Mavs had their backs against the walls in an elimination showdown with the No. 1 seed Molloy Lions, which clawed into an extra inning thriller.
The Lions would claim victory with a 4-2 win over Mercy in the 11th inning, but the refusal to quit by the Mavericks shed a fine light on the second year coach and the program she is sculpting.
Johnson, who is a catcher and third baseman for this Mercy crew, believes the team has made beneficial strides in her four years in Dobbs Ferry.
"The biggest growth I've seen in my time here has been our team chemistry," Johnson stated. "We struggled with that my first two years, and it really affected our playing."
The senior credits their new coach for switching that environment around.
"With Coach Jamie, there was team cohesion…We started playing for one another which made us a stronger team."
Lorenzo has brought valuable lessons to her team between the baselines, but her lessons taught off the field are those that will send off seniors like Johnson with an immense wealth of knowledge.
"One main lesson I've learned from her is that you never know what somebody is going through, so always be a good person to everyone," said Johnson.
Mercy's Director of Athletics, Matt Kilcullen, has found himself a new future of Mercy softball under Jamie Lorenzo. At Lorenzo's rate of advancement, it seems inevitable that the best days are ahead for this program. And that can be startling news for the fellow conference competition.
Leave a Comment
About the Contributor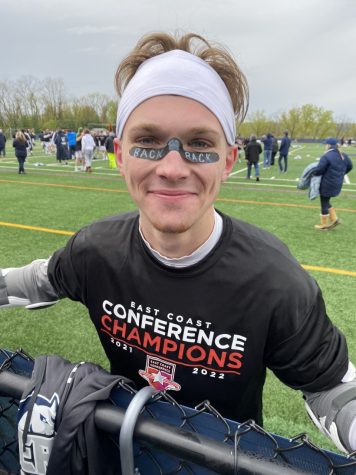 Thomas Heyder, Impact Staff
Thomas Heyder is a man of few words. He is a senior Media Studies major studying journalism. He plays lacrosse. He plays lacrosse. He writes like a champ.

He...