8 Disney Tips and Tricks for Your Trip to Disney World
For anyone that knows me knows I am the happiest when I am at Disney World. I mean after all it is 'The Happiest Place on Earth" and who wouldn't want to spend vacation there! I have been more times than I can count and figured It is only fair that I should share my knowledge!
1) Magic Band
They have become a staple for a Disney World vacation. You can put pretty much put everything on them such as your room key, fast passes, dinner reservations, photo passes and charging privileges if you link a credit or debit card to them! You can have everything you would need to keep in a bag on your wrist!
2) Stay on Disney Property
It may seem like overkill and yes, they are a little bit more expensive, but they have resorts for all budgets and are totally worth it! Staying on property comes with a lot of perks like different meal plans, transportation, even character meet and greets and the best part, extra magic hours! These allow you to go to the parks early or stay later than everyone else!  
3) Fast Passes
Fast passes are great because on those rides that could have up to a two hour wait you can hop on the shorter line and get on the ride in no time. If you buy your tickets in advanced you can order your fast passes up to 30 days before your vacation and plan out day by day!
4)Photo Passes
So, you're going to want to remember this amazing trip right? Don't forget to add the photo pass! The photo pass cast members are available all around the parks. At the end of your trip you can go to the my Disney experience app and see all of your photos right on your cellphone. You are able to purchase your photos in different packages. The best part is the Photographers at Disney are more than happy to take your picture with your camera!
 5)Go to Shows
All of the parks have amazing shows! But my favorite show is at Hollywood Studios. It is the "Indiana Jones Stunt Show"! The "Indiana Jones Stunt Show" is an interactive stunt show that allows audience members to help recreate a scene from an Indiana Jones movie!
6)Talk to Cast Members
I know that sounds strange, but you have people from all over the world from all walks of life surrounding you! Ask them questions, talk to them and learn from them! they will even trade pins with you if you ask! They are all incredibly friendly!
 7)Disney Dining
So you've always dreamed of dining in Cinderella's castle, or maybe a gourmet Parisian restaurant! Oh, maybe you want to be a guest of Belle and the Beast! Or you want to meet the Disney Princesses at a nice Norwegian breakfast or go back in time to a drive-in movie at the Si-Fi Diner in Hollywood Studios! Well if you don't make a reservation at least six months in advance, you might not be able to find a seat. Don't freak out though! You can make your reservation over the phone at (407)WDW-DINE (939-9463) or over at the My Disney Experience app.
8)Get to the Parks Early and Stay Late
This is honestly where I have come to appreciate extra magic hours during my stays at Disney! The earlier you are at the parks, the better spot in line you get! If you stay until closing time, you get to watch the fireworks and get on those lines that have had crazy wait times all day!
Leave a Comment
About the Contributor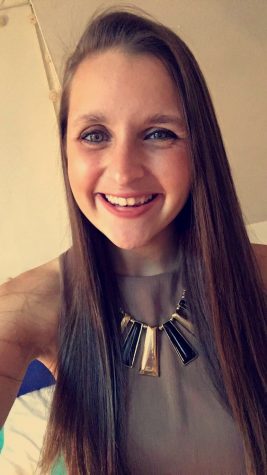 Danielle Sarasky, Impact Staff
Dani Sarasky is a Media Studies major with a concentration in Television and Radio production. She is from a very small town on Long Island called Floral...