Pay the Studs
In the NFL, there are many talented players who are just pure studs every week for their football teams. Some of these guys include Todd Gurley, Odell Beckham, and David Johnson. All of whom who just got paid to buy their teams. Gurley just got four years $60 million dollars. Odell Beckham's deal is worth $95 million dollars over five years. David Johnson who just missed the entire 2017 season got three years $39 million.
All of these players are at the top of the NFL in their positions and even just players in general. Not giving them the money, they deserve would be foolish because they can easily make that money somewhere else. Someone, please explain why Leveon Bell who has eclipsed over 5,000 yards and 35 touchdowns cannot get the deal he is searching for.
Bell is arguably the most skilled player in the NFL. He is a complete dual threat with his ability to catch passes out of the backfield and slot. He also is a very patient runner and can turn nothing into something. He is searching a max contract extension from the Steelers and has not been able to come to terms with them.
Currently, Bell is holding out and refuses to join the Steelers this season until he gets the contract he is searching for and deserves. The two sides are being stubborn and at the rate, they are at a deal is not going to get done any time soon. This is just frustrating for fans because Bell is exciting to watch every game and NFL fans are not getting that privilege. Just pay that man!
The Steelers are a much better team with Bell in the backfield. No, knock to the young James Conner but he is not Leveon Bell. He carved up the Browns in week one but he is nowhere near the player that Bell is. The Steelers organization needs to get it together and give Bell the contract that he is searching for. Bell is going to get paid by some team next year and if the Steelers are lucky it will be them.
The whole situation is just frustrating because a guy like Leveon wants to be on the field. He said it himself that he misses football. His teammates are also not helping the issue as well. His teammates have expressed their feelings by saying Leveon has let them down and also discussing his contract with the media. That is something that should not be discussed with the media. His money is no concern to the other players on the team. His teammates should be supporting him to try and get him back on the field.
Leveon Bell may or may not play this season but at this point in time, it seems likely that he will be in a new destination next season. This situation sounds familiar because it compares to the Khalil Mack trade.
The Raiders just got a new coach in Jon Gruden. Gruden is a great football mind there is no doubt it. He is a skilled coach and play caller. They gave him a ten-year $100 million dollar deal. He is a coach. The Raiders had arguably the best young defensive talent in the league and lost him. The Raiders traded him to the Chicago Bears for two first round picks in 2019 and 2020, the third pick in 2020 and sixth-round pick in 2019 in return for Khalil Mack. The Raiders certainly got some good draft picks who could turn out to be pretty good players. Will any of them be as good as Khalil Mack? The chances of that are highly unlikely.
A pro bowl first team all-defensive player does not fall from the sky. The Raiders might be the most foolish team in the NFL for losing a guy like Mack. In his first game with the Bears, he almost won the game for his team. He returned an interception for a touchdown which was a huge turning point in the game. Mack is the highest paid defensive player in NFL history and there is a reason for that. He is one of the most talented defensive players in the NFL. Why would the Raiders not pay him?
It's hard to imagine the Raiders were saving that money for someone else. Mack was their best player. Why did the new head coach Jon Gruden not reach out to Mack? Mack said to reporters if he had reached out Mack might still be with the organization. The Raiders have lost their first two games and are not looking so hot early on in their post-Khalil Mack campaign.
Leave a Comment
About the Contributor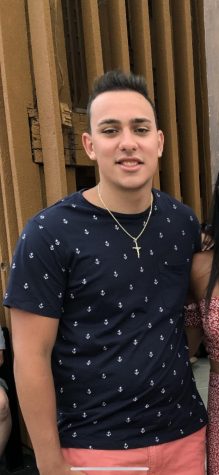 Michael Panteleo, Impact Staff
Michael Panteleo is a senior and studies journalism at Mercy College. He enjoys writing, watching, and playing football and basketball. He is a member...