Why Paul George is the Key for the Thunder's Future
Paul George is the future for OKC and they need to realize before it's too late.
The number one goal for OKC should be to build their team around their superstar: Paul George.
The Oklahoma City Thunder are one of the NBA's most talented team's. The talent is there but some reason the execution is just not. One of the main reasons the Thunder cannot take it to a championship level is Russell Westbrook.
People often get blinded by the analytics' of the NBA. Westbrook averaged 22 points 11 rebounds and 10 assists, but as much as he does, he does many things poorly.
He is a low percentage shooter from the field. Russell shot 42 percent from the field and 29 percent from three-point land. Those shooting numbers are just not going to cut it for a guy like Westbrook shooting more than anyone else on the team. He does not shoot well from the field and that often puts his team in trouble.
He also averaged almost five turnovers per game this season. As a point guard, the number one goal must be to take care of the basketball. Russ is an excellent passer and need are doing a better job holding on to the ball.
I know I have bashed Westbrook, but it is not all bad. Westbrook might be the best athlete in basketball. He has lightning speed and can get the rack at ease. He's also a gifted defender and a talented passer. Russ is a top five point guard but for the Thunder to make a run they need to explore trading options.
Westbrook is a former MVP and current all-star. A lot of teams in this league would make some offer's and OKC need's opening that door. If they pair Paul George with young talent, they should jump on that. I am also not saying trade a top five point guard for Jared Dudley. I am saying try to get a good draft pick and maybe a role player like Maurice Harkless. Someone who can play defense and make a three-pointer. I do not know if OKC will look into this but time will tell.
Paul George just had the best season of his career. This dude averaged 28 points 8 rebounds and 4 assists. He was in the top 3 in MVP voting and it was well deserving. Whenever OKC needed a big play George was there. He can make the three or lock up a killed scorer late in the game.
But it was all for nothing.
The Blazers embarrassed the Thunder by winning in 5 games. Lillard continued his postseason heroics and sent the Thunder home off a last-second three-pointer in the face of Paul George. Paul George is not to blame for this, the guy had 36 points and shot 70% from the field. He had a phenomenal season and continued that into the postseason.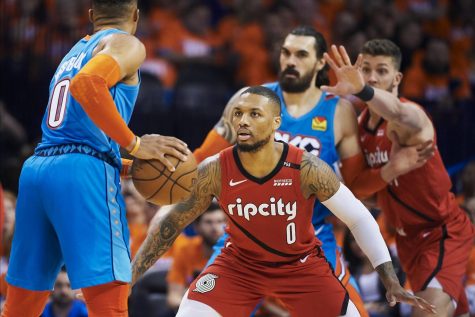 A guy like George does not come around too often. He can guard any position and score from anywhere on the court. OKC need's realizing this before he leaves in free agency. The way to do that is to trade Westbrook get some shooter's and make a run. Westbrook and George do not compliment each other well. One game Russ is great and the next game George is. They rarely coincide and dominate a ball game. It happens but not consistently.
There might be a better option than trading Russ but I think it is the most realistic one. The Thunder does not have the cap to attract a free agent like Butler or Durant. If Russ is gone his contract clear's a ton of cap space. That way you keep George maybe get some role player's and even land a splash in free agency.
I just hope OKC does not waste the talent is on their roster at this point. If they could not win a ring with Durant and Russ, it will not happen with George and Russ.
Leave a Comment
About the Contributor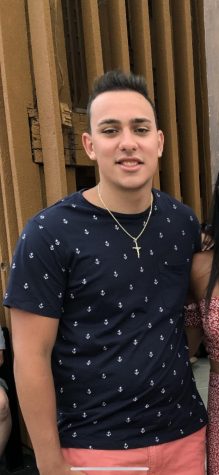 Michael Panteleo, Impact Staff
Michael Panteleo is a senior and studies journalism at Mercy College. He enjoys writing, watching, and playing football and basketball. He is a member...