Journalism at it's Finest
The Only way to be a Better Writer is to Write.
My future was filled with a lot of uncertainty. High school created a glimpse of a possibility that could benefit me. It made me realize a possible passion of mine that I could pursue in the future. Journalism, in particular, is what I am referring to. Writing never really appealed to me until I took this course. My teacher had a very strong impact on my high school career by making the course very enjoyable. Journalism was not a required one. Senior year requires you to take elective courses to fill up your high school credits.
These classes are not typically difficult. You have the option to pick what you are most interested in. Typically, if you pick the course, you will have success. When making this selection I was unsure of what course to select. Some of the choices available were; psychology, journalism, or forensics. Science was not particularly my strong suit. English was always one of my strongest subjects. Each year I have been in school I have excelled in English courses. Journalism was not exactly the typical English course. Journalism seemed to make the most sense considering my success in writing. I chose journalism, not knowing exactly what to expect. The course intrigued me and I was excited to start.
Early on, the course was not too difficult. Papers were assigned almost every class meeting. Making deadlines was crucial. If you did not hand the assignment in on time then points were negated. Right away, nothing really blew me away. As the course progressed, more interesting assignments were given.
These assignments consisted of; group work, presentations, and articles. For this particular class, we had to write a good number of articles. My teacher informed us that we would be writing for the school newspaper. This was a good opportunity for me to see if can create something worth reading. My teacher (Mr. Perillo) did not give us the option to decline writing for the newspaper. He pushed us because he wanted us to become better writers. If you took this course the assumption was that you wanted to become a better writer. At first, I did not know what I was going to write about. I assumed that he would give each of us a prompt to write about. Instead, we got to choose what topic we wanted to write about. This intrigued me because usually, teachers do not give us the decision on what we can write about.
What do I write about? This was a tough decision that I had to make given the freedom I have to write about whatever I want. The one thing that I enjoy on a daily basis is sports. Basketball and football are the two sports I enjoy the most. My school had a very good athletic program. Our football team won back-to-back championships my last two years I was there. If I could do a piece on the team that would be ideal.
Mr. Perillo began by introducing the topics that we could write about. The topics consisted of; faculty, sports, drama, etc. The one that appealed to me right away was sports. I reserved myself a sport right away because I knew that it would be fun to write about it. When I started writing the article it all flowed so easily. I gave a nice recap of the first game the football team played. I interviewed some of the players on the team. Overall it was a good article and my teacher was very impressed. My article made the front page of the school newspaper.
After only writing one article for the newspaper I began to realize I had a possible passion for writing. Besides this assignment, I had never really enjoyed doing any type of schoolwork. Since I enjoyed doing these types of assignments, I knew something was there. Other assignments that I started doing also were interesting and I did very well on most of them. Mr. Perillo brought out the best in me with these assignments. The class was enjoyable, fun, and informative.
After writing these papers I found myself writing in my free time. I would write mainly on my favorite sport's teams, anything on either the Knick's or Jet's. It was a hobby of mine that I enjoyed doing in my free time. Most people do not have the same hobby that I have. Why would I write if I did not have to? People dread having to write essays each time they are required to. For me, that is not the case anymore. This course brought me to the conclusion that I enjoy writing. Before this course, I had no interest in really anything besides sports. Now I have combined one interest with another.
This interest leads to new opportunities for me. Writing for the school newspaper each week gave me the confidence I needed starting my college career. High school has properly prepared me for college. How can I pursue this passion of mine? Journalism gave me a nice start to my career as a writer. I need to improve my skill of writing even more than I already have. Writing can no longer be a hobby for me. Writing can be my career if I play my cards right. I wish to learn other topics to write about besides sports so I can widen my range of interests.
College is the perfect place to widen my range of interest. I have to figure out if writing is the best option for me. The possibility of moving to another field is likely as well. The progress I have made so far is inspiring. My skills will likely grow even more with the opportunities I will have in the near future.
Those opportunities have already grown a great deal for me. I am now writing for one of the best college newspapers out there. The Impact News of Mercy College consists of a group of very talented writers. I am blessed enough to call myself a member of this Impact staff. Not only am I continuing writing, but I am also growing as a writer. I used to just write about the sports team that I liked, but now I write about anything. This semester I have been writing about Mercy College's excellent lacrosse team.
They have only lost one game the entire season and are continuing their journey to the NCAA tournament. I have the privilege to write about them. I do not treat this as a burden or assignment that need's to be completed. It is an honor that I can write about the best college lacrosse team.
It really does not stop there either. I write about all of Mercy college's sports teams. This semester alone I have written about the baseball, lacrosse, and basketball team. It has been such an exciting experience for me.
What I write about varies. Every week I will write out game updates and statistics about the teams. A specific piece that I wrote about this semester that was very enjoyable was about Mercy's star lacrosse player Bobby Chillianis.
The interview was really enjoyable because he was such a nice guy. A lot of times athletes do not want to deal with the media in any way. He was very polite and informative at the same time which made me write a pretty good story in my opinion. If I get the opportunity to write about athletes and just people like Bobby then I will really enjoy my future.
That is a lot easier said than done. In order to be able to achieve this goal, I have to work hard and continue to write. Consistently writing is the only way that I will get better as a writer. Writing about different thing's as well will help my mind explore all of the wonderous options there is to write about.
A particular essay that really opened my eyes was when I interviewed my professor Melinda Corey. She just fascinated me from the start. Her interest in each student as an individual was something very rare to me.
Teachers usually do not show much of an interest in their students but she did and it was just a joy to be a part of. In my opinion, she has one of the best minds in our world today. I believe this is because she sees the world beyond what you see. That is a bit of a confusing sentence, but it also self-explanatory. Everything has a purpose in this world and the way she teaches really makes you think about that.
How certain things are created is really a fascinating process. Writing gives you that opportunity to sort of find out what you think of the creation process. Everybody is different and their writing varies as well. But we all live in the same world. That world is a "world of words". This statement was said by Professor Corey and it has stuck with me ever since.
One of the reasons why it stuck with me is because it is the truth. As humans, we speak to each other. What we speak to each other are words. The same goes for writing. We as writers write words. The words do not write themselves. I plan to live in this world of words and will do my best to prosper in it like each of my professors have in life.
Leave a Comment
About the Contributor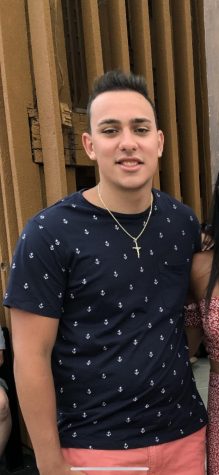 Michael Panteleo, Impact Staff
Michael Panteleo is a senior and studies journalism at Mercy College. He enjoys writing, watching, and playing football and basketball. He is a member...