Chris Cavalieri Story: Slim Chance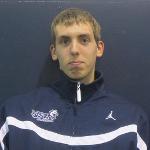 Every college athlete has their own story. Some more than others. For Chris Cavalieri, his was about survival.
The Mercy basketball player, just a few years ago, was not only worried about his athletic career, but his life as well. He was experiencing shortness of breath, fatigue, and his chest was caved inward toward his body. Cavalieri was a 15 year old multi sport athlete at Sachem North High School who beforehand, was considered exceptionally athletic.
His parents took him to the doctor in the tenth grade and was not satisfied with the diagnosis that the local doctors were giving them. They took Cavalieri to Stony Brooke University Medical Center to get a second opinion.
After extensive tests and X-Rays, they diagnosed Chris with Peictus Excavatum, which is a bone disorder where someone's ribs grow abnormally, and in result, hollows the chest. Despite his athletic ability on the courts, internally, his heart and lungs were literally being crushed.
Doctors performed emergency surgery on Chris.
"All I remember them telling me was how much pain I was going to be in," said Cavalieri. "At first I was really nervous because i had to get knocked out, and I've heard so many stories about doctors putting people to sleep and them not waking up."
The doctors inserted two curved titanium bars into his chest cavity, underneath the sternum and affirmed to his ribs, pushing out the depression in his chest.
When the surgery was over in the summer of 2010, one could see an instant change. His chest was normal. But it was not without gruesome pain and the chance his playing career was over.
"The surgery was extremely painful, and the rehab felt like it took forever," said Chris. "But once the surgery was over, the  worst part just began. After I woke up I was on morphine drip and I was in the worst pain in my life. But in the end it was worth it."
Chris had two metal pipes in his abdomen for three years. Walking was painful initially for him.
"I had to be treated like an egg," said the 6'10 baller.
Chris had to leave every class about 10 minutes earlier than every student in school so that nobody would bump him and aggravate his healing process.
A few months after, he was able to try to play sports. He picked up volleyball and basketball.
His father was a huge help in his recovery. Mike Cavalieri, a former player at UMass, worked out with him and played him one-on-one to get his stamina up. Chris needed to further develop, his game so his dad enrolled him into St. Thomas Moore preparatory school in Oakdale, Connecticut.
Chris improved his basketball skills and was starting to get college looks. Mostly at the division III level, but Mercy College which is a division II school, was interested in the 6'10 big man.
"On his visit, I knew about his injury, but I still thought he could help us down the road," said Coach Paramenter.
And Parmenter has seen progress in the one semester his tallest player has been on campus.
"He's all around making some huge steps," the coach admits. "As soon as he stepped on campus as an incoming freshman, he has worked hard and has gained a lot more confidence. He's not looking for favors from anybody, and I like that."
During the  off-season workouts, Cavalieri told his story to his teammates and which they gave him the nickname "Slim." The nickname was a reminder to tell Chris that know matter how hard times get on the court, that he's been through worse.
Slim just finished his first year as a Mercy Maverick and has showed some tremendous improvements. "He may be one of the best shooting jump shooters in the East Coast Conference," says a teammate.
The team is expecting to have a big season with the new recruits they brought in and Slim may be one of the main reasons for that.
Pectus Excavatum affects roughly one in every 300-400 male births, and nearly 40-percent of those have someone in their family with the same disorder. In Chris's case, this was true. Chris's father Mike suffered from it when he was younger, but it was no where near as severe as his sons.
Cavalieri knows it was a tough road back from his experience, but he views the whole experience as one that will make him a better person and ball player. He says he's not longer self conscious about the way his chest looks now, and that getting back on the court for the Mavs is what drives him in the off-season.
"I just cant wait until next season. I'm just going to be the best player that I can be so that I can make my family and team proud."
Leave a Comment
About the Contributor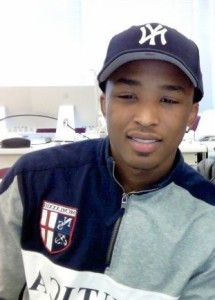 Trifton Rose, Impact Staff
Trifton Rose is a Yonkers native who is a senior at Mercy College and majors in
broadcast Journalism. He is a member of the men's basketball team. Trifton ...